Onam Preview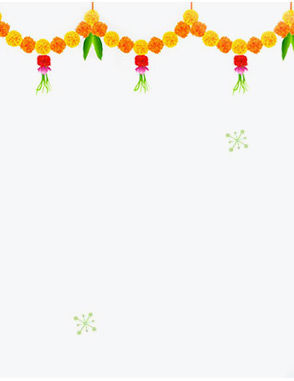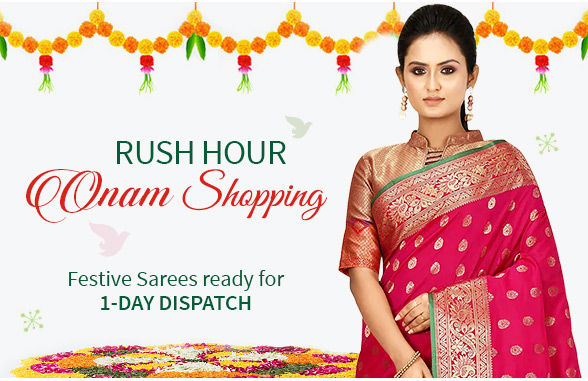 Looking for last minute Onam Shopping? We've got your back with our Ready-to-Ship Collection of most awaited Onam attires. Our stunning ensembles will be shipped out within 1-day so that you receive your order before the festival. Explore traditional Sarees of the South -- Kanchipuram Silk, Mysore Silk, Kerala Kasavu Sarees & more to add beauty to the festivities.
Onam Fashion Preview
Onam, the annual harvest festival celebrated in Southern India is one of the more auspiciously celebrated festivals. Traditional Sarees are the most commonly worn ensembles during this festival. Take a look at our beautiful collection of Kerela Kasavu Sarees, Kanchipuram Silk Sarees, Bangalore and Mysore Sarees, and to top it off with shimmer, we have a wide variety of traditional Gold jewelry. Celebrate Onam in the finest and the most stylish ways!

Saree wearers love this Saree for its lightness, stunning statement pallus and golden motifs. Mysore Silks come from the beautiful town of Mysore in Karnataka, and are worn most during Onam for a comfortable and breezy drape during the festivities. Don't miss out on these gemstone beauties!

The stunning aura and look of Handwoven Kanchipuram Silks from Tamil Nadu is a feast to the eyes! The embroidered silk, subtle lustre and intricate golden prints on the Saree makes the Kanchipuram an Onam special.

Lesser expensive than Kanchipuram but equally as gorgeous are Bangalore Silks with their pretty hues and eye-catching gold patterns. Bring elegance and royalty into Onam in our Bangalore Silk Sarees with statement contrast blouses.

The authenticity of Kerela's heritage is shown through the beauty of the Kerela Kasavu Sarees. This medley of cream and gold is the highlight of Onam celebrations, so look like a queen among many in this festive finery!


Complement your entire ethnic Onam festive look with our sparkling traditional jewelry. Grab onto our stone and jewel studded Bangles, Necklace Sets, Jhumka & more for that chic appeal and elegance.


The Encyclopedia of Indian Fashion and Everything Else
Onam celebration is about to begin and with celebration preparations in full swing, you can feel the excitement and joy in the air. One of the biggest festivals in 'God's Own Country', the state of Kerala, Onam is traditionally celebrated to mark the return of King Mahabali, whose spirit, as the legend goes, returns to Kerala during the Onam period. Onam is well renowned for the grand feast called, Onasadya. On the occasion of Onam celebration, here at Utsav Fashion, you'll find a vast and colorful selection of Onam sarees and Onam dresses to make the festival all the more memorable.

Traditional Onam Saree
Traditional sarees are the first thing that comes to mind when speaking of Onam celebrations. From Kerala Kasavu sarees to handwoven Kanchipuram silk sarees, these Onam dresses bring a vibrant and colorful touch to the occasion. As ethnic as one can get, you can never go wrong with an Onam saree as you deck yourself in traditional jewelry and ethnic accessories for Onam celebration this year. At Utsav Fashion, browse through a vast collection of Onam sarees and take your pick from gorgeous pieces made from Mysore Silk, Bangalore Silk, Kerala Kasavu, Chiffon and Kanchipuram Silk, among other striking traditional fabrics.