COLORS OF NAVRATRI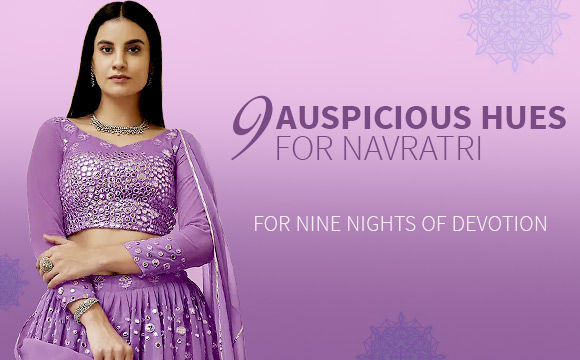 Navratri celebrations are full of vibrant colors and decorations. Have you ever wondered about the significance of these colors in Navratri? So let us tell you that each of these beautiful colors has a meaning behind it.

It's the color of worship, symbolizing energy & creativity! You'll be spoilt for choice with our Yellow-hued range of festive attires for women, men, and kids.

The warm shades of Green bring prosperity & happiness home. Shop from our ethnic attractions in shades of Green to match the many moods of the Goddess.

Grey signifies the triumph of good over negative forces and is an incredibly sophisticated hue. You can opt for Silver Grey outfits and jewelry in myriad fabrics.

Orange for worship is about creation & warmth. Browse through the finest in Orange - Sarees, Salwar Kameez & more with apparel for Men & Kids too.

Peaceful & beautiful, White is the hue of divinity. If you're looking for clothes to worship in, our Collection of White Attires and jewelry are the answer to your prayers

This fiery hue stands for power & movement. Explore our Collection of Ethnic Attires for Women, Men & Kids in shades of Red. Pick from our Jewelry Box as well.

Invoke the inspiring aura of the Devi in a splash of Blue. Our array of Blue stunners spans the traditional & contemporary, the bold & subtle.

Inspiring and uplifting, Pink looks truly beautiful on everyone. We have a curated array of Pink silhouettes with amazing embellishments.


Whether it's for the deity or devotee, there is a luxurious air about Purple. You should check out our Purple Collection of Festive Wear for Navratri revelry.


The Encyclopedia of Indian Fashion and Everything Else