FROM THE EDITOR'S DESK
The latest fashion week showcased trends that will guide the course of Indian fashion this season. Our style gurus at Utsav Fashion give you select picks from their ethnic trove to drool over, covet and possess. If you can't wait to get the runway into your closet, this issue is a must-read. Go, be a showstopper.
Designers are experimenting with bold chunks of contrasting hues in ethnic wear. Be sure to grab attention in sarees, lehengas and suits with bold Color Blocking.
Today's designers still think in Black-n-White. Fall in love with our repertoire of Monochrome sarees in stripes, chic Salwar Suits, Dresses with neat collars - and more.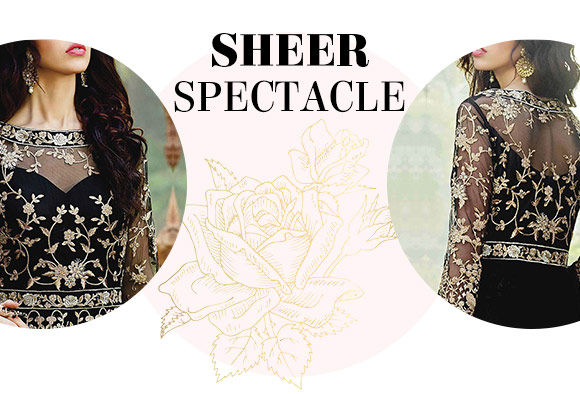 The peek-a-boo look is huge this season. Follow the runway to find Blouses, Lehengas with layered jackets, Abaya style Suits and Gowns in sensual Net fabric.

UP THE GLAM
Summer shows are incomplete without White. The all-time fave reigns in Kanchipuram, Benarasi, Chanderi Sarees or Georgette Abaya Suits. You'll love the Lehengas.
For maverick dressers, the catwalk has good news. Asymmetrical Hemlines in Jacket style Lehengas, Pakistani and Abaya Suits, Dresses and Tops are chartbusters.
Digital Prints have limitless possibilities. The saturated colors and flamboyant visuals on Lehengas, Sarees, Pakistani Suits and Tunics give the range a quirky appeal.
Who's thinking bright? The designers are, and so should you. Flaunt Red and Yellow, Orange and Green, Magenta and Blue in their brightest tints to shake it up.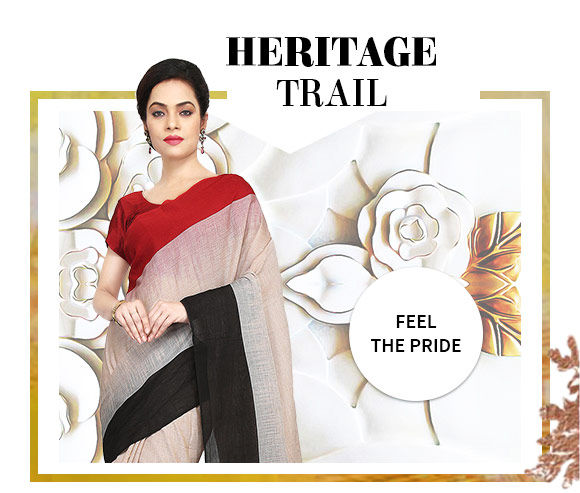 Organic fabrics, natural dyes and ethnic crafts are back in the limelight. Our Heritage Sarees like Tant, Jamdani, Madhubani, Tussar and South Silk are forever faves.
Every noted designer took to flowers and nature to express herself. Don't miss out on Georgette Sarees, Art Silk Lehengas, breezy Cotton Dresses to stay in trend.
Beat the blues with Blue. Exude a cool aquatic aura in Indigo shades with block prints, resham work, zari motifs or ombre effect. Plain blue attires look lovely too.