Flat 20% Off + Stitching & Shipping offers*
Most Searched Categories
Popular Searches
Popular Collections
Say Hello To The Perfect Fabrics For Summer
Do you love to incorporate Indian Fashion into your 'Look of the Day' whenever possible? Is your Instagram feed filled with your Bollywood shots with Dupatta flying in the air? Are you as crazy as us about comfort and style weaved into kurtis just right for the meeting at work? And do you like to sip your cocktail and dance on the floor while you flaunt your snazzy shimmering saree? Then you my diva, are at the right place coz we here are going to build your ethnic closet from the break of dawn to the sun setting down. Stay with us while we tell you how to style it desi.
YOU CAN NEVER HAVE TOO MANY COTTONS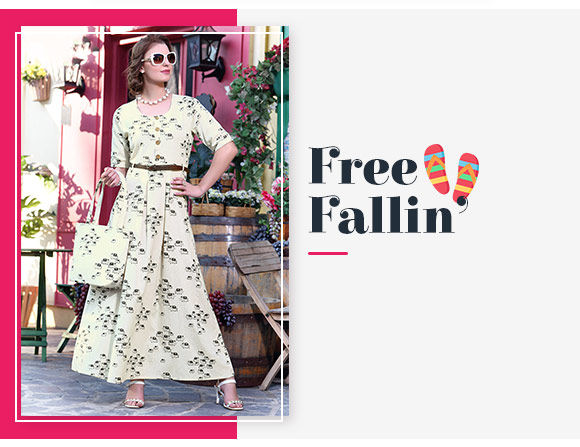 View Collection

We mean it. Cotton is elegant, cool and skin friendly. Whether you are lounging at home or out on a picnic, cotton is an all-time thing. Cotton skirts with block print? Tick. Bengal Handloom Sarees like Jamdani and Tant? Tick. Punjabi Suits with airy Patialas? Tick. And of course, cool dresses in Monochrome and micro floral print definitely deserve a tick. When in doubt, see what the likes of Alia Bhatt or Deepika Padukone have done with cotton in their recent films. Get the point?
WANT A COOL LOOK? TRY CREPE.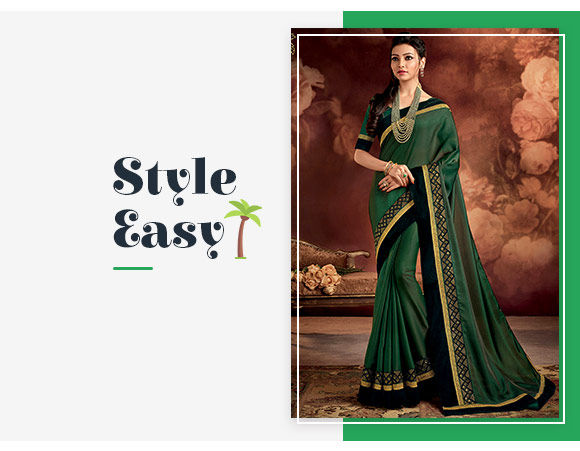 View Collection

It's very, very in. You can't look away from Crepe, this is the fabric that oozes style when the glitterati comes calling. Crepe sarees have a light shimmer and look bewitching in Jewel Tones, so do pick up the emerald greens and ruby reds the next time you're out shopping. If you have dancing plans for the evening, don't miss out on chic Pakistani Suits that keep you free and light. We are also crushing on crepe tunics and fusion dresses. Get some crepes into your closet. They say nice things about you!
THERE'S SOMETHING ABOUT GEORGETTE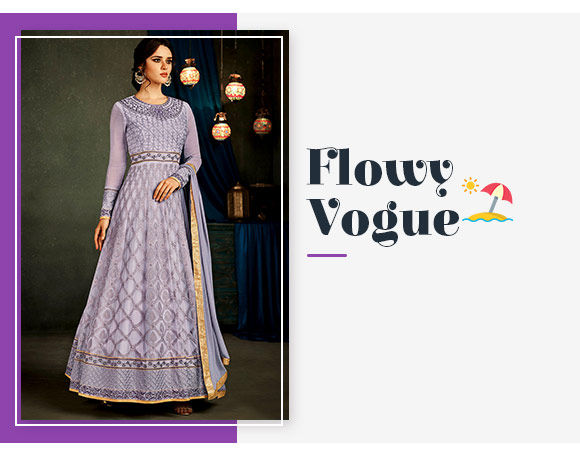 View Collection

The answer to the curvy woman's prayers, Georgette has a certain appeal for both the masses and classes. When embroidered or embellished, georgette outfits become dressy and can be worn to parties, upscale dinners and fancy events. But hey, the same fabric looks deliciously casual in monotone or print. And since it's not too clingy, you get this nice fall when you wear sarees, lehengas, suits or Indo Westerns in georgette.
IN THE MOOD FOR CHIFFON
View Collection

Everybody loves Chiffon in summer. It's just one of those things that makes you feel light and well contoured and beautiful. You should wear chiffon sarees in solid colors, preferably pastels with statement borders in lace, gota patti, resham work or patch patti - so easy to stand out in those. If you would rather leave the saree alone, there are lovely Chiffon Salwar Suits and kaftans to slip into. Go, girl, go.
NET IN SOME SUMMER GLAMOR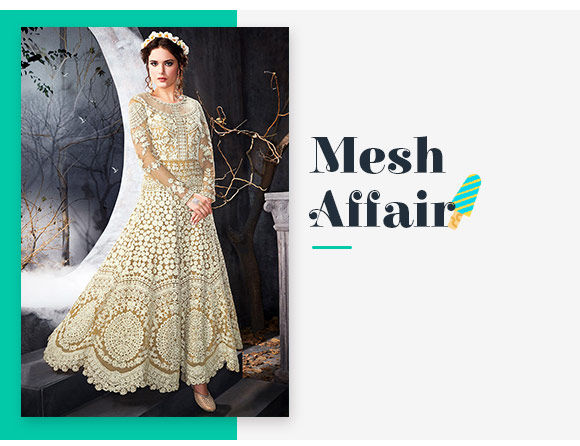 View Collection

Oh yes! A little tantalising. Slightly peek-a-boo. Quite a head turner. And absolutely summer-perfect. That's Net for you. For those who follow designer collections and ramp hauteness, Net is the fabric of glamor. Want a style tip for all times? Go for the sheer look and invest in some sarees or gowns for those evening galas. The sheer blouse is a stand out, it enhances the saree no end. You might want to check out the lehengas for your next wedding invite. You can thank us later, darlings!