Flat 20% Off + Stitching & Shipping offers*
Most Searched Categories
Popular Searches
Popular Collections
HOLIDAY CLOSET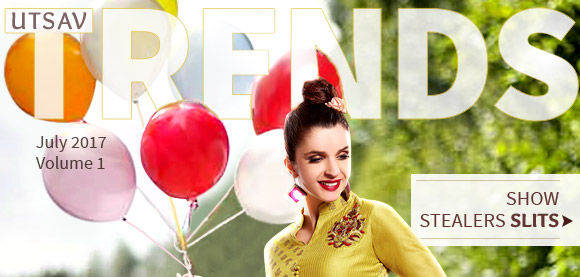 FROM THE EDITOR'S DESK
So it's vacation time and the maps are out. Let's unwind, what's on deck? We've taken everything into account to bring out holiday essentials that are stylish, affordable, comfortable and perfect for the geography you are heading for. After all, comfort is definitely a goal even as you stay chic. Know everything you need to pack for capturing that quintessential Instagram shot and to be sure of blogger-esque vacations like no other. Scroll down as we take you on a virtual trip through colorful, culture- filled landscapes. Go lady, go.
If you can't wait to whip out that travel case, we've rounded up the smartest outfits in beautiful geometric prints as they make quite the sight. Those stripes and checks do the trick everytime. Pick these if your plan is to hit the Europe circuit and flaunt those neat, structured designs that exude minimalist sophistication.
FLAUNT THOSE ANGLES
Crafted in earthy tones, these hand block prints uplift the street style. Women of this genre exude quite a lot of confidence. Ideal for the jungle safaris in Africa, these marvels are going to give you the look of an explorer. So if Masai Mara is on your itinerary, you know what to wear to be one with nature.
DARE TO BLOCK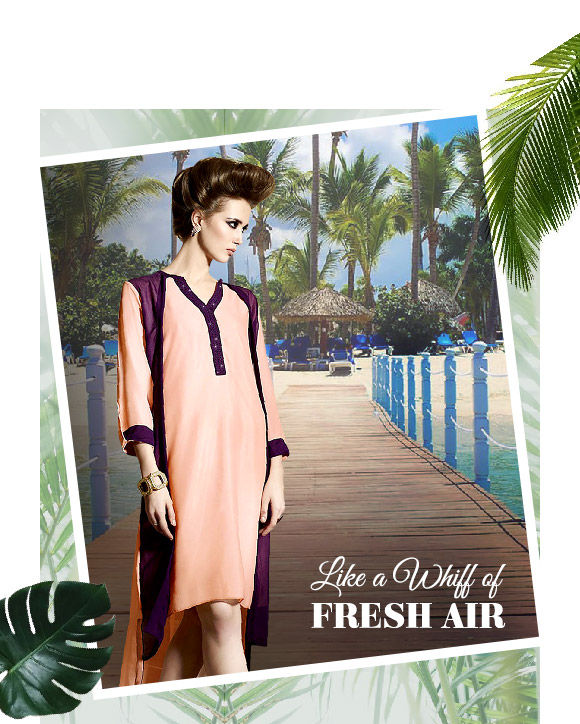 Those who like to keep it classy and subtle should go for fuss-free casuals. Get that 'not so serious' look in kurtas, tunics and more in georgette fabric as its easy to carry, light weight and wrinkle free all day long. A perfect bouquet for the tropical locations with lots of chilled mojitos, sunshades and cool breeze.
Georgette Delights
Our collection includes tunics, dresses, & salwar kameez with modern sensibilities. So this summer you can choose to go organic & eco- friendly & be proud of your fashion choices. If you are planning for a destination that's all about soaring temperatures, here's how to stun the sun.
Cotton Chaos
We bring you the different variety of attires which are flying in trend. Play layer with sheer on solids or jacket on kurta or saree. Wearing an ensemble which has a healthy dose of Indian & Western style will keep you updated and keep you bang on trend without fail. Pick these if you want to look gorgeous and handle that nip in the air.
Mastering Layering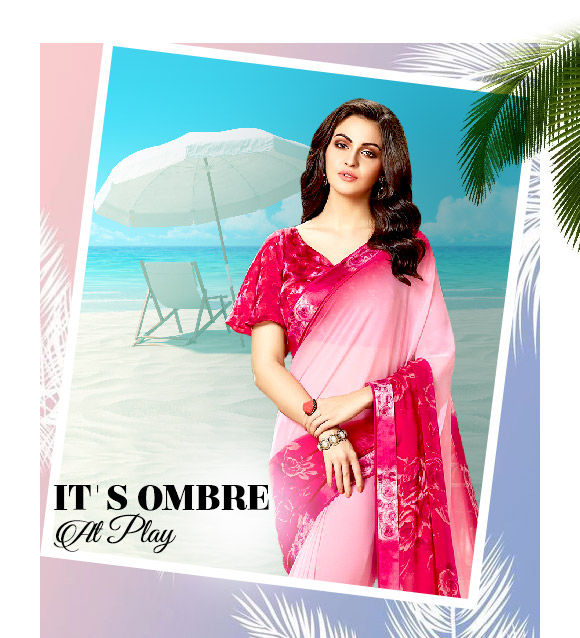 This style of dying fits right in at every spot, from the scenic cities to relaxing beaches. The interplaying shades provide a natural setting for those awesome selfies against natural backgrounds. Pick these for your visit to the beaches in Florida or Hawaii. And if you have dresses, palazzos and kaftans in ombre, you're in the spotlight.
SHADED BEAUTIES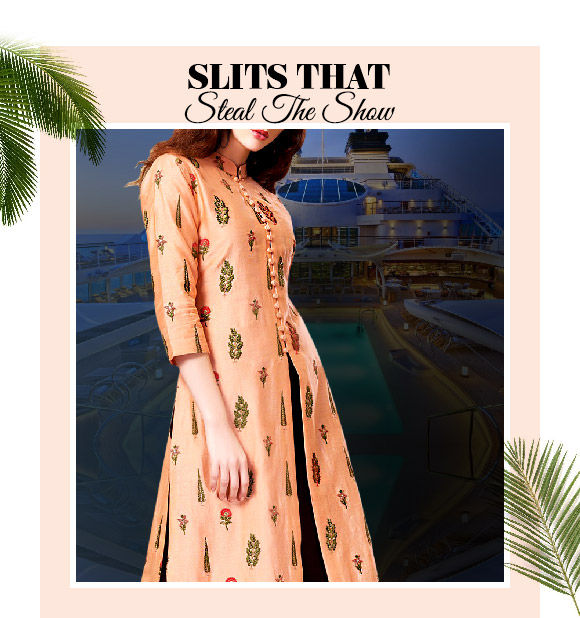 Attires with front, side and multiple slits have a youthful and modern edge. Check this out and judge for yourself. Go out all breezy and flowy with these numbers when you are going for the cocktail dinner on cruise. The sea wind fluttering through your dress and skin will make you feel alive and stylish.
Let Slits Sing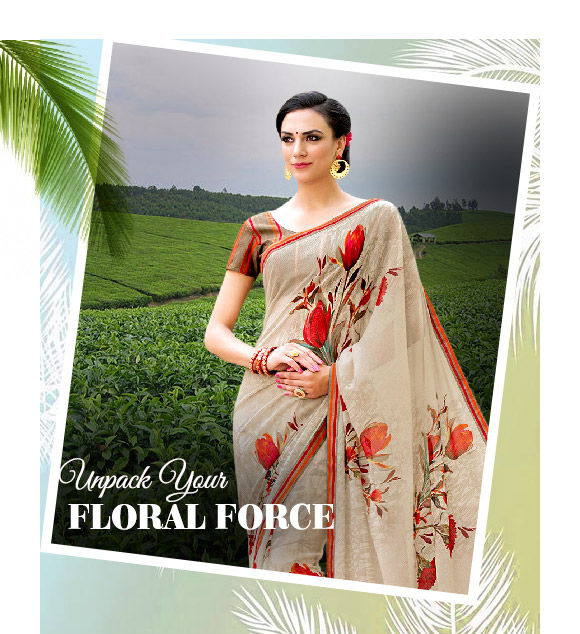 Floral prints are pretty, feminine, youthful & look delightful in holiday pictures. You definitely don't need an excuse to wear them. Knock out the dainty summer bloom look by going for a floral mix and match. You will be the flower in the greens on a country side vacation amidst plantations and wineyards.
feel flowers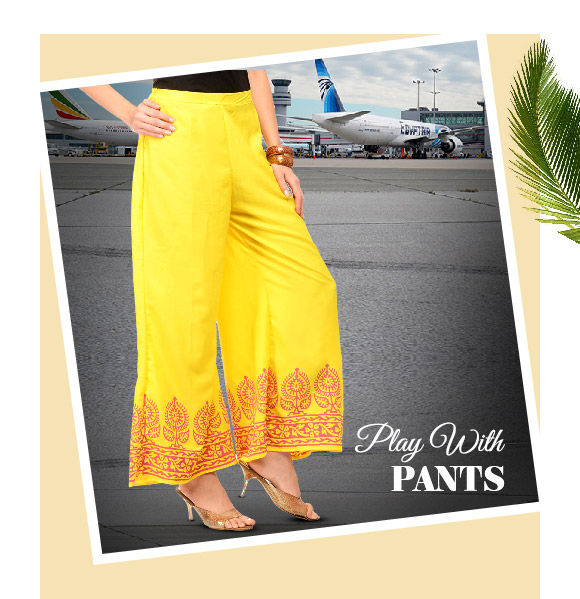 Go for breezy separates in right fabrics for your airport look. In humid weather, prefer wide leg bottoms or pallazos rathar than anything constrictng like churidaars. Go for trousers or dhotis or salwars. These looks are your best friend for long flights and definitely cast a spell while waiting on airports.
Bottom Basket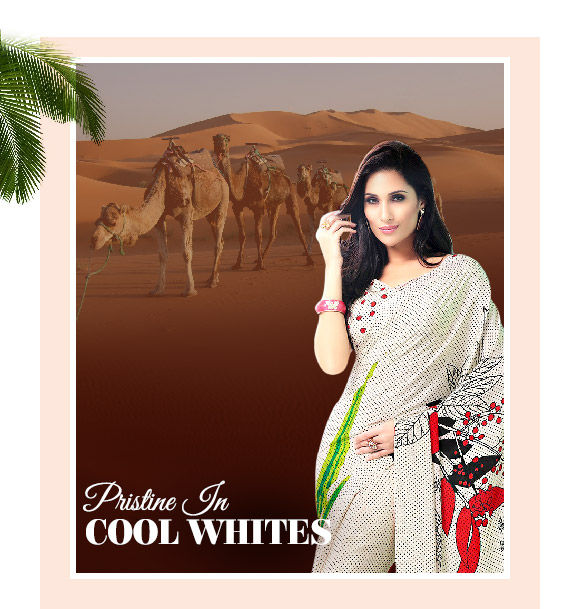 Nothing pays tribute to the season better than white Indian outfits. The highly reflective color will keep the sun off you and make you a vision while helping you relax when you are out in the heat. If your plan is to go for a Desert Safari, sport these for an awesome head-turning photo op!
Wear White