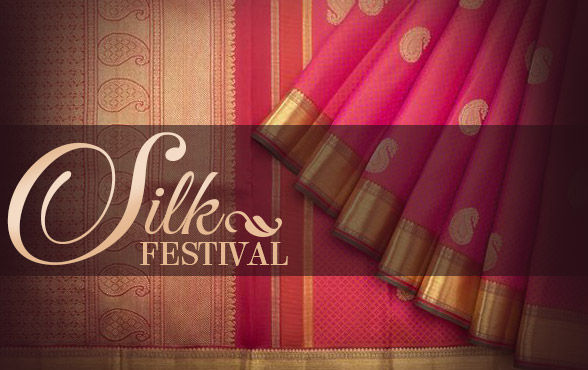 Silken treasures
The Silks of India are unparalleled for their colors, texture and craftsmanship. For every saree connoisseur, Silk Sarees are the ultimate must-have for weddings and festivals. Emerging out of a 4500-year old weaving tradition, the silks range from Mysore Silks to Kanchipurams, Banarasi Silks to Chanderi and Uppada Pattu. Succumb to the magic conjured here!
Flaunted at Red Carpet events by Rekha and Vidya Balan, Kanchipuram Silk sarees are lustrous in Jewel Tones. The silk is heavy, adorned with golden motifs and exquisite pallus full of golden temple motifs. Woven in Tamil Nadu's temple town, our Kanchipuram Silks are a bridal attire.
More affordable than Kanchipuram but equally attractive are Bangalore Silks with their fiery hues and eye-catching gold patterns. Discover our Bangalore Silk treasures with broad borders in contrasting colors and divine pallus depicting mangoes and peacock motifs.
Loved by saree wearers for its light weight, contrast pallus and golden bootis, Mysore Silks derive their name from Mysore town in Karnataka. Comfortable to wear and convenient to drape, our silk range is resplendent in Emerald Green, Turquoise Blue, Midnight Black and more.
The Holkar queens patronised Chanderi Silks of Madhya Pradesh. The light, luxurious feel of this fabric is heightened by its gossamer sheer texture. Chanderi Silks come in bright or pastel hues with golden threadwork and can be worn gracefully in summer.
When you like your silks light and breezy, Uppada Pattus from Andhra are your go-to finery.Woven in Jamdani technique, Uppada Silks are usually designed in pretty pastel hues and have distinct Zari motifs of flora, mythology, peacocks and paisleys on the pallu.

The Encyclopedia of Indian Fashion and Everything Else