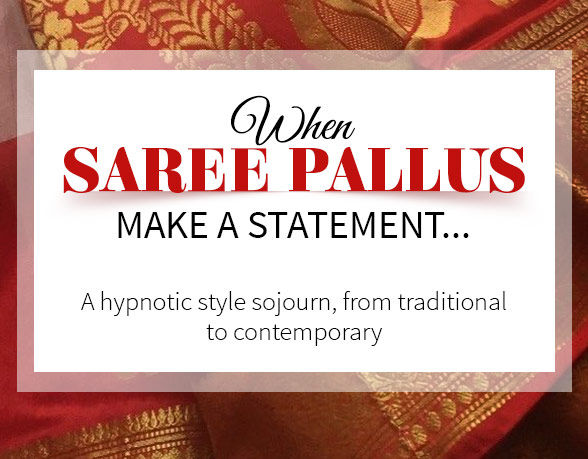 Sarees with Woven, Printed & Embroidered Pallus
For most Saree connoisseurs, the Pallu is the crowning glory. Woven, Printed & Embroidered - each Pallu tells a different story and can be flaunted in interesting ways. Join us on a hypnotic style sojourn, from traditional to contemporary.
India's rich reservoir of threadwork comes alive on Sarees with Embroidered Pallus. Highlighted with Sequins, Gota work, Resham Embroidery or Patch Work, they are party perfect.
Handloom Sarees such as Bangalore Silk, Matka Silk & Banarasi as well as Fine Cotton Sarees from the South have spectacular Woven Pallus. Make this a talking point!
Printed or Single-Tone Sarees often come with striking Printed Pallus. They could be in Abstract, Block, Floral or Foil Print & make a cheerful impact at work and play.

The Encyclopedia of Indian Fashion and Everything Else