Flat 20% Off + Stitching & Shipping offers*
Most Searched Categories
Popular Searches
Popular Collections
A Lavish Fashion Edit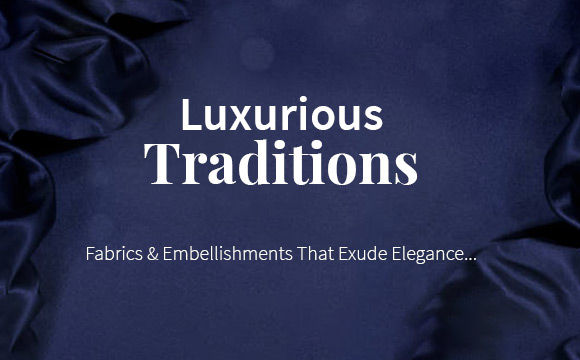 Ladies, lavish is a synonym for Indian fashion. If you love splendor, Desi styles are the most extravagant picks you will ever make. Fabrics like Silk, Velvet, and Brocade are here to make your luxurious dream come true. They are plush, regal, and perfect for formal events. And, if there's a wedding or soirée in the offing, you can flaunt marvelously elaborate work of Zari, Sequins, or Stones. With the sparkles & magnificence of Indian wear, opulence will be thy name.
Indian fabrics are like heaven on earth. Exquisitely charming Silks, Velvet, and Brocade are a treat to fashionistas like you! Here, you'll find fashion in the prettiest Banarasi, Kanchipuram, Pochampally, Bangalore & Mysore Silk. Not just that, Utsav has got showstopper Velvet Gowns & Drapes too. And, you can also embrace the grandeur of Brocade indowestern wear, Jackets, and more.
The Indian art of ornamenting garments is a masterpiece that we can't get enough of. Threads, stones & sequin magic dance in many grand ethnic styles. Won't you make striking statements with them? Spellbinding Zari Work & Resham's allure is a favorite of Desi brides. Further, glistering sequin Sarees, Lehengas, and Abayas make a perfect match for extravagant galas. It doesn't get more royal than this. Get your favs now!