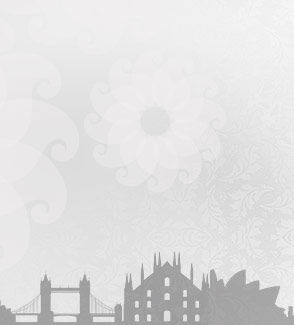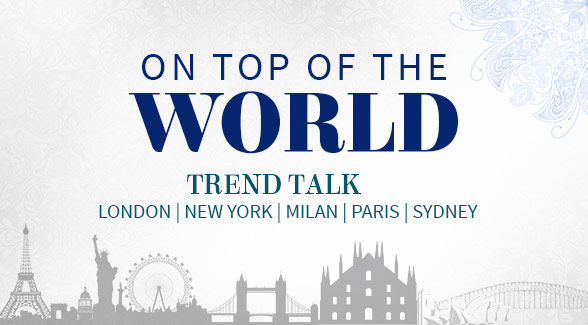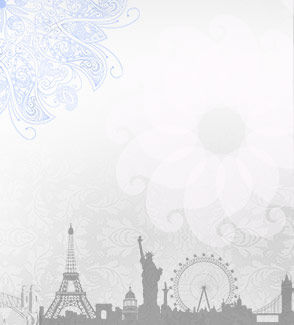 Fashion Around The Globe
The top fashion cities of the world have thrown up definitive trends. Fashion experts at our end have infused those trends into beautiful
Indian styles, so that each of you can match strides with the globe. Find yourself. Right here!
Fashionable London votes for edgy silhouettes, flamboyant shades and applique top-ups. We infused these diktats into the latest
Indian styles - and here's the best for you
New York loves to shine! There is also a shift towards nature hues and blossoms this summer. So we went ahead & created
masterpieces with all these trends. Own them all.
Breezy flares are faves in Paris, and so are fresh, feminine hues. Attires with bold, contrasting color patterns are all a rage.
We touched our collection with some French magic to bring you styles that can set the Rhine on fire!
Uber-cool silhouettes have taken over glittering Milan. Designers have taken a fancy for bright pops and structured prints as well.
Discover the same style quotient in our ethnic ensembles.
Sydney lives by its trends. The city loves the Sheer look, flaunts the coolest Pastel shades & knows how to Bling up a party. If that's how
you like it, take your pick from this lineup.

The Encyclopedia of Indian Fashion and Everything Else
Ruling London
We have infused London's top trends into Anarkalis and Tunics with Asymmetrical hemlines. Discover latest styles of embroidered Sarees, Salwar Kameez and Dresses in flamboyant Red color. Replicate the boho spirit of Soho and Hyde Park in colorful Patchwork ensembles.
Capturing New York
The Big Apple's fancy for shine and bling finds expression in our range of Metallic Shimmer outfits. Pick clothes in Copper, Gold, Silver or Bronze if you like shine. Opt for tranquil Blue drapes, Abaya style Suits and lehenga Cholis with Hand block Prints or Resham work. Floral printed attires are perfect for a walk through Manhattan.
Slaying Milan
The runways of Milan influence our sassy Indo Westerns in street style cuts. Easy, breezy and cheery Tunics, Skirts and Palazzos are favorites. Sunny yellow is great on Indian styles from Half-n-Half Sarees to Chanderis. As for prints, Geometrical Prints are all the rage.
Conquering Paris
When the Louvre of Paris calls, wear pink. The French Connection with the blush color makes our line of Georgettes, Chiffons and Silks so pretty. Flowy styles like Anarkalis with embellished yokes work. Also explore Color Blocking in ethnic outfits from India.
Captivating Sydney
Australia's most stylish city is a sheer lover. Pick Sarees and Lehengas in Net for those parties. Sydney Harbour is all in pastel, so go for Pink, Beige, Cream and Light Blue. And if you have a opera evening planned, our Gowns and Sarees in Sequin work are perfect.