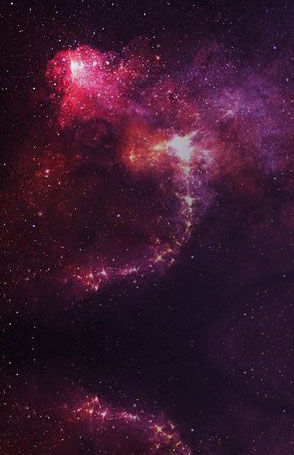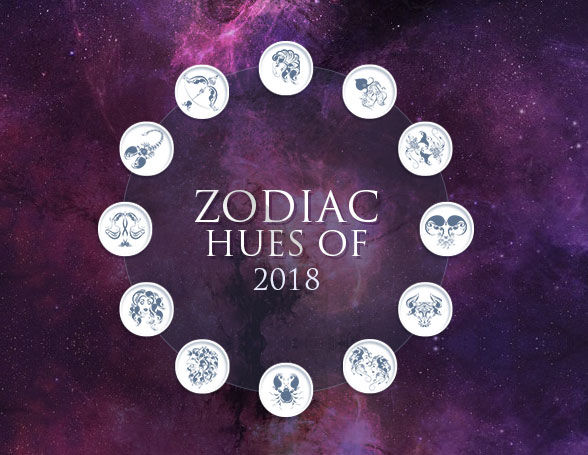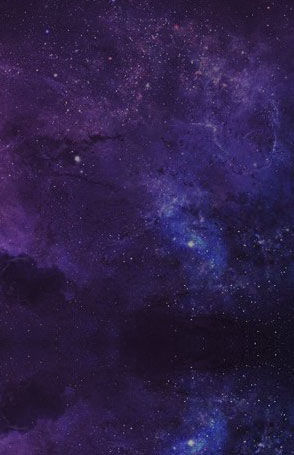 12 Shades Of Zodiac
Every Zodiac sign is ruled by a different lucky color. How about owning ensembles in the hue that brings you positivity and success? Walk into a Zodiac-inspired closet for 2018, carefully curated by our fashion pundits. Be guided by the stars!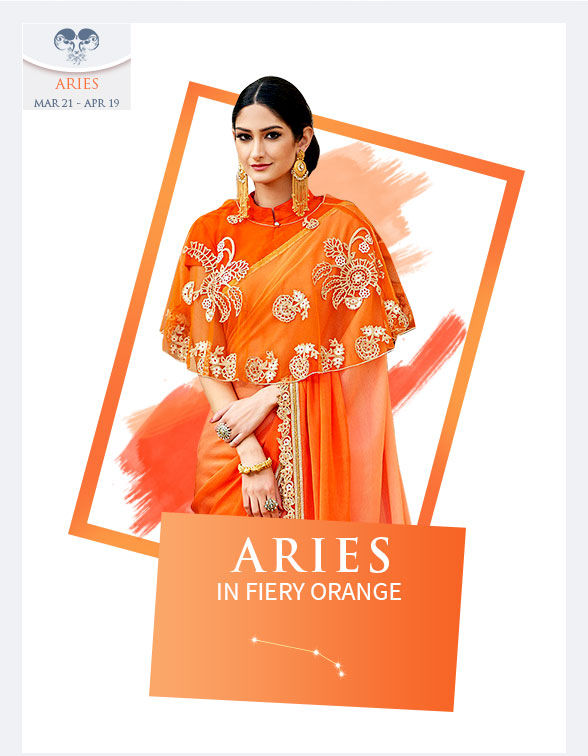 COPPER AND RUST
Ruled by the planet Mars, the Aries girl is a go-getter who likes to stay abreast of trends. Shades of orange represent your aggressive persona. Choose structured styles in Orange, Rust and Copper to show off your curves but are easy and cool.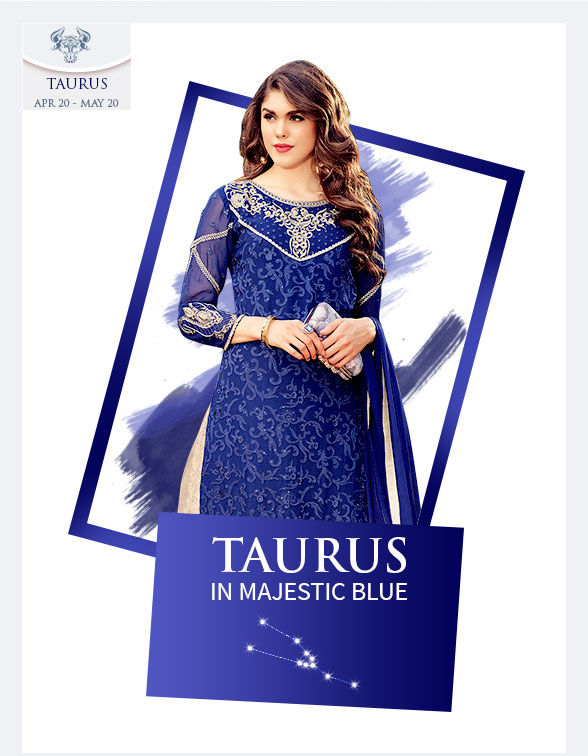 ROYAL BLUE, NAVY BLUE AND INDIGO
Venus is your planet, which makes the Taurus woman a fascinating blend of feminity and practicality. Your go-to color this year is Blue in all its glory. Opt for sheer fabrics with a touch of lace or florals in attires dipped in soft sky tints or inky, darker tones to go regal.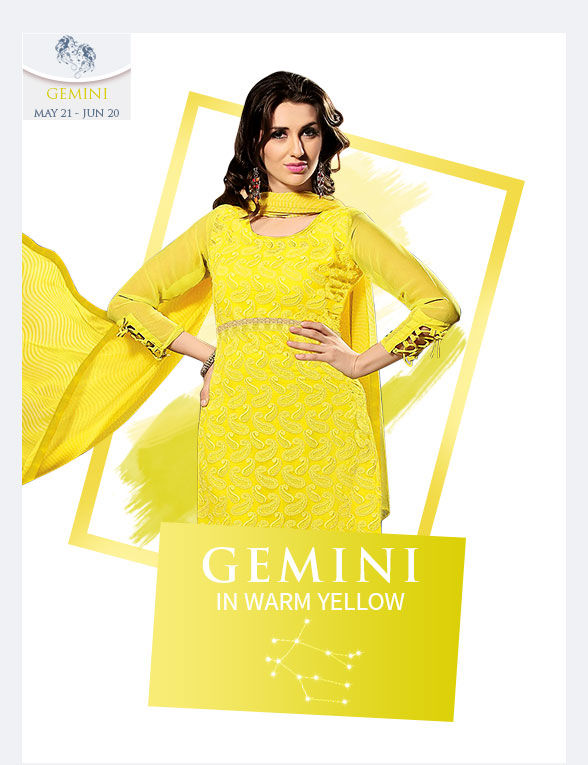 Lime, Ochre and Mustard
If you are a Gemini, you are completely whimsical and very lovable. Yellow will be your guiding light. Always turn to Lime, Ochre, Mustard and Buttery Yellow that speak your language. Our charming A-line Salwar Suits, Sarees and Lehengas are so perfect.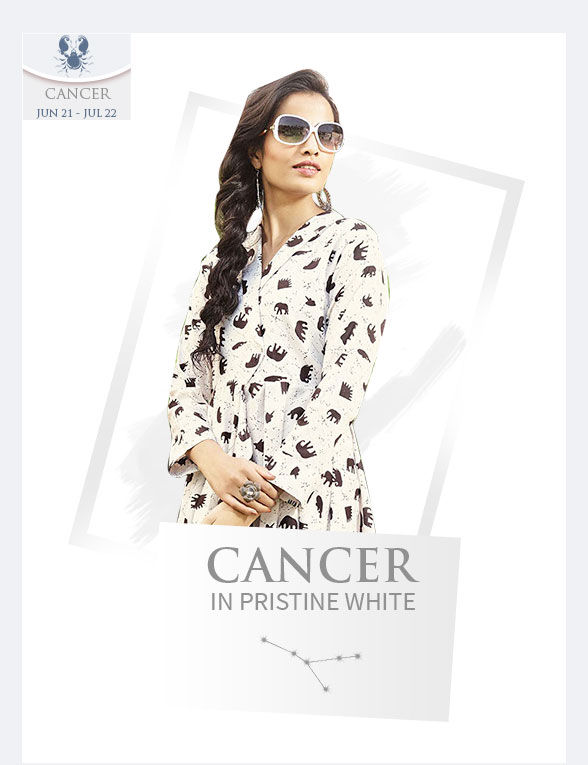 OFF WHITE, MILKY WHITE AND IVORY
Humour, positivity and cheer mark the Cancer trait in you. Ruled by the moon, your color is none other than White. That's why, we bring you the best of White Sarees, Tops, Gowns and Lehengas with prints, threadwork and impeccable styling.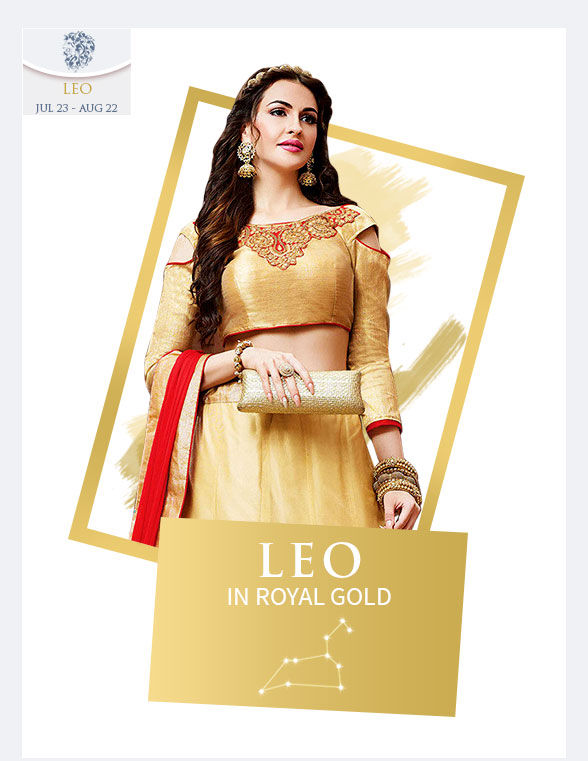 METALLIC BEIGE AND SHIMMERING YELLOW
This Sun-ruled Zodiac sign is a leader in thought, word and attire! The simple and subtle is not your thing. The lioness loves to be the center of attention in rich, opulent fabrics in shimmering Golden hues. Here's an exciting range of Indie and fusion styles in 24-carat shine.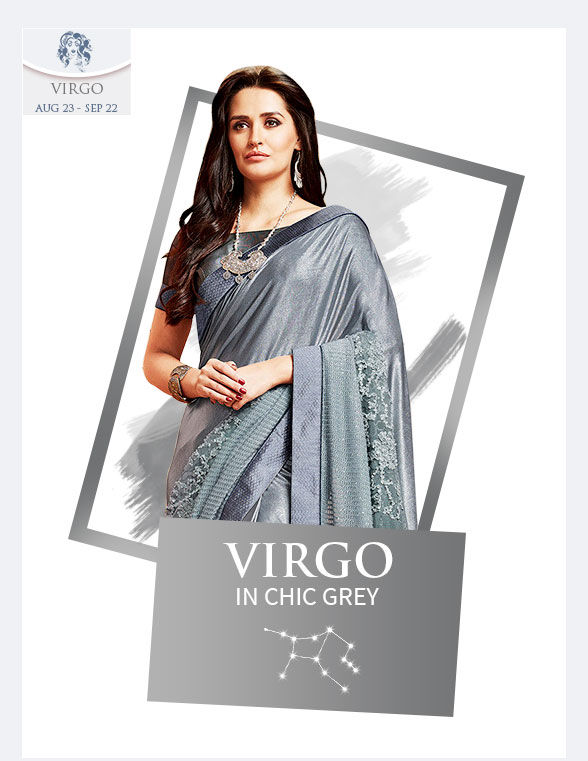 SILVER, LIGHT GREY AND DARK GREY
The Mercury-ruled Virgo is one chic lady. For those of you who follow your own path, neutral Grey is the color to own. You'll find classics and contemporary attires in Grey that look incredible, no matter what the occasion. Whether silvery or charcoal, you'll love them all.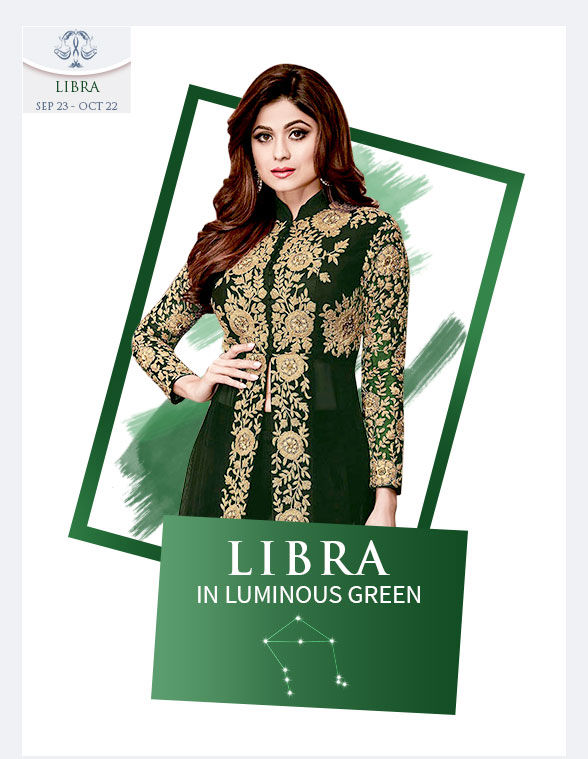 EMERALD GREEN AND FLUORESCENT GREEN
Being a follower of planet Venus, the Libran never goes down the beaten track. The uber-cool earthy shades of Green are your lucky colors to keep the style quotient high. The auspicious Mehendi green looks as attractive as Emerald or Neons, so get them all.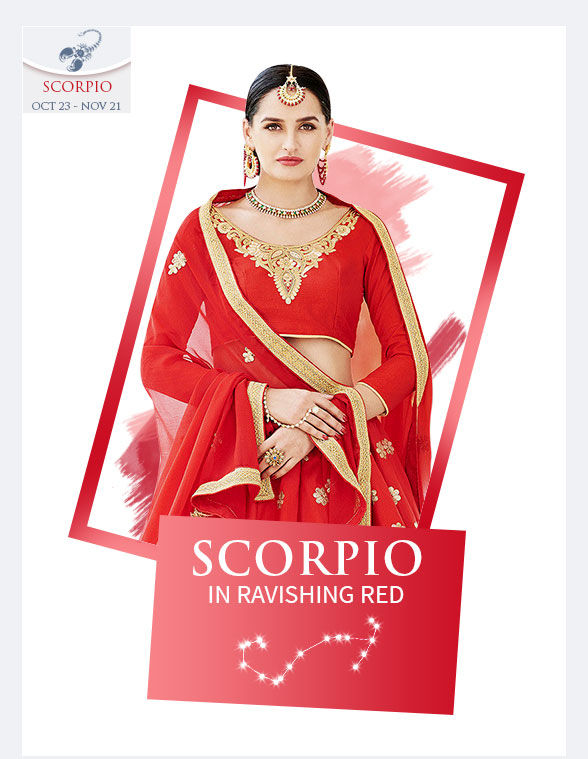 SCORPIO IN RAVISHING RED
The Scorpio girl creates her own style map and is pretty individualistic about her closet. The planet Mars rules her persona, giving her a bold and sporty outlook. Scorpions go for dark colors, dramatic prints and defined silhouettes. Here's a mix of ethnic ensembles and fusion wear in indigo, black, burgundy, maroon and other deep hues - all with statement prints.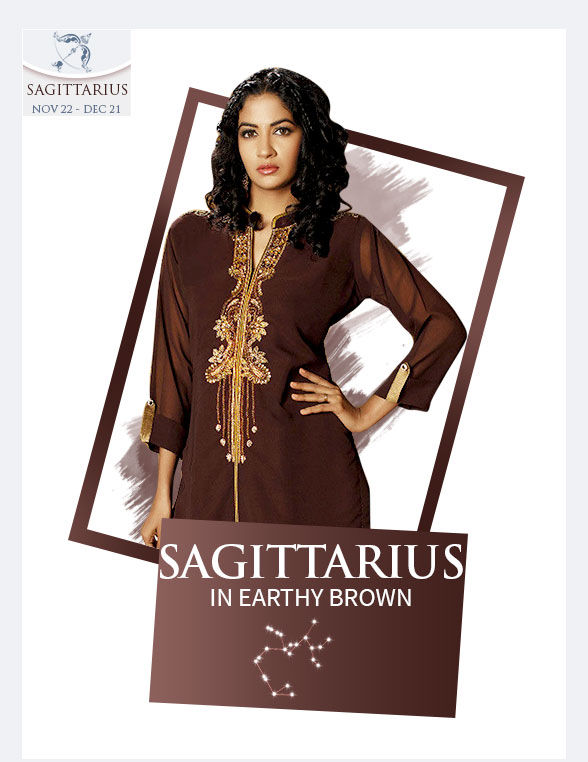 MAROON AND PLUM
Ruled by the planet Jupiter, the Sagi lady is all sunshine and cheer. You are friendly, fun and bright, with a closet to match. Earthy Brown can make you bloom. Our collection of Brown, Plum and Maroon Sarees, Salwar Suits and Indo Westerns are on point.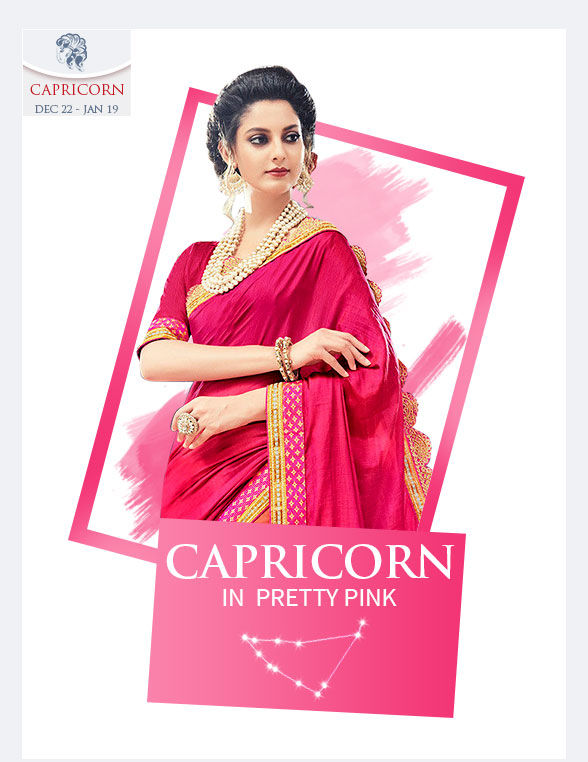 LIGHT PINK, FUCHSIA, PEACH AND ROSE
You are the Capricorn woman - the wise and committed one. Being ruled by Saturn lends you a special grace in aristocratic Pink. Here's presenting a Capri closet of blushing tones in Peach, Rose and Fuchsia. Flaunt your class in the prettiest array of them all.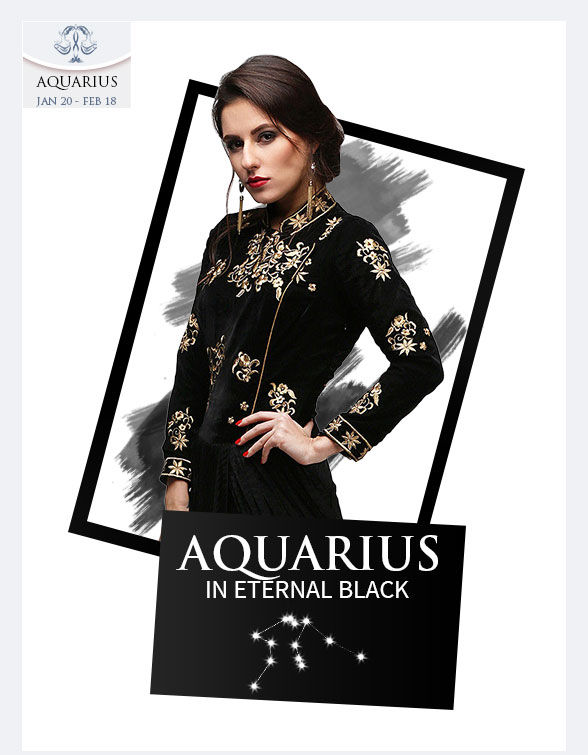 MIDNIGHT BLACK, EBONY AND CHARCOAL
You belong to the Air sign, and that gives you a free-spirited attitude towards life and fashion. Experiment with new patterns in Black to exude your power. Ensembles with front slits, jacket style Lehenga Cholis and Sarees in Black will see you rise and shine.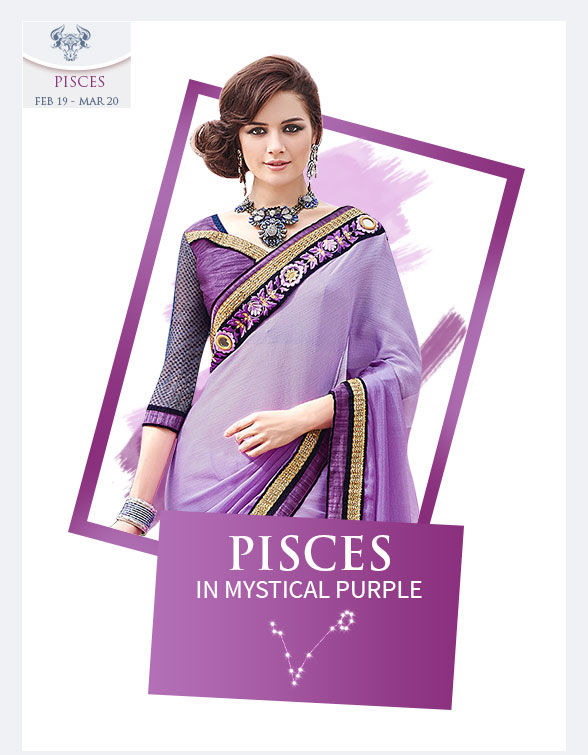 AMETHYST, MAUVE AND LILAC
You are calm and composed, and Purple symbolises you. The Pisces woman should fill her closet with Mauve, Lavender and Violet. When shopping for weddings and festivities, explore plush fabrics, embroidery and borders in Sarees, Salwar Suits and more.