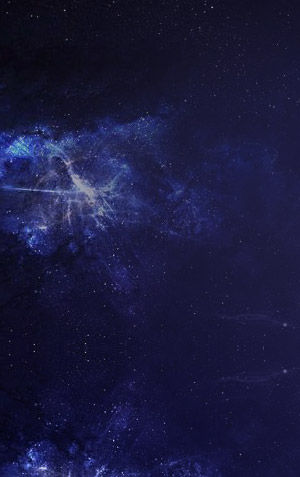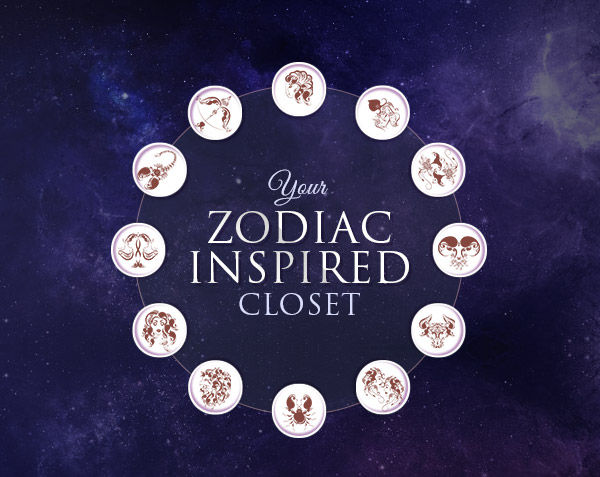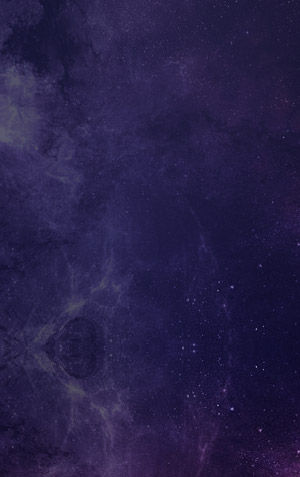 12 Shades Of Zodiac
What you are, what you wear, what colors inspire you, what you like to do are all influenced by your stars. Do you know your lucky hues and most flattering silhouettes according to your Zodiac sign? Read on to find out. Our fashion pundits have carefully curated collections for every Zodiac fashionista, so dive in and get a closet that leaves the world starry eyed.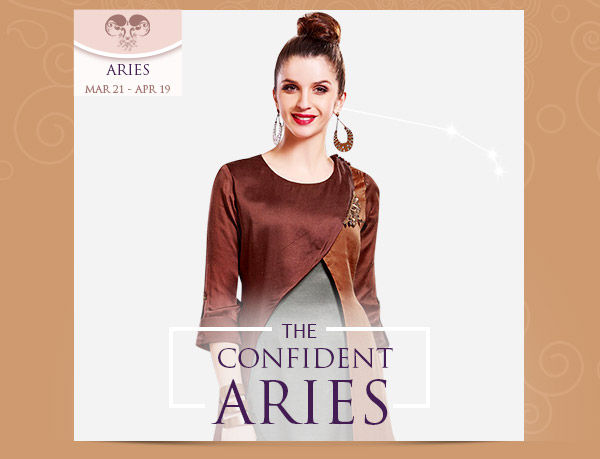 Ruled by the planet Mars, the Aries girl is a go-getter who likes to stay abreast of trends. Red and Brown are the colors for her. She loves structured styles that show off her curves but are easy and cool. For her, we have a pick of Palazzos, smart Tops and Tunics, well-cut Jackets and Capes that complement her attitude. Be confident as you always are, go for it.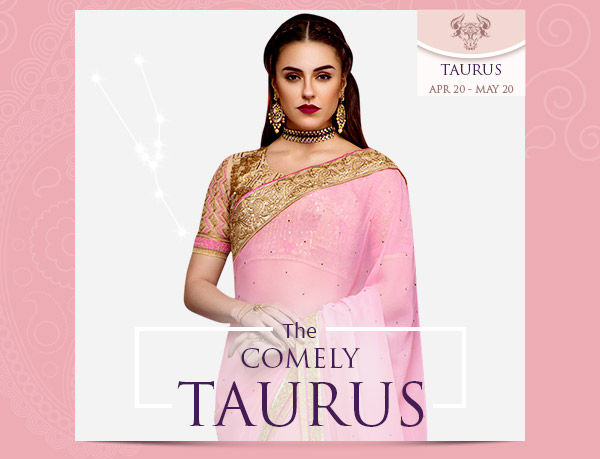 Venus is her planet, and she is a fascinating blend of feminity and practicality at one go. The Taurus woman likes sheer fabrics, a touch of lace or florals on timeless favorites like Sarees and Salwar Suits.Our fashion desk offers her Net Sarees and Salwar Suits with the sheer look in forever-loved Pink and White hues. Have a blast, Taurus and show them your moves.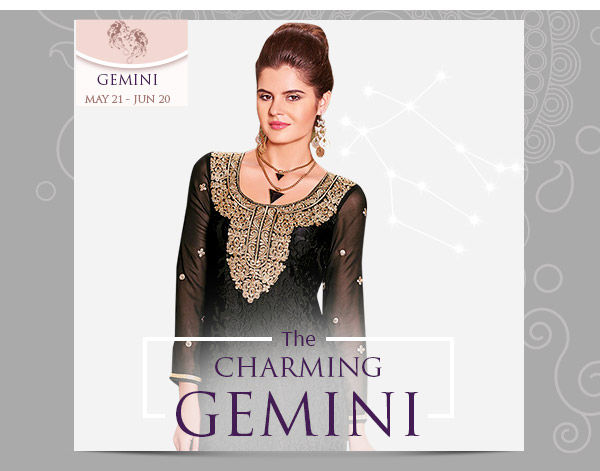 The Gemini is ruled by Mercury, which makes her unpredictable, whimsical and yet very lovable. She is partial to Green and Black, and picks well-cut ensembles that speak her language. Here's presenting charming A-line Salwar Suits and Straight Suits that are fuss-free and give her frame a flattering fit. All the world loves the Gemini woman, so why work too hard at it?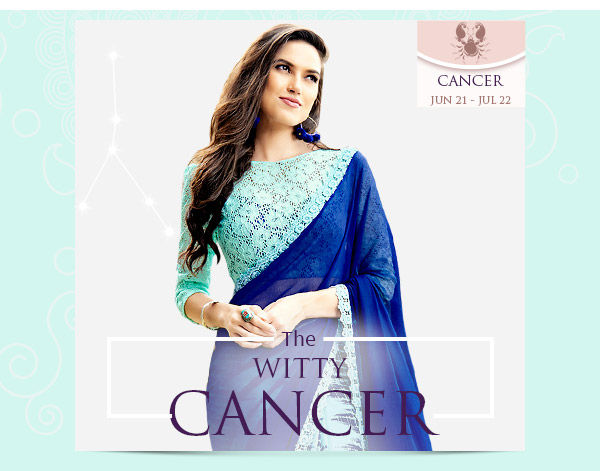 Humour, positivity and cheer mark the Cancer woman - naturally, when she is ruled by the Moon. Our lady loves any color that is associated with the ocean. Give her anything that's free flowing and you've got her! That's why, we bring her lovely shades of blue in breezy Georgette and Chiffon. Her fave styles? Floor sweeping Abaya style Suits, Anarkalis, of course.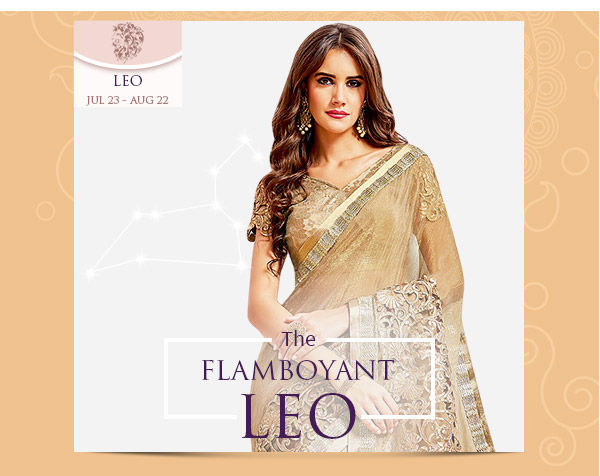 This Sun-ruled Zodiac sign is a leader in thought, word and attire! She is not one for the simple and subtle. The lioness loves to be the center of attention in rich, opulent fabrics and colors. So we recommend a line of bold embroidery, bright metallic hues and dramatic sequin work across our range of sarees, salwar suits. The Leo can carry off anything with elan!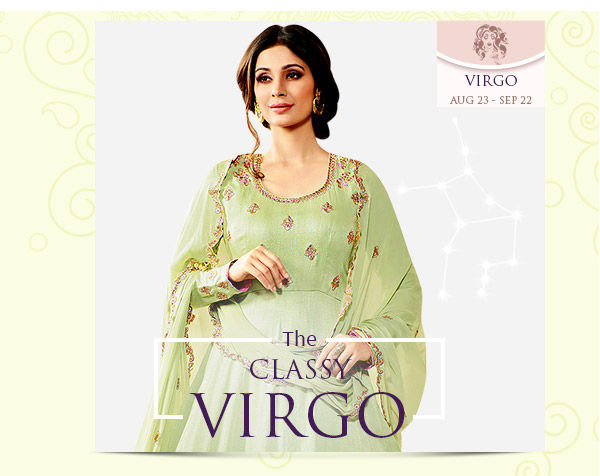 The Mercury-ruled Virgo is one chic lady. She does not follow trends and creates her own path. The pastel palette is her go-to, no matter what the occasion. Her prefered clothes are well tailored and smart. Here's a selection of classics like Anarkalis and Silk Sarees in soft beige, pink, powder blue, mint green and buttercup yellow for her. She'll love them all.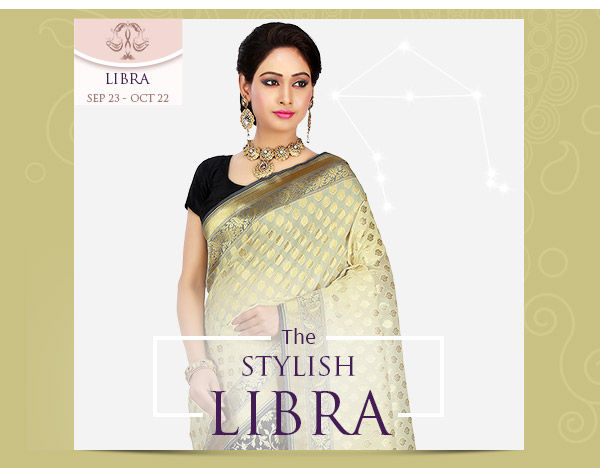 Being a follower of planet Venus, the Libran never goes down the beaten track. She checks out traditional garbs with a twist, goes minimalist in her looks and votes for uber-cool earthy shades to keep the style quotient high. She'll love our A-line Suits, Kurtis and Patialas in browns, tan, cream and grey. She can choose neutral shade Banarasi Sarees for Weddings.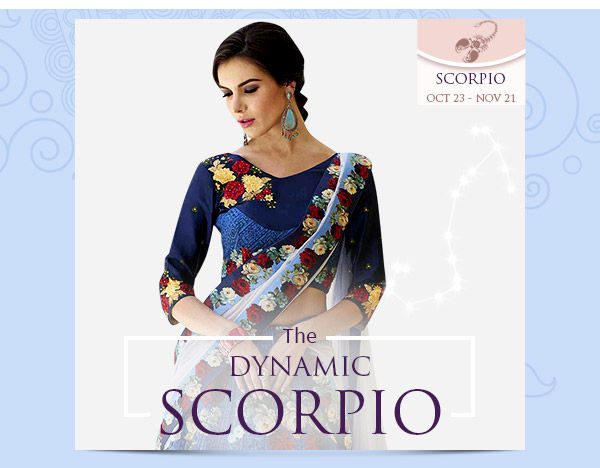 The Scorpio girl creates her own style map and is pretty individualistic about her closet. The planet Mars rules her persona, giving her a bold and sporty outlook. Scorpions go for dark colors, dramatic prints and defined silhouettes. Here's a mix of ethnic ensembles and fusion wear in indigo, black, burgundy, maroon and other deep hues - all with statement prints.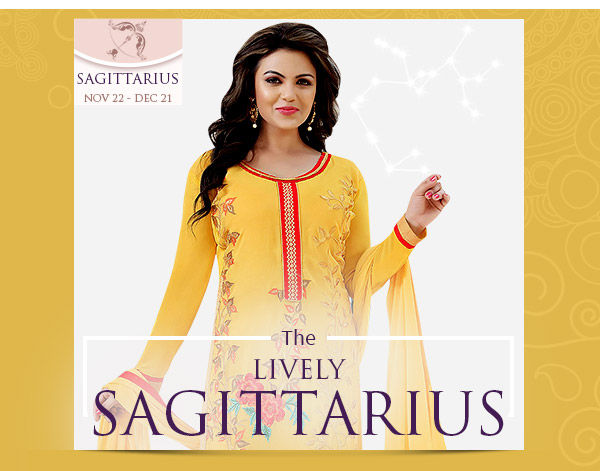 Ruled by the planet Jupiter, The Sagi lady is all sunshine and cheer. She is friendly, fun and bright, with a closet to match. Give her reds and yellows, easy attires and breezy fabrics to watch her bloom. Our collection of Red and Yellow Indo Westerns are on point. She can have a ball with Salwar Suits, Skirts, Tops, Kurtas and Kurtis in her choice of colors.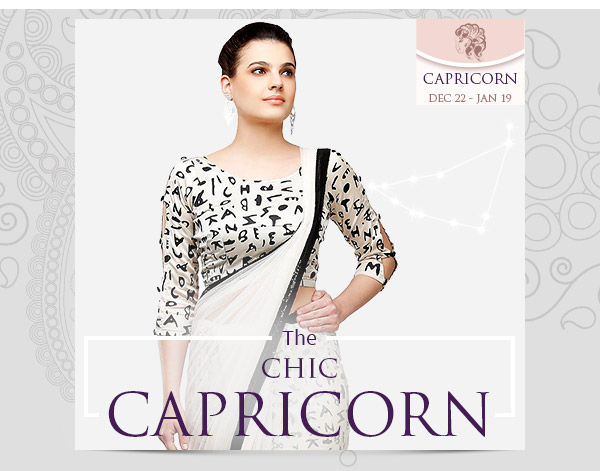 If she is a Capricorn woman, chances are she is the most stable, wise and committed one. Being ruled by Saturn lends her a special grace and class. Nothing over the top for the aristocrat. The eternal black-n-white blend and Unicolor ensembles appeal to her discerning taste. Welcome to a Capri closet of Monochrome beauties, unembellished Sarees and Straight Suits.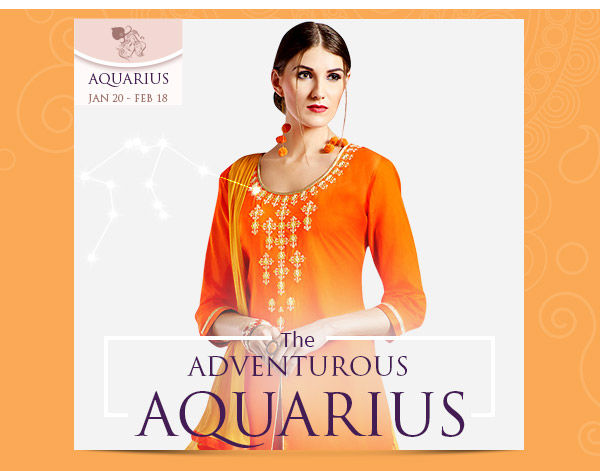 Aquarius is an Air sign and stands for a free-spirited attitude towards life and fashion. She keeps away from the staid and boring, is willing to experiment with new patterns and chooses the maverick look. To win this lady over, we suggest ensembles with front slits, jacket style cholis with lehengas and bright, neon colors that light up the night. Rise and shine.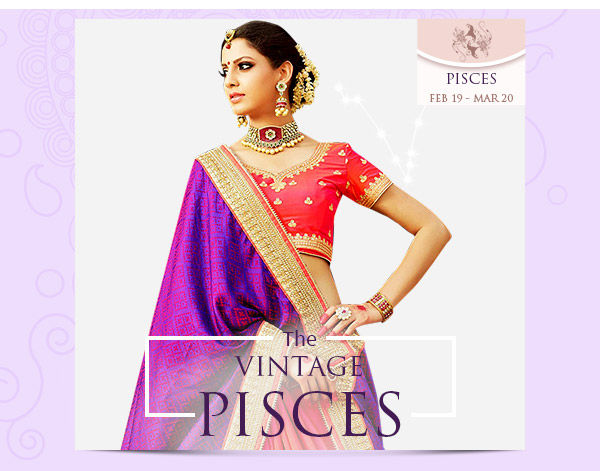 The Pisces woman is the queen of vintage. Calm and composed, the water carrier loves the classics in fabrics and embroidery. Naturally, her closet is full of purple and lavender clothes. When shopping for weddings and festivities, she can explore Zari work, Brocade and Jacquard Sarees from our collection. Salwar Suits in shades of Purple are so perfect. Go, possess.