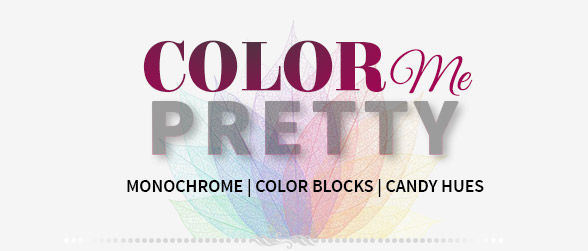 Trendy Color Palette
We've got you covered for every color palette that's trending this season. Feast your eyes on classic Black & White, bold Color Blocks & feminine
Candilicious Hues in our 3 curated collections. Start shopping the hues that are topping the charts!
It's reigning! For office or daytime outings, slip into a Black & White Printed Kurta. Match it with
Stone studded Earrings & a Beaded Clutch to amp up the style quotient.
Look bold & beautiful in a Half-n-Half Saree in soft Green and Magenta. Play down the rich hues of your drape by choosing
a neutral White Stone Earrings and Silvery Grey Clutch.
Love shades of lollipop, cotton candy & bubblegum? Make a sweet impression in a Abaya style Suit in Baby Pink.
Earn rave reviews for the Chandbalis and Peach Sling Bag.

The Encyclopedia of Indian Fashion and Everything Else