AW'17 TREND FORECAST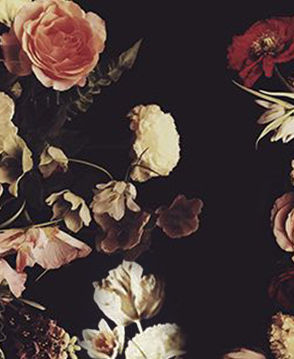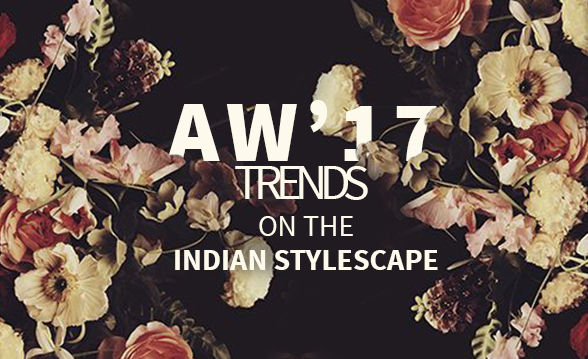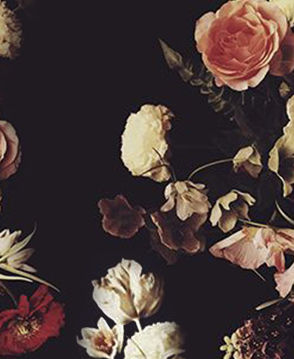 Fashion adapts to the season, the milieu, the occasion and the wearer. Sometimes, it is flamboyant and sparkles seductively. At other times, it goes matte and subtly elegant. Some trends are dominant yet temporary. Some are ancient and never really go away. At Utsav Fashion, we bring you the best AW'17 Trends with their ethnic makeover so that you know what to pick for the season. See. Shop. Conquer.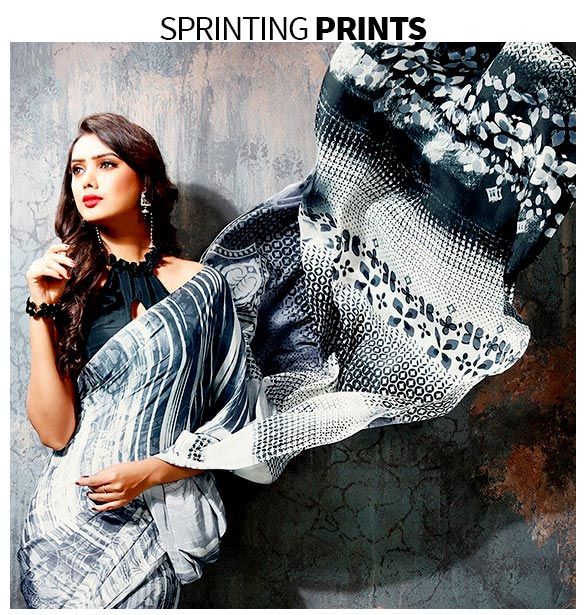 Pack a serious fashion punch with the prints of the season. Look feminine and alluring in Floral Prints. From ferns to petals, we've got you covered with everything colorful and dainty. If you prefer sharp triangles and defined circles instead, take to Geometric Prints. This rush-hour-to-happy-hour print trend is taking ethnic and fusion wear to the next level.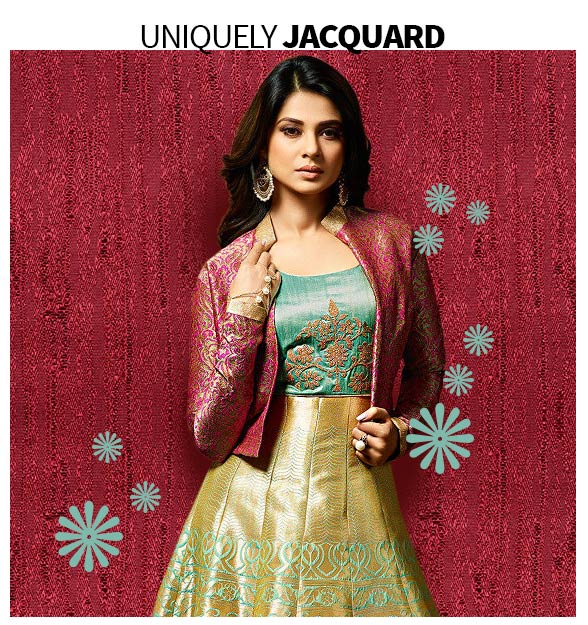 The self woven motifs within the fabric makes Jacquard one of a kind. Majestic in look and feel, it lends itself beautifully to menswear and women's attires - no wonder, even lovers of silk are raving about Jacquard this season! So when you see our fascinating range of Sarees, Lehengas, Straight Suits and Men's Jackets in Jacquard, do let your inner royal take over.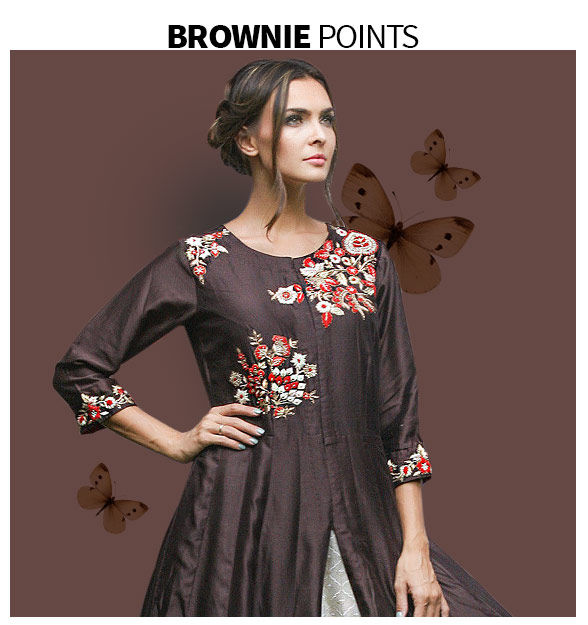 Brown is the new Black. It is subtle yet dramatic in every avatar - the chocolatey Crepe Saree, earthy Long Skirt, chic Cinderella Gown, evocative Abaya Suit and so much more. So whether you walk the ramp or waltz into a party, wear luminous tints of Brown. Out for a casual do? Take to matte Brown for your Kurtas and Indo Westerns. Let the compliments flow!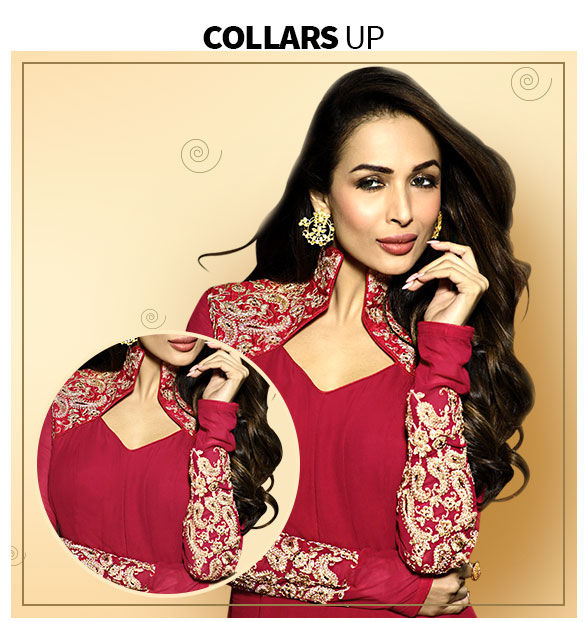 One winter trend that changes the look and feel of your attire is the Collar. Saree Blouses turn chic with the Mandarin Collar. Abaya style Suits look extra beautiful with the Band Collar. The embroidered Shirt Collar takes the Jacket style Lehenga several notches higher. Experiment with the fabric, work and styling to make your collar the talking point.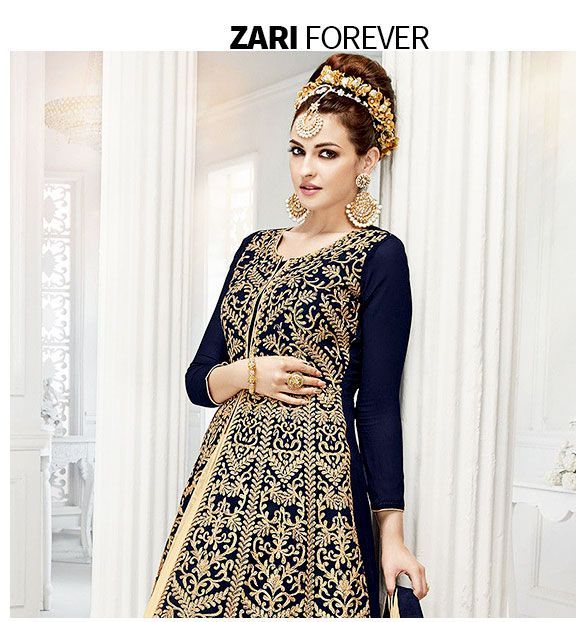 As bootis, peacocks, flowers and ornamental motifs - Zari work has a million expressions. The intricate craftsmanship and detailing with metallic thread lends a golden luster to the attire, making it perfect for ultra-luxe occasions. This timeless trend is a priceless investment for the lover of classics, and an eternal muse for present-day designers. Elevate your aura.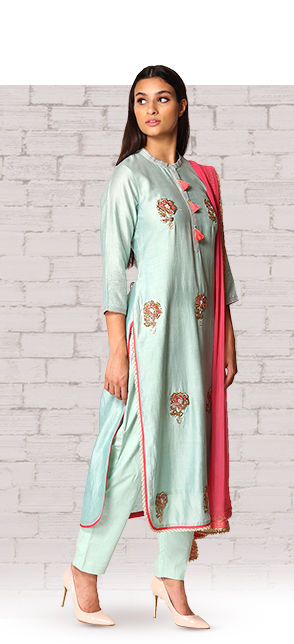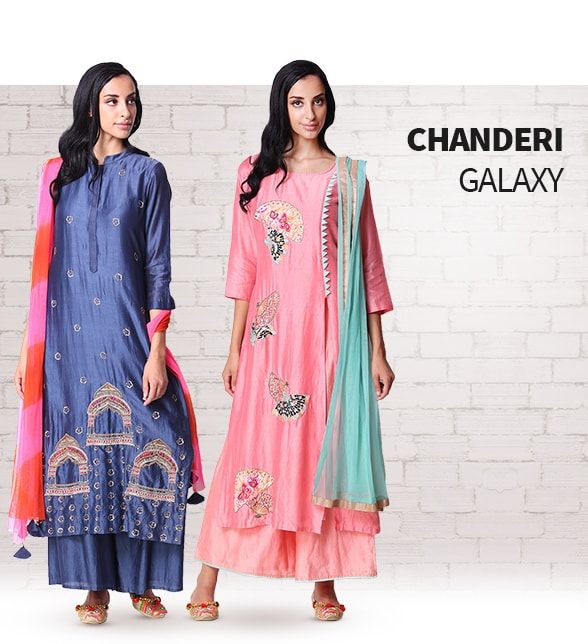 Love wearing ethnic with a touch of royalty? The timeless Chanderi Silk is the way to be. Patronised by the royals of Madhya Pradesh and a favorite of contemporary designers, Chanderi Silk Sarees, Lehengas, Abaya style Suits & Anarkalis with statement full sleeves and high collars are all a-rage. Succumb to its gossamer charms.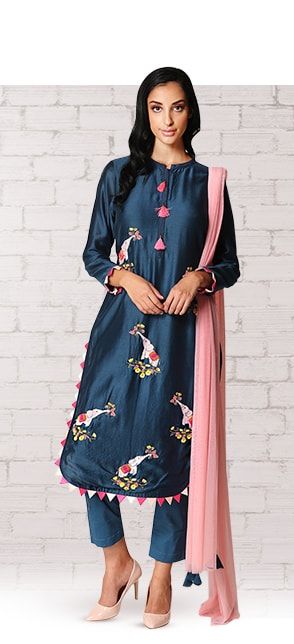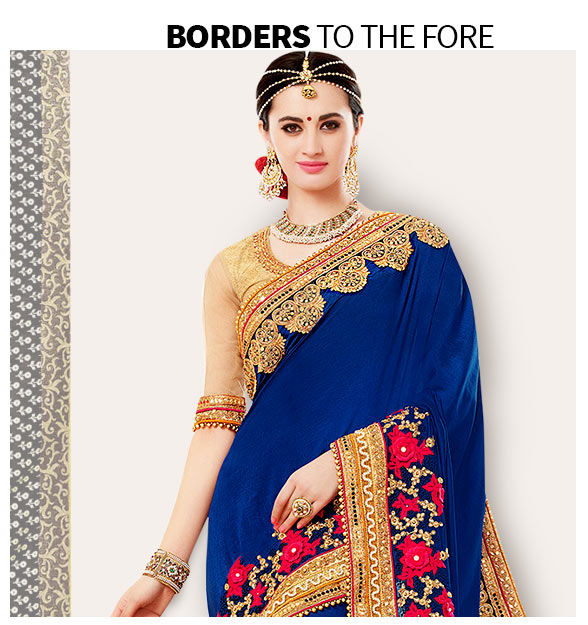 Saree borders can be such a talking point. The recent trend in Sarees is to play with the edge. So explore Silks and Georgettes, Handloom Cottons and Chiffons with statement borders that are marked by zari work, resham embroidery, gota patti, woven artworks or bold prints. Create a buzz.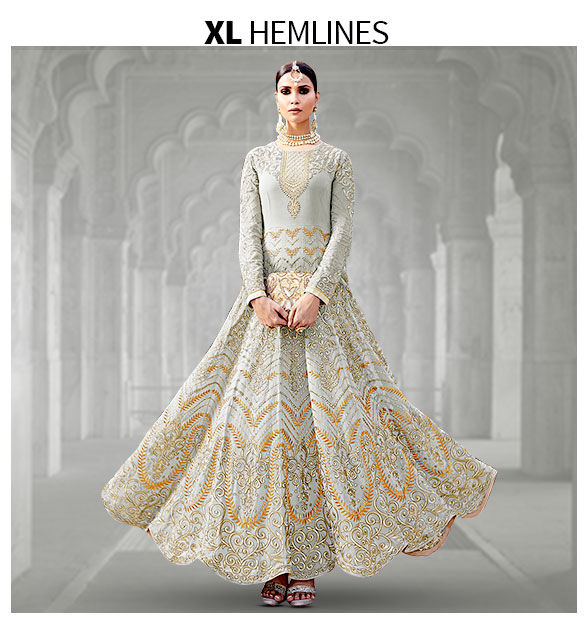 The extra-long hemline continues its romance with Indian fashion. This trend is rocking the Salwar Kameez segment with its form-flattering elegance and old-world majesty. Don't miss the flowy Anarkalis, chic Pakistani Suits and graceful Abaya style Suits that are sweeping the world.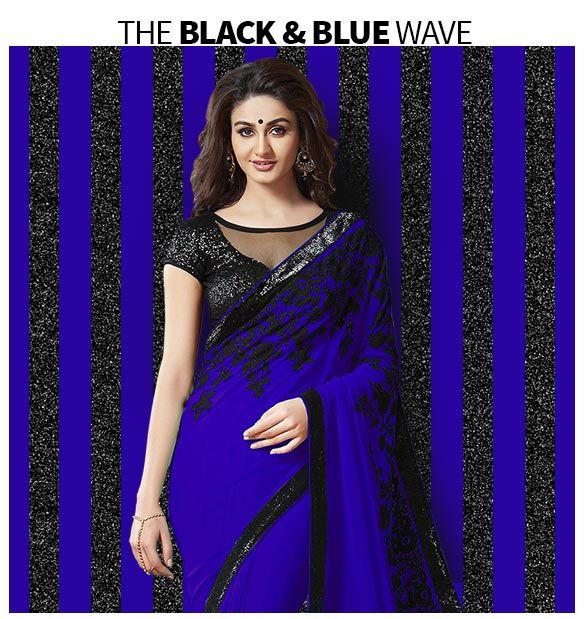 It's infectious! Every fashion week has been voting for stunning Black, dynamic Blue and a potent combo of this power duo. Don't even miss out on staying in-trend, ladies. Dive deep into the Black and Blue wave that is engulfing the world.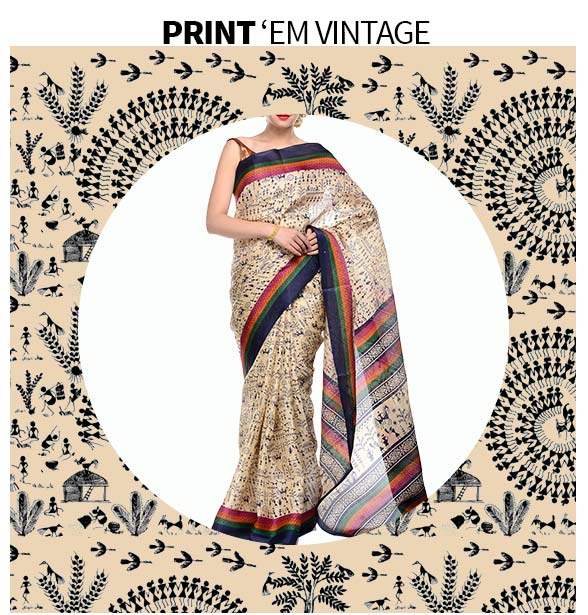 Designers are rediscovering the power of old-world prints like earthy Block and traditional Paisley, folksy Foliage and mystical Warli. Give your closet a whiff of folklore with a charming line of Sarees, Salwar Suits, Lehengas and Fusion Wear in prints that defy time. Show some vintage love.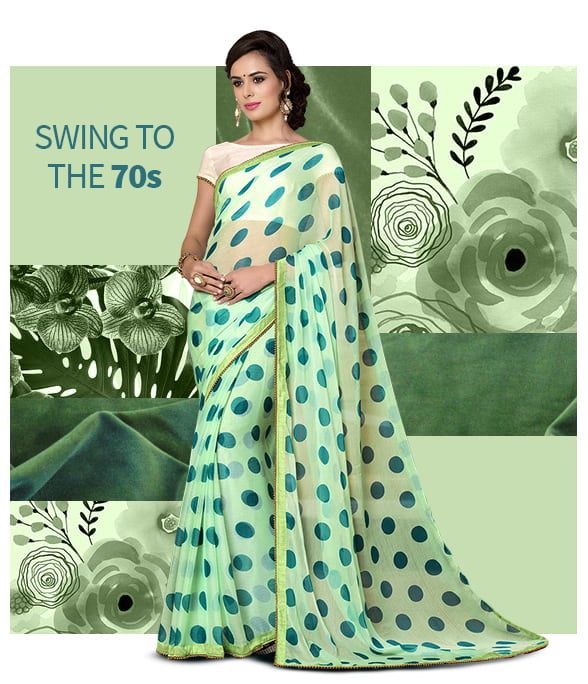 Switch to the uber-cool retro look of this fashionable decade with a medley of hot Polka Dots, easy Flared silhouettes, flamboyant Prints and luxe Velvet. Check out each of these scorching trends from our ramplicious styles in sarees, salwar suits, skirts, gowns, long kurtas and more. And get some 70s' swag!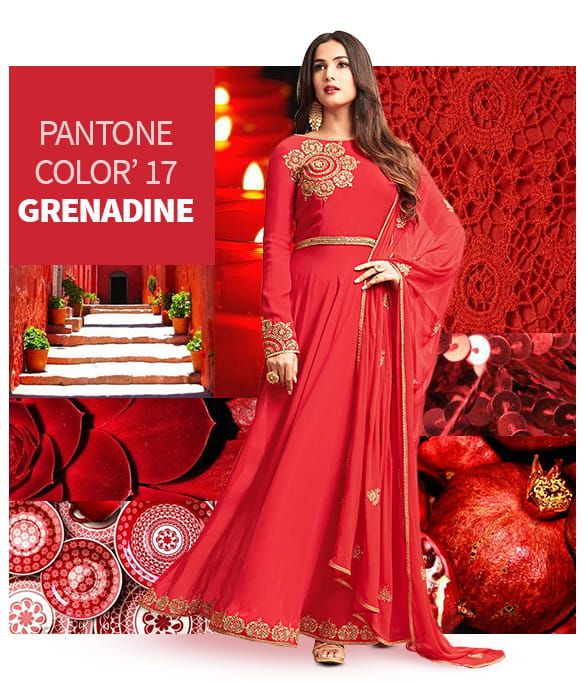 Grenadine is the runway shade of red, this season! Exuding power & confidence, Grenadine is set to rule your closet. Come, splurge on dynamically hued traditional and fusion attires which make heads turn. All you need to own the ramp is to unleash your Reds.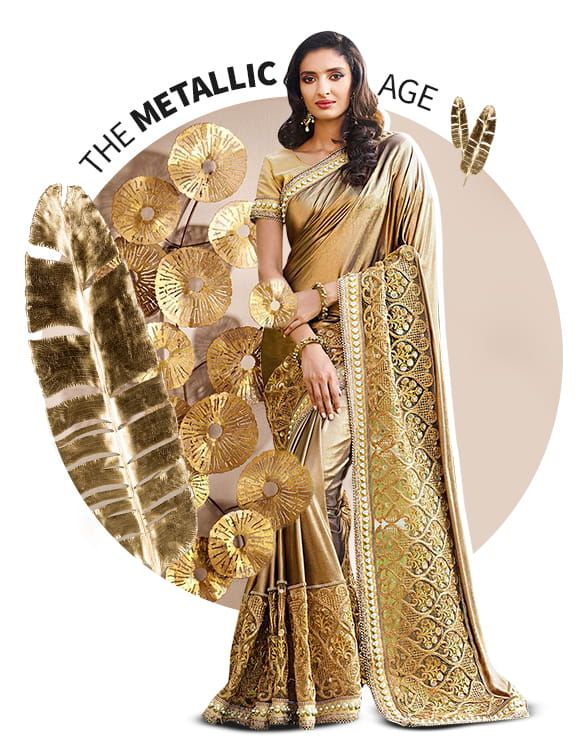 That slight flash of metal in the fabric makes it the stuff dreams are made of. Lose your heart to a range dipped in molten gold, shimmering silvery grey or burnished copper. Topped with embroidery and intricate motifs, our ensembles in Metallic hues are inspired by one of the runway's most loved trends.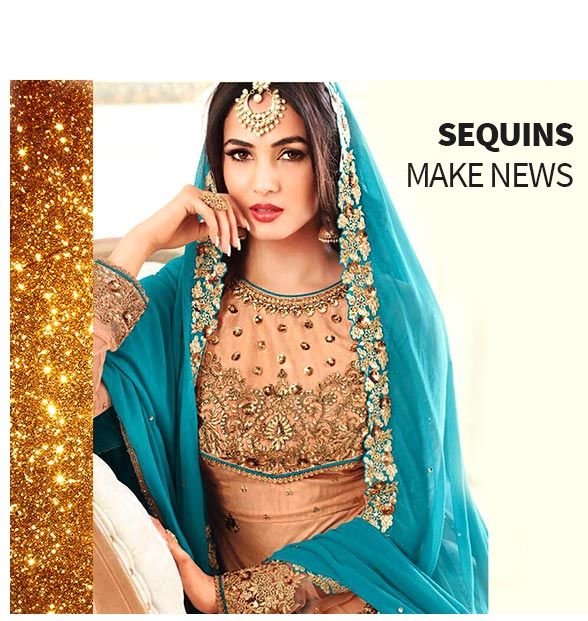 There's something about Sequin work that makes your attire a showstopper. If you are flaunting a Georgette Saree, Chiffon Anarkali or Net Lehenga Choli sprayed with little shiny sequins for a mesmerizing 'diva' effect, you are definitely a trendsetter. Own these stunners in light pastel shades or deep, rich hues.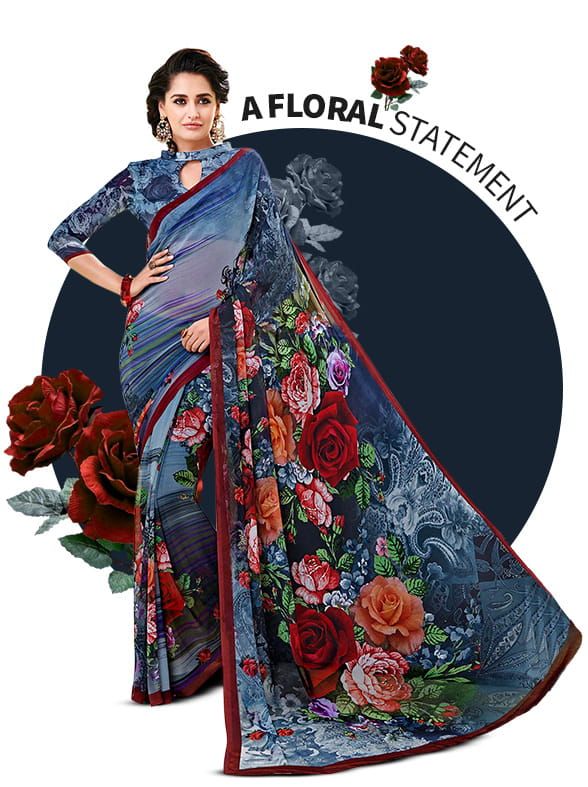 Whatever the season and wherever you may be, Floral Prints are eternally trending. So luxuriate with ferns and petals against deep burgundy, soft pink, shimmering black, cheery yellow and more. When you shop the attire of your choice, make sure you pick Floral motifs to make a feminine statement.