AUTUMN WINTER TREND ECSTASY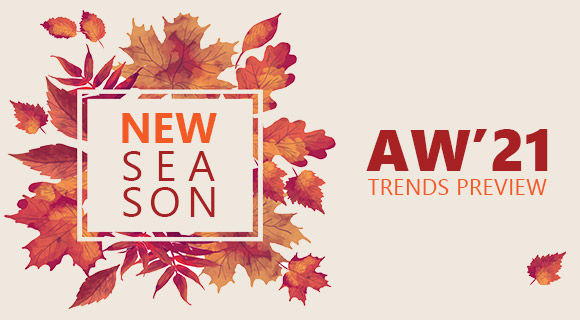 It's time once again to ring in the exciting Autumn Winter Trend Preview for 2021. The colors are bold, the fabrics are plush, the vibes are blingy and the attitude is flamboyant in catwalks across the world. Ethnic fashion is all set to be big and fun, so fasten your seatbelts and let's go check these out!

This trend signals the return of drama and flamboyance. Layered attires are the flavor of the winter season, even in ethnic fashion. From lehengas with jackets to sheer capes with Pakistani suits, from skirts with tiers to saree blouses – reinvent your wardrobe in layers!

Lilac is fashion's latest color so get on with the trend! This soft and pretty shade of purple is taking over hearts since it can be paired with monochromatic, plain, shimmery, sequinned ethnic ensembles. It's the color with the life of the party, so bring your lilac on and make a fashion statement wherever you go!


Season after season, Green takes over the runway! What better than having nature's shade of beauty, elegance and peace in your closet. Revamp it up and bring the green into the limelight. From earthy and deep green to pretty pastel green to vibrant neon, Green ensembles never go out of style!


It's time to go back to happy hues! Put away the staid greys and bring out your flamboyant spirits in Red, Yellow, Fuchsia, Green and more. Bright colors are the most in-thing this season, so go in for some color therapy, ladies!

Get Autumn/Winter'21 ready with hints of sequins, crystals, metallic shades in embroidered and plain sarees, Pakistani style suits with sharara bottoms, flowy abaya style suits, top-n-bottom sets, wedding lehengas & lots more.


Refresh your autumn closet with these new-age styles. These trending crop tops with dainty details and playful silhouettes can be paired with palazzo pants and ethnic skirts. Find your new favorite.


Thinking of comfort? Get suave, elegant and super comfy Midi Dresses in different hues & silhouettes. Your closet isn't complete without the season's most stylish indowestern dresses in fabrics like cotton, rayon and more.

Black and white will shape the season with its timeless elegance, universal appeal and any-occasion perfection. You can't fail in monochrome ethnic wear either, so make a beeline for this trend when you want to make a subtle yet bold statement.


As hope rules the runway, it's time to be saucy! The Cut-Out is a spicy trend with a delicate slash here, and a teardrop hole there. Shoulder cuts, neckline cuts and more in blouses, salwar suits, lehengas and fusion wear are sure to enhance the form and turn heads!


Which girl has ever said no to flowers? The floral trend carries over from last season but in an understated avatar. The ferns and petals are small, subtle, and uniform, exuding elegance rather than flamboyance. So, wear them without a shout, lady!

The most versatile color of all time is here because Black is always a fashion favorite. Choose your style in monotone or monochrome, plain or fancy, you'll certainly look your classiest best! Get your share of black ethnic attires for your fashion closet!


This is a look that slays for every reason! All an outfit needs to transform into a stunner is a cape. So if you want to rule the glam set, make sure you've got salwar suits, lehengas, gowns, top-n-bottom sets and more with capes as a gorgeous layer. Sheer, embellished or simply elegant – what's your cape vibe?


Sensual sheer fabrics are now set for Indie closets and the party circuit couldn't be happier. From light net sarees to flowy abaya suits, from wispy lehengas to flattering gowns – our spectrum in net, chiffon and chanderi comes embroidered in sequins and zari!

Nothing spells quirk like Patchwork. While global designers have given it an uptick, patchwork has always been a winner in ethnics. Succumb to the beauty of our patch work through motifs and embroideries in sarees, salwar suits, lehengas, kurtas and more.


It's a color that lifts your spirits when the chill sets in. A trend favorite amongst fashionistas, pink rules in light or dark, subtle or strong tones. Don't miss our woven & embroidered sarees, salwar suits, lehengas, dresses and more in this pretty blush shade.


This is a winter classic, and has moved from Western silhouettes to good ol' ethnic styles. If you are a 'checks' person, the elegance and power of this popular pattern on printed, woven sarees and more will win your heart!

Everyone's ready to go out and groove, so it's a glittering opportunity for fashion. What does a girl need if she has a pick of gold, silver, copper, grey and more metallic shades? Add luster to contemporary ethnic attires and fusion wear in metallics!