The festival of joy, colors, and devotion, Navratri, is just around the corner. Also, with it comes the much-anticipated Garba nights! If you're like us, you're already feeling the excitement building up. For those unfamiliar with Garba nights, let us provide you with a sneak peek into what makes them so exciting.
Garba is a traditional Indian dance form that originated in the state of Gujarat. It's performed during Navratri, a nine-night festival dedicated to the worship of the goddess Durga. The dance involves gracefully moving in circles, creating an energetic and colorful spectacle.
Garba nights are all about letting loose and dancing to the enchanting tunes of Falguni Pathak. Undoubtedly, her music adds an extra layer of joy and nostalgia to the Garba night experience, making it even more special.
But did we overlook something? Indeed, we did! The stunning Navratri outfits prepare you to fully immerse yourself in the magic of Garba nights. Whether you're a seasoned Garba enthusiast or a newbie, we've got nine fabulous Navratri outfit ideas to make your Garba nights even more memorable.
Traditional Chaniya Choli: A Timeless Classic
Let's start with a classic choice that never goes out of vogue – the traditional Chaniya Choli. This three-piece ensemble consists of a flared skirt, a matching blouse (choli), and a dupatta. With vibrant colors, intricate embroidery, and mirror work, you'll be the center of attention as you twirl gracefully on the dance floor. Pair it with some jingling bangles and statement earrings to complete the look.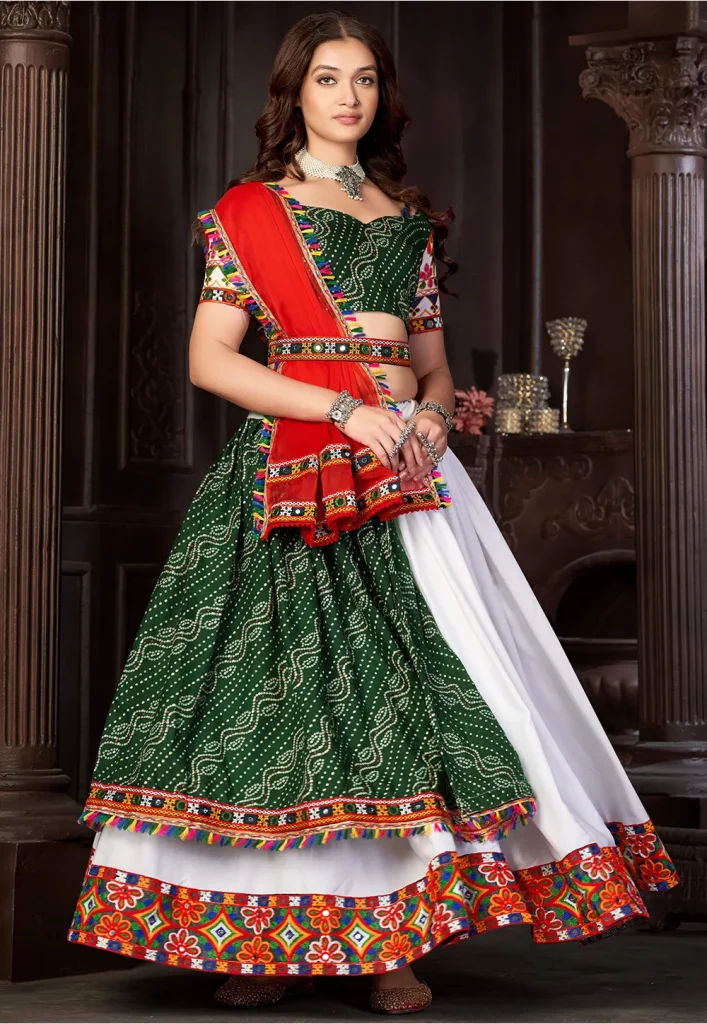 Patola Sarees: Elegance Personified
For those seeking the elegance of a saree, a Patola saree is an excellent choice for Garba nights. These intricately woven silk sarees come in a riot of colors and interesting patterns. Drape it in the Gujarati style, and you'll be ready to swirl and sway with grace.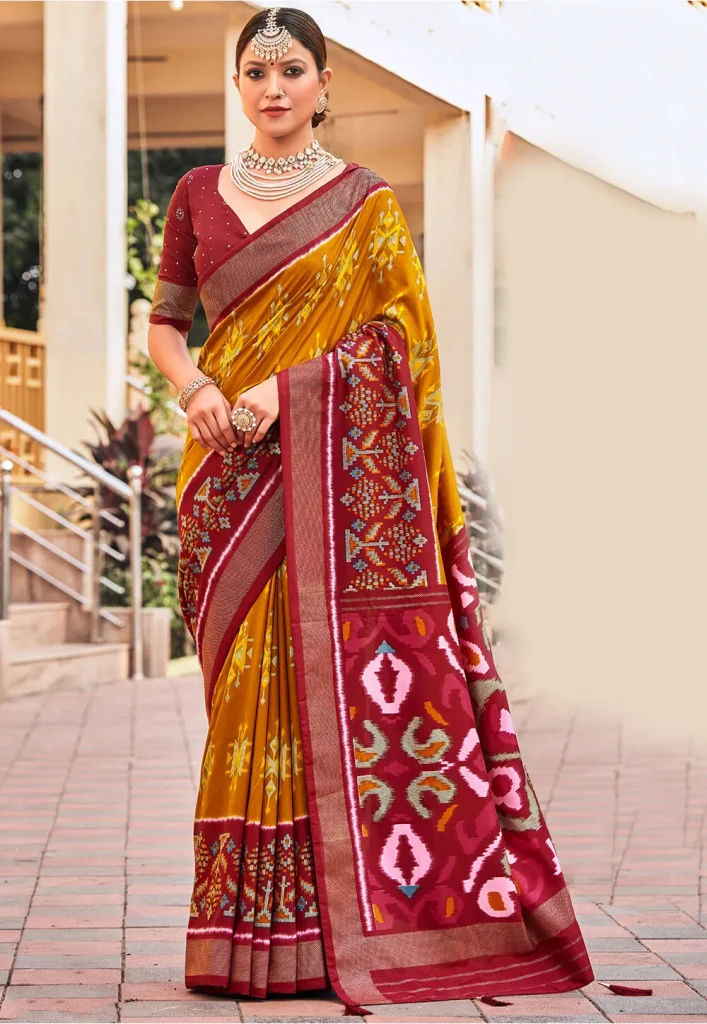 Lehenga Choli: Royal Glamour
Channel your inner royal with a stunning Lehenga Choli ensemble. The flowing skirt and fitted blouse create a look that's both regal and chic. Opt for rich fabrics like silk or velvet and don't forget to add some ethnic jewelry to complete the magnificent look.
Crop Top and Pants: Contemporary Chic
For a modern twist on conventional attire, consider a crop top paired with pants. This contemporary outfit is perfect for those who want to dance the night away without worrying about the hassle of a heavy lehenga or saree. Choose a crop top with detailed embroidery and a contrasting pair of pants to stand out on the dance floor.
Dhoti Pants: Bohemian Vibes
Dhoti pants have made a huge comeback in recent years, and they are a great choice for a Garba night with a twist. Pair them with a vibrant crop top or blouse and add a statement belt to cinch the waist. You'll have the ultimate fusion look that's both comfortable and chic.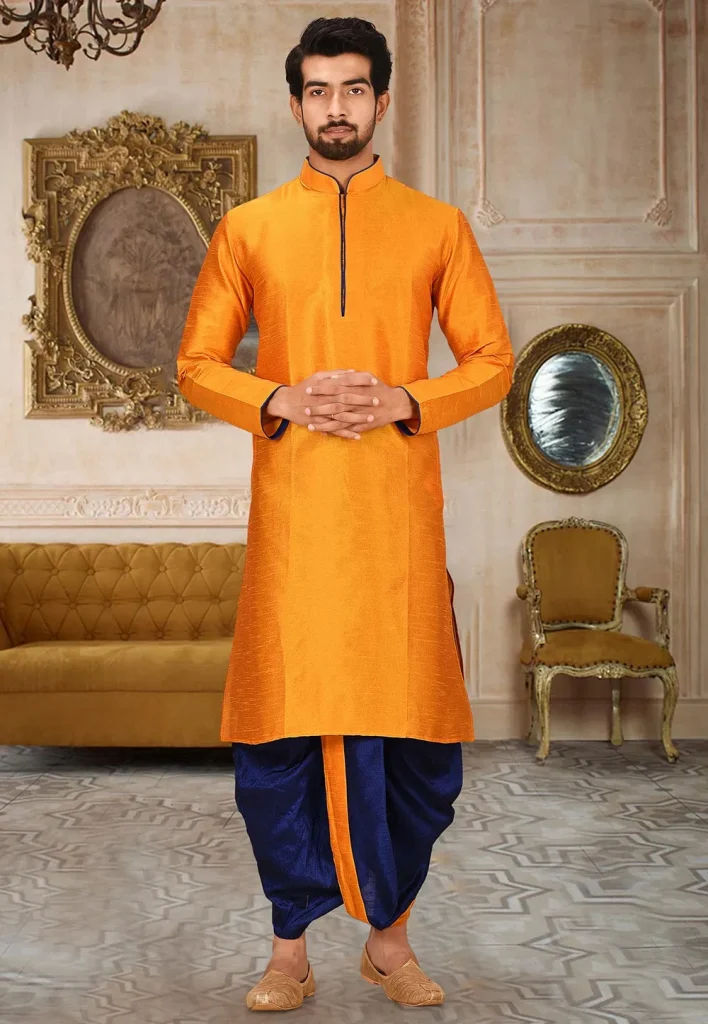 Crop Top with Skirt: Graceful Fusion
Another fusion favorite is the crop top with a skirt. Go for a flared skirt with intricate detailing and pair it with a matching or contrasting crop top. This outfit allows for easy movement and is ideal for those who want to dance their hearts out.
Experimental Drapes: Be Bold
Feeling adventurous? Experiment with unconventional drapes and silhouettes. You can create a distinctive look by draping your saree or dupatta in innovative ways. Let your creativity shine as you come up with your own signature style.
Classic Salwar Suit: Timeless Comfort
If you're all about comfort sans compromising on style, a classic salwar suit is your go-to choice. Opt for a colorful and well-fitted salwar suit with intricate embroidery. It's a classic choice that never goes out of fashion.
Punjabi Sharara Suits: Twirl in Style
Last but not least, Punjabi Sharara suits bring a dash of North Indian charm to the Garba night. The flared pants and short kurta make it easy to dance in, and the vivacious hues and mirror work add an extra layer of festivity.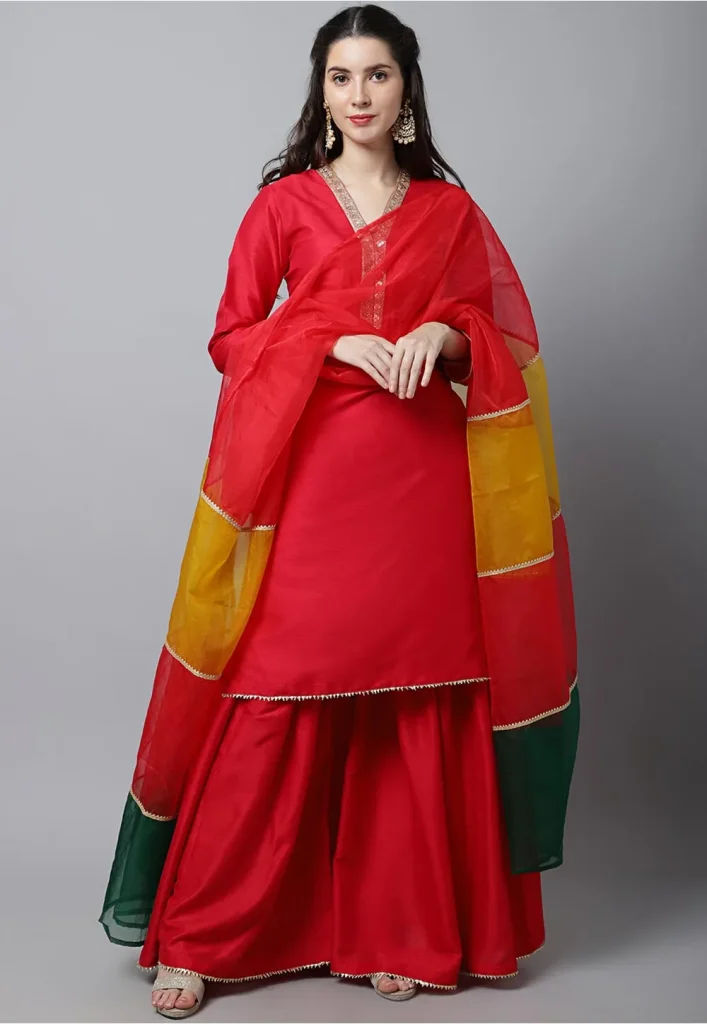 Wrapping Up!
Now that you have nine stunning Navratri outfit ideas, it's time to get ready for those exciting Garba nights. Whether you choose a traditional Chaniya Choli, a modern crop top and pants ensemble, or something in between, your Navratri outfit will be your ticket to a night filled with dance, laughter, and memories to cherish forever. Remember to accessorize with traditional jewelry, don your favorite jingling bangles, and get your dancing shoes ready. Let the countdown to Garba nights begin!