The vibrant and joyous festival of dance, music and devotion, Navratri, is just around the corner. As we gear up to celebrate this nine-night extravaganza dedicated to the goddess Durga, it's time to start planning out outfits. After all, dressing up for Navratri is not just a tradition; it's an expression of our spirit. So, let's dive into the world of fashion and explore the 5 must-have trendy wardrobe essentials that will make you the star of this year's Navratri celebrations.
Headgear: Crown Your Look
Your Navratri wardrobe wouldn't be complete without some eye-catching headgear. Ditch the conventional and go for something extraordinary this year. Traditional headpieces like the 'maang tikka' or 'matha patti' can amp up your look instantly. But if you're feeling adventurous, try a chic turban or a floral tiara. Keep in mind, the key is to make a statement with your headgear. Go for colors that complement your outfit and don't be afraid to mix and match styles. Whether it's graceful or quirky, your headgear should reflect your personality and set the mood for the night.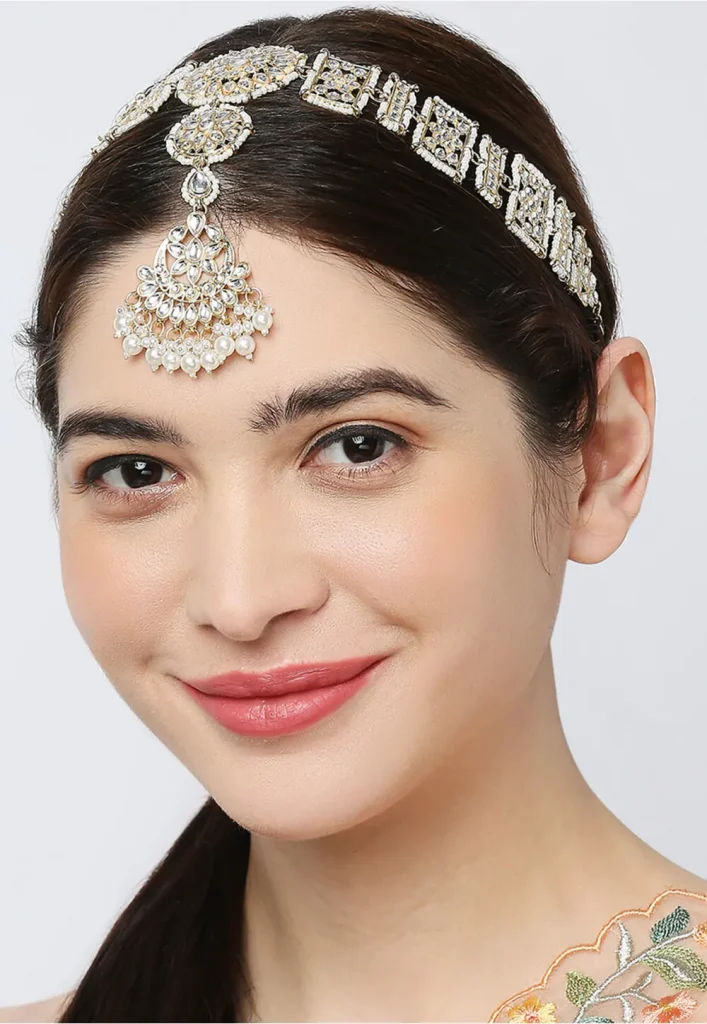 Styling Tip: Pair a tiara with a simple blouse-choli combo to strike the perfect balance between traditional and chic.
Trendy Blouse/Choli Styles: Fusion Meets Tradition
The blouse or choli is the canvas on which you can paint your Navratri style. This year, it's all about mix and match. Combine the timeless charm of traditional embroidery with contemporary silhouettes. Off-shoulder cholis, corset blouses, or cape-style blouses are ruling the fashion landscape. These styles not only add a contemporary twist to your outfit but also offer comfort as you groove to the beats of Garba and Dandiya.
Styling Tip: Pair an off-shoulder blouse with a high-waist, flared skirt for an elegant look that allows you to dance with grace.
Statement Earrings: Shine Bright Like a Star
Navratri nights are all about shining bright under the vibrant lights. And what better way to do that than with statement earrings? Whether you prefer chandbalis, jhumkas, or oversized hoops, choose Indian earrings that catch the eye. This year, big colorful gemstone earrings or intricate silver jhumkas are making waves. Let your earrings do the talking and keep the rest of your jewelry minimal to avoid an overwhelming look.
Styling Tip: Pull your hair back into a sleek bun or a messy braid to let your statement earrings take center stage.
Bright Skirts and Lehengas: Twirl in Style
When it comes to Navratri dressing fashion, bright and vibrant skirts and lehengas are non-negotiable. Consider lively colors like deep reds, royal blues, and sunny yellows. These shades not only channel the festive spirit but also make you stand out in the crowd. Look for skirts and lehengas with complex embroidery or mirror work for that quintessential ethnic touch. Remember, Navratri is all about dancing, so choose lightweight fabrics that allow you to twirl with ease.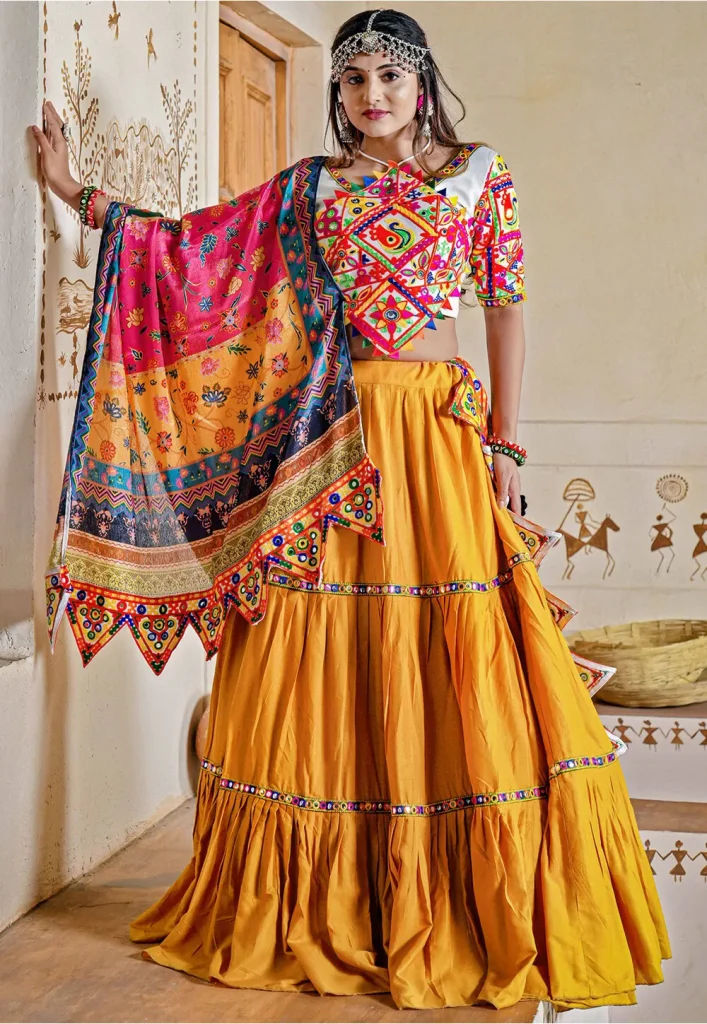 Styling Tip: Combine a bright lehenga with a contrasting blouse and drape a matching or contrasting dupatta for a traditional yet trendy look.
Bright Embroidered Jackets: Layer Up in Style
As the night progresses, the temperature might drop a bit and that's where a trendy embroidered jacket comes into play. These jackets not only keep you warm but also add a layer of style to your overall ensemble. Consider jackets with intricate mirror work or embroidery that complements your skirt or lehenga. A well-chosen jacket can take your Navratri outfit from ordinary to extraordinary.
Styling Tip: A long, flared jacket pairs beautifully with a lehenga, while a shorter jacket complements a skirt. Don't forget to experiment with complementary colors for a bold look.
Navratri: A Celebration of Style and Spirit
Navratri isn't just a festival; it's a festivity of life, culture, and devotion. Dressing up for this grand occasion is an important part of the festivities. So, this year, let your wardrobe speak volumes about your style and spirit. Embrace headgear that crowns your look, choose blouse and choli styles that blend tradition with modernity, make a statement with your earrings, twirl in bright skirts and lehengas, and layer up with stylish embroidered jackets.
Navratri is a time to let your hair down (metaphorically!) and dance your heart out. So, go ahead and experiment with your fashion choices. Mix and match, experiment with colors, and most importantly, wear your confidence and enthusiasm as your best accessories. Here's to a Navratri filled with joy, dance, and unforgettable fashion moments. Get ready to shine, because the spotlight is on you!