A vibrant and culturally rich festival, Chhath Puja, is just around the corner. The excitement in the air is palpable as people prepare to celebrate this festival with great enthusiasm and devotion. Chhath Puja, also known as Dala Chhath or Surya Shashthi, is dedicated to the worship of the sun god, Lord Surya, and his sister, Chhathi Maiya. It is celebrated with a lot of fervor in the northern regions of India, especially in Bihar, Jharkhand, and Uttar Pradesh.
Apart from the spiritual significance of Chhath Puja, the festival also brings an opportunity for people to showcase their fashion sense. Dressing up for this occasion is a delightful part of the celebration. In this blog, we will share top fashion tips to help you look radiant during Chhath Puja 2023. We've shortlisted three main colors traditionally associated with Chhath Puja and their respective meanings: the shades of the sun – red, yellow, and saffron or orange. Get ready to discover the perfect attire that reflects both tradition and style.
Red Silk Anarkali Set – The Symbol of Passion and Energy
The color red signifies passion, energy, and love. It is the color of the rising sun and is associated with the goddess Chhathi Maiya, who represents strength and courage. For Chhath Puja, a stunning red silk Anarkali set can be a perfect choice. This traditional outfit is a blend of elegance and grandeur, making you stand out in the crowd.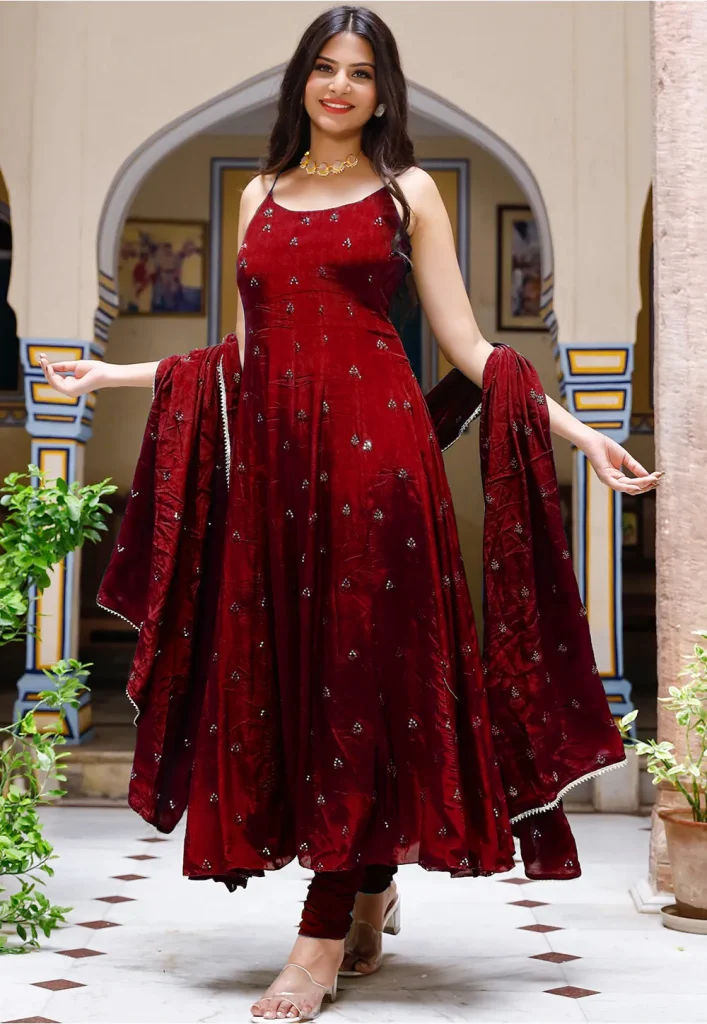 The red Anarkali set typically includes a long, flowing Anarkali kurta with intricate embroidery, paired with matching bottoms and a coordinating dupatta. The intricate work on the kurta adds an element of grace to your attire. Choose subtle gold or silver jewelry to complement this outfit and add a touch of glamor to your Chhath Puja look.
Yellow Embroidered Kurta Sharara Set – The Color of Positivity and Happiness
Yellow is a color that radiates positivity and happiness. It symbolizes the first rays of the sun, hope, and optimism. Wearing yellow during Chhath Puja can be an excellent choice to embrace the festive spirit. A yellow embroidered kurta sharara set can make you look vibrant and joyful.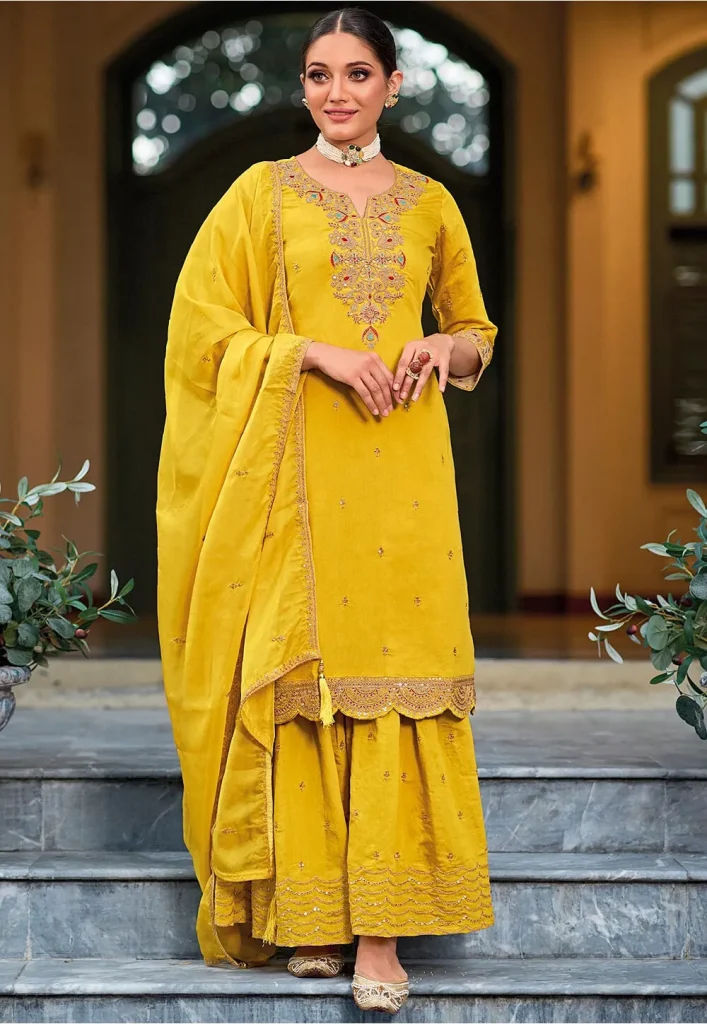 This outfit usually includes a yellow kurta with beautiful embroidery work, paired with a comfortable and stylish sharara bottom. The bright and cheerful yellow color is sure to make you the center of attention during the festivities. Accessorize this ensemble with statement earrings and bangles, and you'll be ready to shine.
Orange Velvet A-line Kurta or Chanderi Saree – The Color of Devotion and Purity
Orange is the color of devotion and purity, symbolizing the setting sun and the goddess of Chhathi Maiya's blessings. It represents the soul's purity and dedication to the rituals. For Chhath Puja, you can choose between an orange velvet A-line kurta set or a Chanderi saree in the same hue.
The orange velvet A-line kurta set is a regal choice with a royal touch. The soft and rich texture of velvet paired with elegant embroidery adds a royal charm to your Chhath Puja attire. Alternatively, the Chanderi saree in orange offers a traditional and graceful look. The saree drapes beautifully, allowing you to exude elegance and charm. You can accessorize either option with jhumkas and a bindi to complete the traditional look.
Accessorize Your Outfit
To enhance your Chhath Puja outfit, don't forget to accessorize thoughtfully. Here are some tips to elevate your look:
Earrings: Choose statement earrings that match the color of your outfit. Jhumkas, chandbalis, or intricate drop earrings can add a touch of elegance.
Bangles: Traditional glass bangles or metal bangles can enhance your overall look. Mix and match different designs to create a captivating effect.
Bindis: A small bindi on your forehead can symbolize devotion and add a traditional touch to your appearance.
Footwear: Comfortable yet stylish footwear like mojaris or embellished sandals will complete your Chhath Puja look.
Hair Accessories: Decorative hairpins, clips, or even fresh flowers can adorn your hair and add a touch of charm.
Wrapping Up!
Chhath Puja is a time of celebration, devotion, and vibrant traditions. Embrace the festive spirit and honor the sun god, Lord Surya, by choosing the right outfit in the traditional colors of red, yellow, and orange. Whether it's a red silk Anarkali set, a yellow embroidered kurta sharara set, or an orange velvet A-line kurta set or Chanderi saree, let your fashion choices reflect your enthusiasm for this remarkable festival.