Rajasthani Lehengas are synonymous with royalty and elegance. These stunning ensembles are known for their rich fabrics, intricate embroidery, and vibrant hues. Whether you're attending a wedding, a gala, or any other special occasion, a Rajasthani Lehenga is sure to turn heads.
Current Trends
This season, Rajasthani Lehengas is all about pastel shades, floral embroidery, sequin embellishments, cape sleeves, and A-line skirts. Here are a few specific trends to keep an eye out for.
Pastel shades: Baby pink, mint green and powder blue are some of the most popular pastel shades for Rajasthani Lehengas this season. These soft and feminine shades are perfect for any occasion.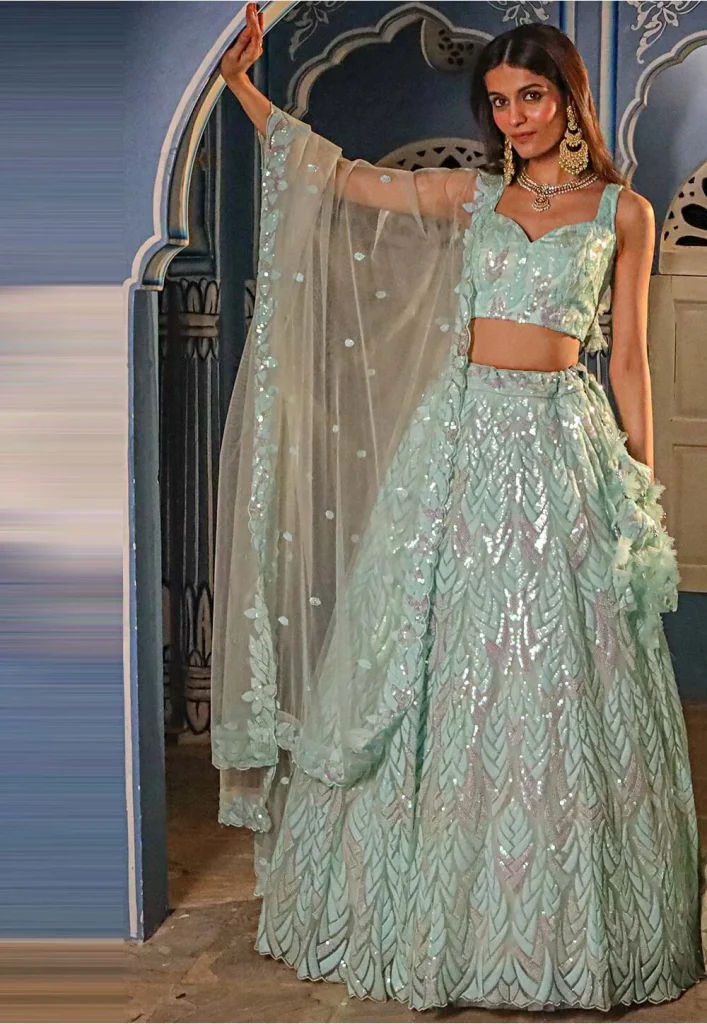 Sequin embellishments: Sequins are a great way to add sparkle and glamor to your lehenga. For a subtle look, choose a scattered sequins Lehenga. For a more regal look, choose a lehenga with heavily embellished sequins.
Cape sleeves: Cape sleeves are a unique and stylish addition to any lehenga. They add a touch of drama and flair to your outfit.
A-line skirts: A-line skirts are a flattering and versatile option for Rajasthani Lehengas. They flatter all body types and can be dressed up or down.
How to style a Rajasthani Lehenga?
Here are a few tips on how to style a Rajasthani lehenga for a royal yet chic look: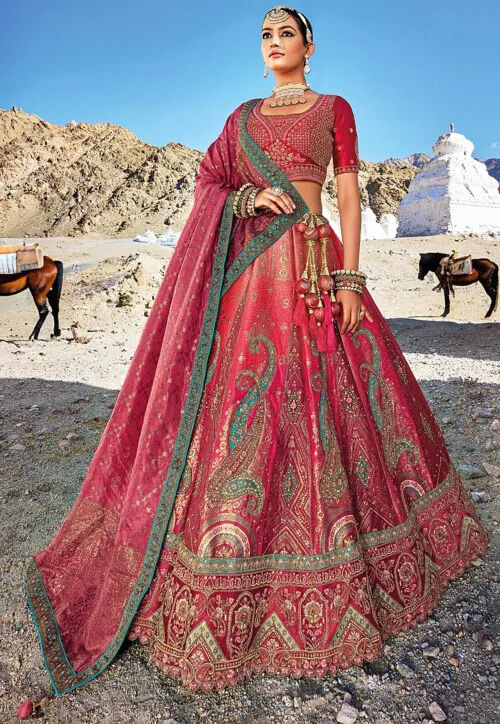 Pair your lehenga with a crop top or bralette. This will give your outfit a more edgy and contemporary look.
Accessorize with statement jewelry. A bold necklace or earrings can add a touch of glamor to your outfit.
Wear your hair in a stylish updo. This will help to show off your neckline and Indian jewelry.
Choose a pair of high heels or sandals. This will help to elongate your legs and make you look taller and slimmer.
Tips for choosing the right Rajasthani Lehenga
Consider the occasion. Are you attending a wedding, a gala, or another special occasion? Choose a lehenga that is appropriate for the occasion.
Choose the right fabric. Rajasthani Lehengas are typically made from rich fabrics such as silk, velvet, and georgette. Choose a fabric that is comfortable and flattering.
Consider embroidery. Rajasthani Lehengas are often embellished with intricate embroidery. Choose a lehenga with embroidery that you love and that complements your personal style.
Choose the right color: Rajasthani Lehengas come in a variety of colors. Choose a color that flatters your skin tone and that you feel confident in.
Wrapping Up!
Rajasthani Lehengas, steeped in regal allure and timeless elegance, has long been synonymous with the epitome of Indian fashion. These opulent ensembles are known for their sumptuous fabrics, intricate embroidery, and vivid palette that never fails to captivate. Whether gracing a wedding, a grand gala, or any special occasion, a Rajasthani Lehenga promises to be the cynosure of all eyes.
This season, the trends in Rajasthani Lehengas are redefining the traditional charm. Pastel shades, like baby pink, mint green, and powder blue, have taken the fashion scene by storm, lending an aura of soft femininity to the classic silhouette. Sequin embellishments create an aura of opulence, from subtle glimmers to dazzling brilliance, letting you style your sparkle quotient. Cape sleeves, a trendy and chic addition, inject a hint of drama and flair, while A-line skirts remain a versatile choice, flattering all body types with their timeless appeal.
In the world of fashion, Rajasthani Lehengas continue to reign supreme, standing as a testament to the enduring charm of Indian tradition and style. So, embrace these trends and tips to make your grand entrance in the world of opulent, Rajasthan-inspired fashion.