Choosing your perfect bridal lehenga can be an overwhelming task. With countless color options available, it's easy to feel confused. However, here's a secret that can make your decision a whole lot easier- your skin tone. Your complexion can be your ultimate guide to finding the bridal lehenga that will make you shine on your D-day. So, let's get started and explore the shades that complement different skin tones.
For Fair Bride-to-Be:
If you have a fair complexion, you're in luck because you can easily pull off a wide range of hues. Some of the most stunning choices include:
Mint Green: This soft and refreshing color is excellent for a daytime wedding. It radiates elegance and complements your fair skin beautifully.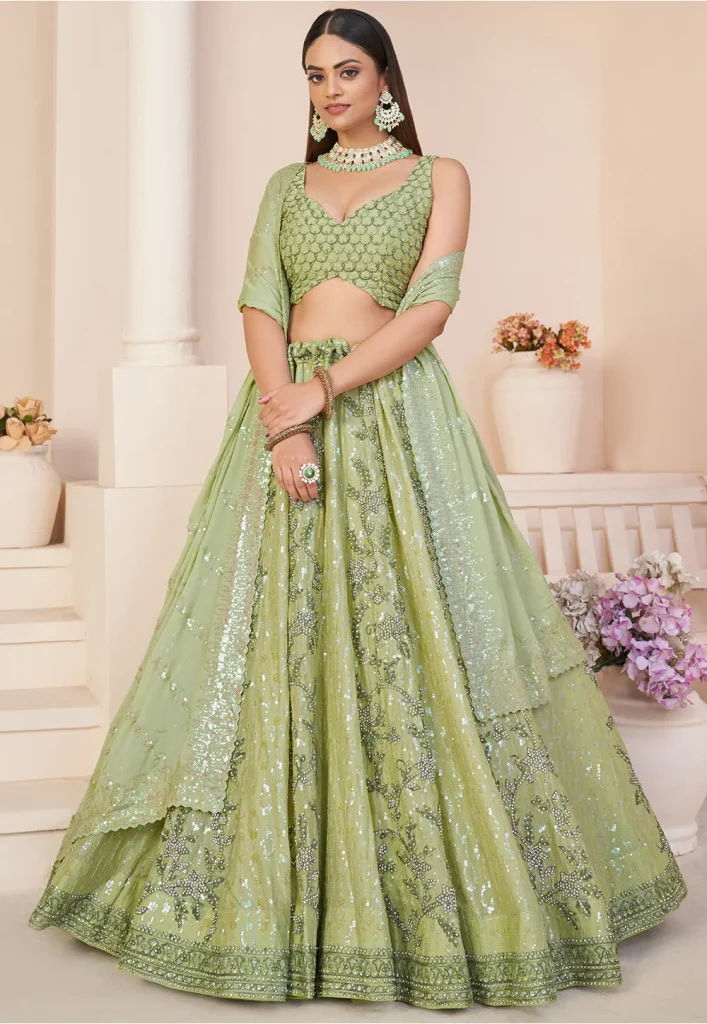 Powder Blue: A subtle and elegant option that can make you look ethereal on your big day.
Scarlet: For a bold and timeless look, a scarlet lehenga can be the ultimate showstopper.
Azalea Pink: This vibrant and youthful hue will add a pop of allure to your bridal attire.
For Pale Skin:
If you have pale skin, you should opt for lighter shades of Lehenga, but be cautious with extreme pastels. It's best to stay within two tones of your natural color. Consider these options:
Lilac: A soft and romantic hue that adds a dash of whimsy to your bridal look.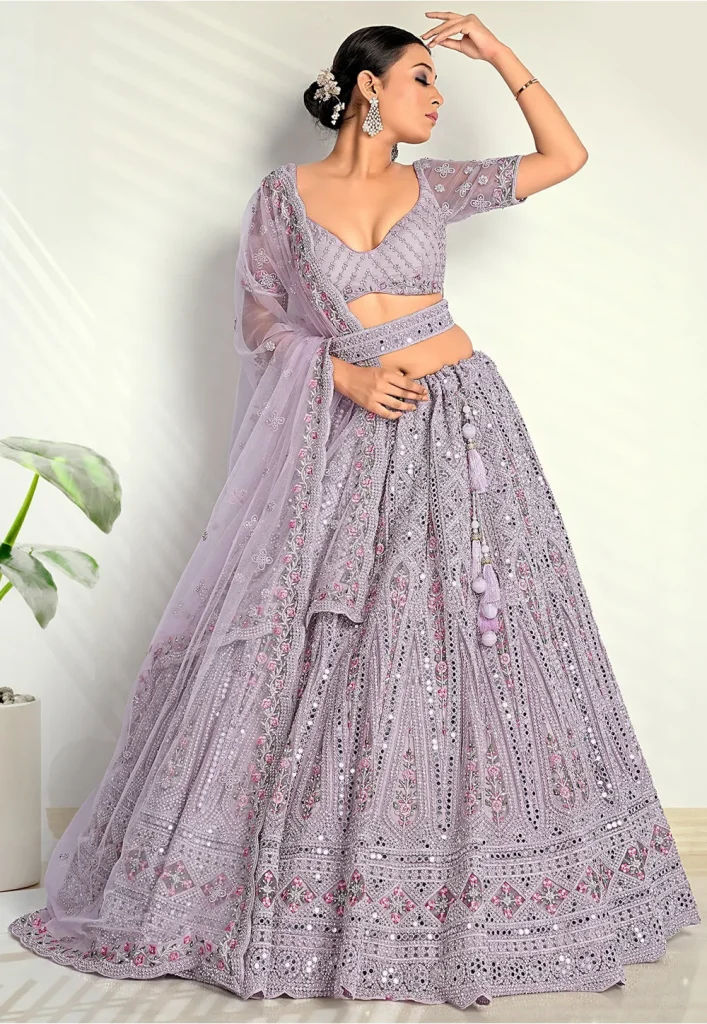 Fiery Red: Bright reds can create a stunning contrast against your pale skin, giving you a royal appearance.
Tangy Orange: For a unique and vibrant option that will make you stand out.
Chrome Yellow: This bold and unconventional hue can bring an element of surprise to your bridal outfit.
For Tan or Medium Skin:
Medium skin tones can have rich and earthy hues. Avoid very light shades that might wash you out, and instead, consider:
Ochre Yellow: Your skin tone gorgeously complements this warm and inviting shade.
Maroon: A classic choice that exudes grace and sophistication.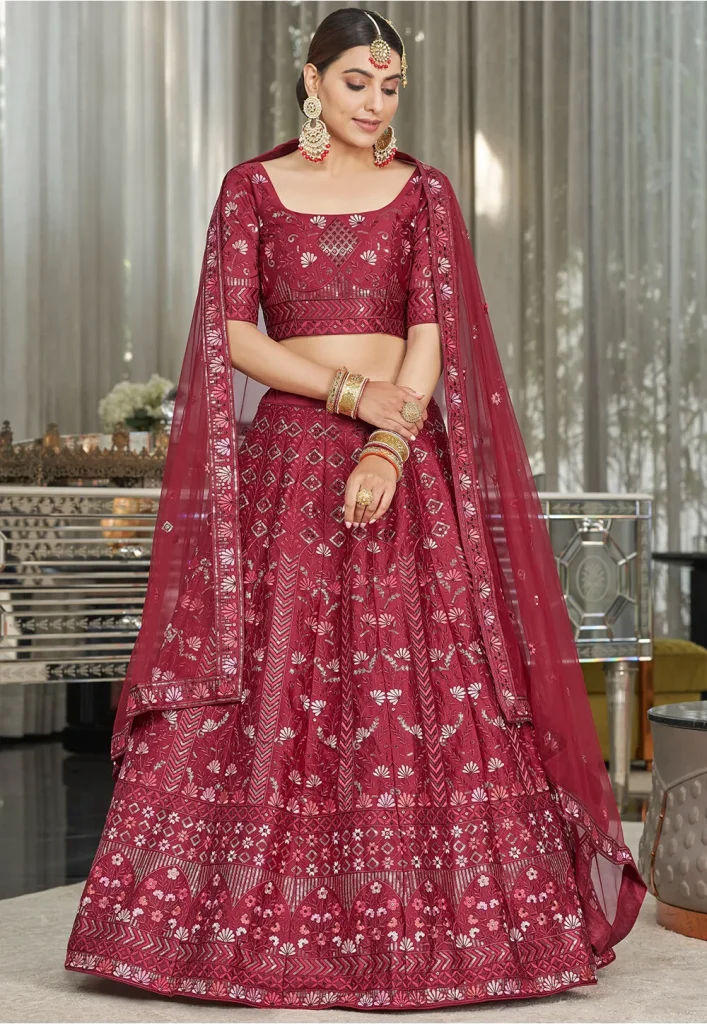 Olive Green: A trendy and versatile color that's perfect for modern brides.
Purple, Rust, and Emerald: These colors bring out the warmth in your skin, giving you a radiant glow.
For Dusky Skin: [5]
Dusky beauties can experiment with deep and intense colors that might not work as well on fair skin. Here are some excellent options:
Black and Grey: These dark and mysterious hues can make you look exceptionally elegant.
Mauve: A soft yet alluring shade that complements your dusky complexion.
Burgundy: This deep, rich color will make you look like a queen on your wedding day.
Dark Blue: A classic and regal choice that exudes confidence and poise.
Violet, Dark Green, Wine, and Copper: These avant-garde shades can bring out your exclusive beauty and make you a gorgeous bride.
Remember, it's not just about the color but also how the color makes you feel. Choose a shade that resonates with your nature and style preferences. Don't forget to consider the time of day and the overall theme of your wedding. Your bridal lehenga should not only complement your skin tone but also create a unified and mesmerizing look for your wedding day.
Additionally, while selecting the right color, make sure to focus on the fabric and embellishments. These details can further enhance the beauty of your bridal lehenga. For instance, intricate embroidery, sequins, or traditional zari work can add a touch of lavishness to your attire.
Finally, remember that your confidence and happiness are the ultimate accessories. No matter which color you choose, wearing your bridal lehenga with a radiant smile will make you the most spectacular bride. So, take your time, try on different shades, and trust your instincts. Your D-day is all about celebrating love and the joy of starting a new part in your life. Embrace it with the perfect bridal lehenga that complements your unique skin tone and makes you feel like the queen you are.