The saree is one of the most traditional and celebrated clothing items from India. It is considered by many to be the quintessential Indian garment for women, including saree dress for women. Today, the sari remains as popular as ever in India and has even achieved a considerable amount of international acclaim. It boasts of rich history like India.
This, combined with the surge of patriotic interest in several regional techniques, textiles, and embroidery styles, you will find several new and rediscovered old varieties of sarees, including Indian wedding sarees, available in the market.
The sheer variety of choices, including Kerala saree, is somewhat dazzling and a direct result of the long, checkered sari history, which further serves to illuminate the beauty and significance of this traditional garment.
The Ancient Era Attire
The history of Indian saree starts way back in the ancient times. The first mention of this garment was in the sacred Hindu texts and epics like Mahabharata and Ramayana, but historians believe that the history of saree actually starts much before that. They have found evidence of saree like garments being worn thousands of years ago in ancient civilizations like the Indus Valley civilization, including Banarasi silk saree. This ancient garment was somewhat like the saree in that it was a cloth draped around the body, but the drape and silhouette were quite different from what is seen today.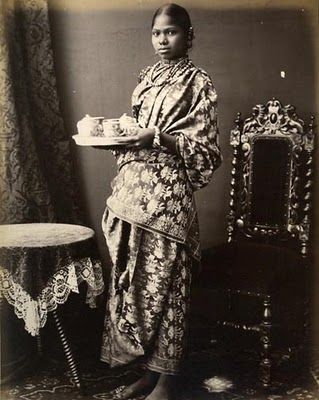 In fact, when examining Indian saree history, it is clear that the garment which is considered so quintessentially Indian has actually been influenced by many cultures, including elegant silk saree. Starting from the arrival of Aryans to the establishment of the Mughal Empire, every big dynasty in India also had a direct impact on the evolution and history of the Indian saree. It is widely believed that the saree form we see today, consisting of a six to nine-yard cloth draped around the waist, across the torso, and over the shoulder and worn with a blouse and petticoat, was only developed in the post-Mughal era.
Another important aspect of Indian saree history is the development of so many fabulous varieties, including organza saree, that we consider traditional and contemporary today. The art of stitching, which is today such an essential part of Indian fashion, was introduced in India by the Greeks. From that point on, sarees were always stitched to give them a proper fall and drape. Every region of the country developed their style of stitching, from the mundum neriyathum in Kerala to the Nauvari saree from Maharashtra.
Fascinating Transformation
The most exciting development in the history of Indian saree was the emergence of various methods of weaving, dyeing, and printing, including stylish black saree. In fact, the skill of rural artisans and weavers was such that their shimmering, multi-faceted textiles achieved worldwide fame even in ancient times. Beautifully woven art silks saree, brightly printed cotton cloths, and painstakingly hand-painted sarees were highly prized across the world.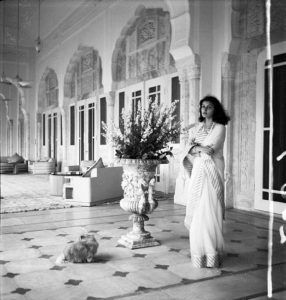 They were desired by rich merchants and noble women of other countries. Many of these classic weaves and textiles were first commissioned by queens and aristocracy, and consequently, rich fabrics and intricate designs and embellishments became the norm. Many of the designs and motifs are seen on sarees were inspired by nature and religion.
Over time, most of such sarees, textiles and motifs came to be identified by certain special names, like Gujarati Patola sarees, elegant Paithani sarees and Kanjeevaram silk sarees, Chanderi and Chikankari fabrics and so on. Till today, these are highly coveted amongst saree connoisseurs and are considered amongst the most rich and opulent garments in the world.
The arrival of the Mughals played a huge role in establishing the saree as a standard Indian garment for women. They brought with them many traditional embroidery styles, embellishments, and designs, which were adapted by the skilled saree weavers of India. Impressed by the richness of Mughal fabrics and the intricacy of Indian designs, these weavers decided to combine classic Mughal aesthetics with the party traditional saree drape in order to create some truly amazing varieties like the Banarasi sari. In fact, the history of Banarasi saree is a testament to the multi-cultural nature of Indian fashion.
Trends Today
Saris today are enjoying what many consider their golden age. Not only are all the traditional varieties and styles being re-discovered and universally lauded, designers are also coming up with new and exciting varieties every day. The latest chapter in saree history is one filled with gorgeous innovations and fusion fashion.
From the stunning saree gowns, funky saree pants and cool t-shirt sarees, to the dazzling neon sarees and brilliant half and half sarees, there are many thrilling options for those who want to jazz up their ethnic look without giving up on the elegance and beauty of the saree. Many of the latest saree styles also display a strong influence of western designs and aesthetics, in the form of digital prints, abstract motifs and daringly cut blouses. In terms of fabrics, chiffon, georgette, crepe and other such modern ones have become a huge hit with saree weavers and consumers alike.