Step into the world of ethnic wear for men where tradition meets contemporary styles! With its seamless fusion of comfort and grace, the Kurta pajama, an iconic Indian ethnic outfit, has become a global sensation. The Kurta pajama for men is a versatile option that will stand out whether you're going to a festive celebration, a casual get-together, or even a wedding. In this blog, we'll explore some of the trendiest ways to style a Kurta pajama for various occasions, striking a perfect balance between classic fashion and a hint of playful flair that appeals to fashion-forward men across the globe.
For Weddings
Being elegant and charming is essential while attending a wedding. Choose a silk or brocade kurta with elaborate embroidery in jewel tones like royal blue, emerald green, or dark maroon. Don't forget to accessorize it with a majestic silk stole or dupatta draped over one shoulder, along with coordinating pajamas or churidar. To complete your ensemble, opt for a traditional mojris or juttis adorned with elaborate patterns. Consider donning a matching embellished turban that precisely matches your attire for a touch of royalty.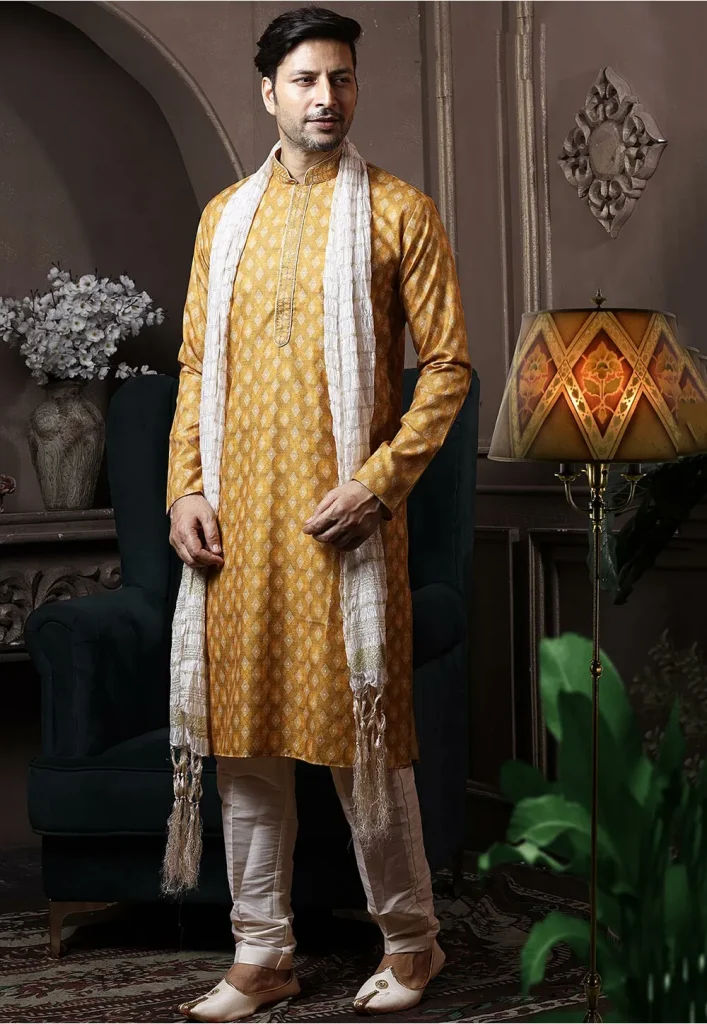 For Festive Celebrations
When it comes to festive celebrations like Diwali, Eid, or cultural gatherings, it's always wise to play with colors and textures. Choose a kurta with some shimmer or metallic details to add a dash of a festive vibe. Complement it with matching or contrasting churidar or dhoti trousers to the kurta. Accessorize with a pocket square with a festive motif or a jeweled brooch. Embroidered Nehru jackets and attractive waistcoats are great ways to add a touch of personal style. Choose mojris or juttis embellished with sequins or vintage embroidery to finish off your festive ensemble.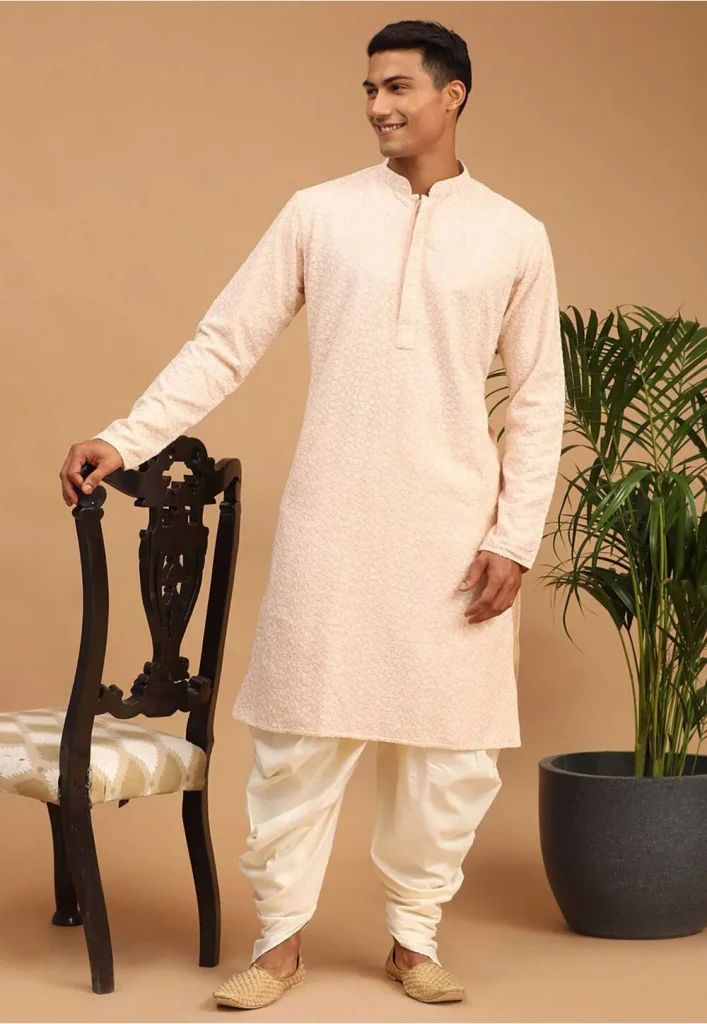 For Office Wear
Who said ethnic clothing couldn't be worn to work? Choose a simple, well-fitting solid-colored kurta in muted colors like charcoal gray, navy blue, or olive green for a contemporary and professional appearance at work. For a polished look, pair it with tailored pants or straight-cut pajamas. For a more modern and minimalist style, ditch the traditional stole or dupatta. Instead, opt for formal shoes like loafers or Oxford brogues with a leather belt that matches your attire. The Kurta pajama's modern take on workplace attire seamlessly blends tradition and professionalism.
Additional Reads: Men's Kurtas for Puja & Traditional Ceremonies
For Casual Events
Embrace a bohemian-inspired Kurta pajama look for casual gatherings and parties. Choose a flowy, tie-dye kurta in bright hues that capture your free-spirited personality. For a super-comfy yet fashionable look, wear it with patterned pajamas or harem pants that are loose-fitting. To show off your own style, layer your attire with beaded necklaces, leather bracelets, and funky accessories. Leather sandals or quirky sneakers will be an ideal pick to complement your overall bohemian look. This fun and laid-back style is perfect for outdoor events and showcases your creativity and fashion flair.
For Outdoor Events
Pick breathable, light fabrics for your kurta, such as linen or cotton, for outdoor events. Choose soft hues or prints with a tropical theme to blend in with the surroundings. Keep it cozy with loose-fitting pajamas, or go for kurta shorts for a more relaxed twist. To protect yourself from the sun while maintaining an effortlessly casual look, complete your ensemble with a wide-brimmed straw hat and fashionable sunglasses. Remember to wear leather espadrilles or flip-flops for a carefree, outdoor-appropriate look.
Wrapping Up!
Without a doubt, the Kurta pajama offers a wide range of fashionable alternatives for every occasion, from weddings to outdoor events. By embracing these versatile styling tips, you can confidently step out in your Kurta pajama, leaving a lasting impact wherever you go with your distinctive and fashionable appearance. Have fun experimenting with different styles, and remember to let your personality shine through!