Well, you have got a chic pink shirt hanging in your wardrobe, but you are hesitating to put it on because styling it seems like cracking a complex code. Worry no more, fellow fashionistas, we have got your back!  Let's dive into the amazing world of fashion dilemmas and master the art of pairing that pink shirt like a pro.
Taming the Pink Beast
The men's shirt in pink color is a symbol of boldness and classiness! Yet, the moment you consider wearing it, a series of thoughts pop up like confetti: What goes with it? Which pants? What about accessories? Fret not, we're here to demystify the pink mystery.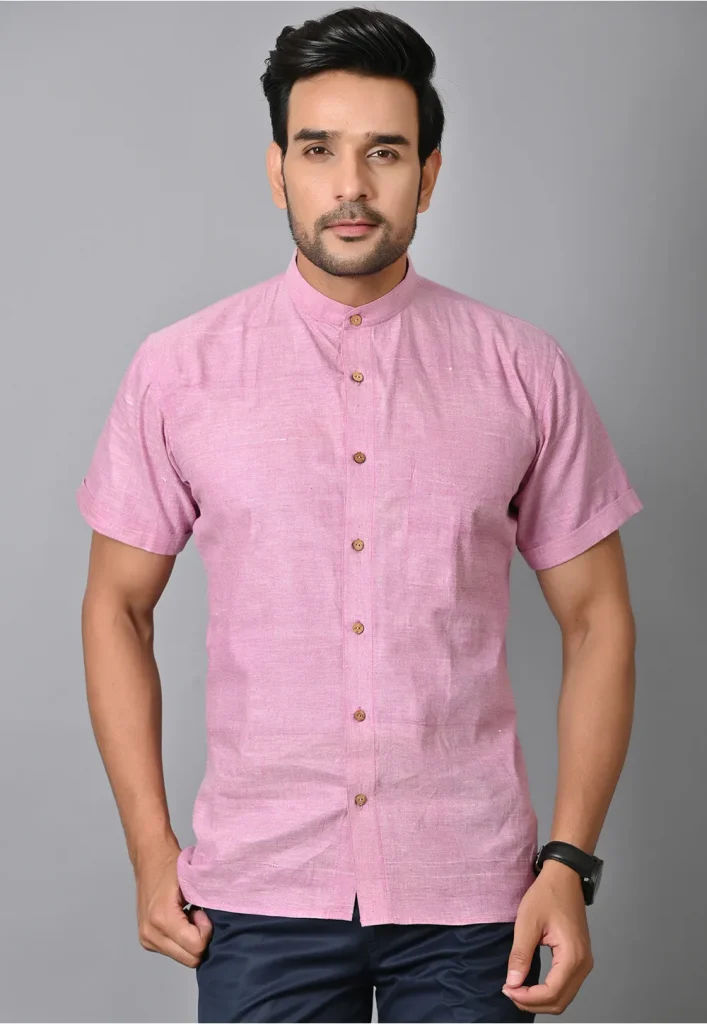 A Kaleidoscope of Colors
Neutral Neutrality: Whenever in doubt, go neutral. Tan, beige, and gray trousers are your reliable companions. A combination of a light pink shirt with dark blue jeans and brown loafers creates a smart casual look. Consider khaki chinos and a light pink polo shirt with white sneakers, for a laid-back weekend ensemble.
Complementary Charm: Complementary hues are your fashion soulmates. Consider dark colors, like black dress pants with a lemonade pink button-up shirt. Throw in black dress shoes, and voilà – you've got a perfect minimalistic business casual look.
Pastel Dreams: Imagine a blush pink shirt, team it up with gray jeans and finish off the ensemble with black boots for that urban edge. Also, rock a short-sleeved light pink button-up with white shorts and brown leather sandals for the ultimate summer look.
Navy Necessity: Navy pants and pink shirts are picture-perfect. That pink shirt gains extra brownie points with a classy companion of navy pants. This combo is perfect for a weekend getaway or a laid-back hangout.
Kudos to Khaki: Khaki pants with a pink shirt – a classic concoction. The earthy tones of khaki seamlessly tone down the vivacious pink, resulting in a relaxed look. This combination is perfect for brunches and casual outings.
Shorts Story: Pink's Playful Partners
For those scorching summer days, pink shirts and shorts are like a match made in heaven.
Bold and Bright: Add a burst of color to your ensemble by pairing your pink shirt with vibrant green or orange shorts. Take your style game a notch higher with a pop of contrasting colors that scream vogue.
Chill Vibes: Beige or khaki shorts beautifully embrace the casual aura of the pink shirt. These tones mellow out the vibrancy, perfect for those relaxed moments when you want to radiate effortless charm.
Monochrome Magic: Want to go all bold and daring? Go monochromatic by pairing your pink shirt with shorts of a similar shade. It's a brave move that showcases your style ability and makes you stand out.
Striped Sensation: Ready to make heads turn? Striped shorts in a range of colors dance melodiously with your pink shirt, forming a playful, attention-grabbing combo.
Steppin' It Up: The Shoe Game
Black Brilliance: Black boots are the knight in shining armor for your pink shirt. The contrast is dynamic, adding an edgy touch to your overall look. They are a perfect pick for a night out with amigos.
Sneak into Style: Undoubtedly, white sneakers are the go-to companions for your pink shirt. Graceful, versatile, and oh-so-stylish, they infuse a casual charm that's hard to beat.
Brown Bliss: Brown loafers add sophistication to your pink shirt ensemble. Business casual or just a touch more refinement to your everyday look, these are a sure-shot win.
Canvas Colors: Deep-tone canvas shoes are your playful partners. They're the exclamation point to your ensemble, adding a dash of fun and liveliness.
Additional Reads: Trendiest Ways to Style a Kurta Pajama for Men
Conquer with Confidence: Stylish Combinations!
Impeccably Light: Picture a light pink tailored shirt with dark blue jeans and brown loafers – it's the smartest casual trio you didn't know you desired.
Khaki Chic: Weekend plans? Khaki chinos and a light pink polo are your confidants for a laid-back look. Finish off the ensemble with white sneakers, and you're ready to take over the world.
Minimalistic Marvel: When business casual calls, say 'Yes' to a flamingo pink button-up with black dress pants and shoes.
Urban Edge: For an urban statement, consider a blush pink shirt, gray jeans, and black boots. It's fashion-forward with a touch of ruggedness.
Summer Breeze: Embrace summer vibes with a short-sleeved light pink button-up, white shorts, and brown leather sandals – a trendy trio for breezy perfection.
Final Words
So, there you have it, brave fashion aficionados! The pink shirt is your canvas, and now you've got the palette to paint a masterpiece. Experiment, mix, match, and most significantly, wear your choices with the confidence of a runway model. Let the world be your fashion show, and remember, pink isn't just a color – it's a statement!