Salwar Kameez: A Timeless Trend in Indian Fashion
A classic ensemble, Salwar Kameez continues to shine brightly in the realm of Indian fashion. It seamlessly blends tradition with modernity, offering a versatile option for various occasions. Whether you are attending a casual get-together, a festive celebration, or a wedding, the salwar kameez has you covered.
Explore our blog for a thorough selection of trendy and fashionable Salwar Suits available online, aiding your stylish choices. This collection aims to provide you with valuable assistance in your decision-making process.
Find the Perfect Moment and Occasion
Before you dive into the world of salwar kameez, take some time to consider the timing of your event. Is it a daytime affair, an evening soiree, or something in between? The kind of event matters too – a formal wedding demands a different look than a relaxed brunch with friends.
Recognize Your Unique Body Type
Embrace your body type and select a salwar kameez design that flatters it. Are you pear-shaped, hourglass, or more of a rectangle? Each style can compliment you differently, so pick something that highlights your assets and downplays any areas you're not as fond of.
Prints and Motifs to Match Your Shape
Prints and motifs don't just serve aesthetics; they can enhance or diminish features. For a petite frame, opt for smaller prints to maintain proportion. If tall, larger prints can elegantly balance height. Stripes can elongate, while diagonal patterns can add curves – play with them!
Material Matters: Comfort and Style
The fabric of your salwar kameez is extremely important. Cotton for breathability, silk for elegance, and georgette for a flowing silhouette. You don't want to be uncomfortable during a summer function or chilly during a winter celebration. Take the weather and comfort into consideration.
Selecting the Proper Size
Size matters, and so does the fit. A salwar kameez that's too loose or too tight can make you look drab or restrict your ability to move freely. Always refer to the sizing guide provided by the online store to ensure you're ordering the correct size for a comfortable yet chic fit.
Explore a Variety of Styles
Now, let's move on to the exciting part- the wide range of salwar kameez styles you can explore online. From timeless classics to contemporary designs, there's something for every taste and occasion.
Pakistani Suits: Effortless Elegance
Pakistani suits radiate elegance with their long flowing kameez and tailored pants. Perfect for formal events, these suits are distinguished by their detailed embroidery and intricate work, making you stand out seamlessly.
Pant and Trouser Suits for Office Parties
For a perfect fusion of traditional and contemporary, opt for pants or trouser suits. These are an excellent choice for office parties and semi-formal gatherings. The sleek silhouette of trousers combined with a stylish kameez brings a refreshing twist to your overall look.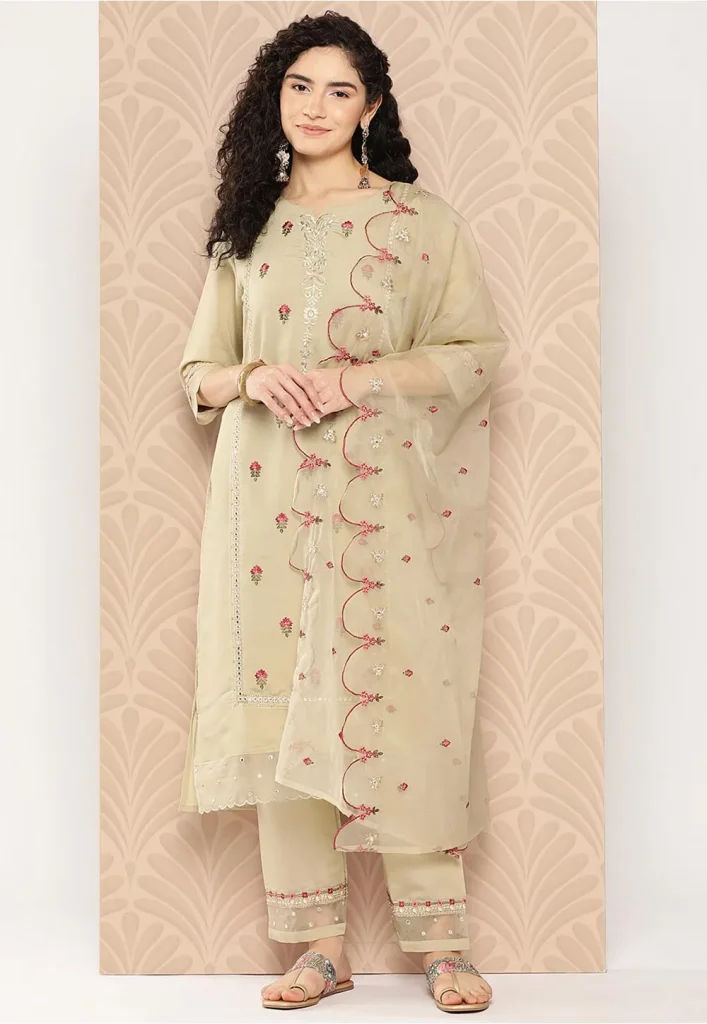 Printed Abstract Suits: Playful and Chic
When you are in the mood for something exciting and lively, go for printed abstract suits. These suits feature colorful patterns that add a playful touch to your ensemble. They are ideal for casual events and daytime functions.
Embroidered Sharara Suits: Regal and Stunning
If regal grandeur is your goal, consider embroidered sharara suits. The flared pants and exquisitely embroidered kameez exude a royal vibe. Perfect for weddings and grand celebrations where you want to stand out.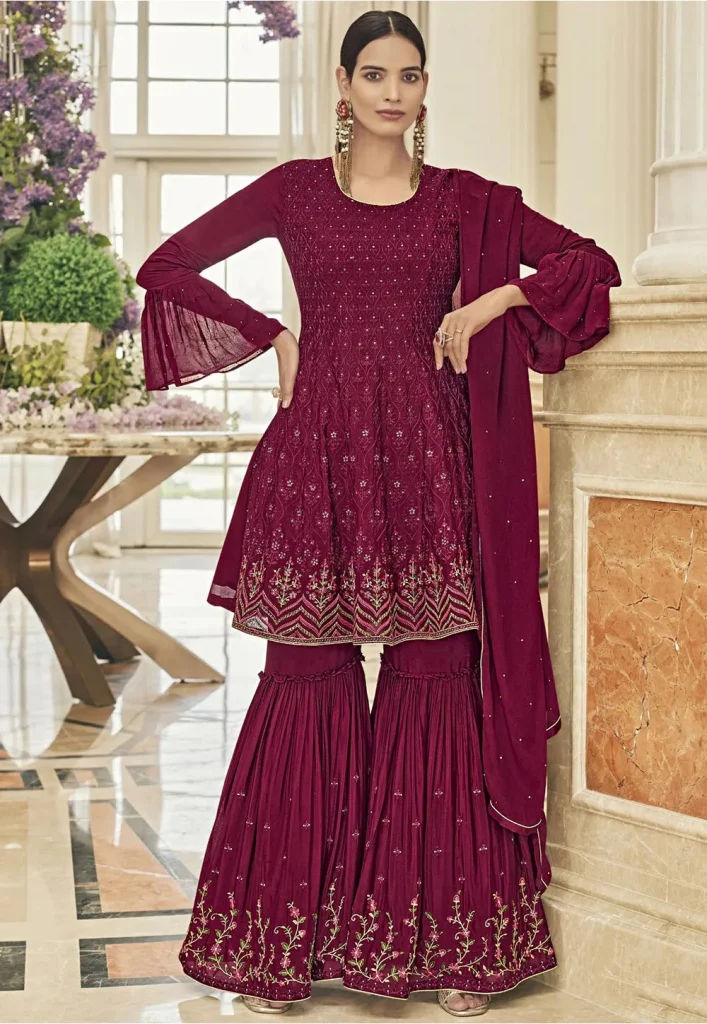 Anarkali Suits for Party Wear: Timeless Glamour
Anarkali dress suits are the epitome of classic glitz. Their flowing, floor-length kameez and fitted bodice create a stunning silhouette. Ideal for party wear, these suits make you feel like a true diva.
Additional Reads: These Salwar Kameez Fabrics Are Just So Good!
Conclusion
Embrace your unique style, understand your body, and choose materials and prints for a trendy salwar kameez online. Remember, it's not just about looking good; it's about feeling positive and comfortable in what you're wearing. So, follow these tips, explore the range of styles, and let the evergreen charm of the salwar kameez showcase your fashion sense!