In the dynamic landscape of ethnic couture, the sharara emerges as a versatile work of art waiting to be splashed with innovation and flair. While we often find solace in the familiar kurta-and-flared-pants combo, it's time to break the mold and explore a spectrum of creative pairings. These alternatives breathe new life into your beloved sharara ensemble. Let's dive into the world of style evolution and discover tips that promise to redefine your ethnic chic, ensuring you shine at your BFF's wedding and beyond.
Redefining Staples: Sharara's Timeless Appeal
What defines a wardrobe staple? It's a delicate balance of elegance, ease, and timeless charm—a garment effortlessly transitioning from casual puja settings to grand festive galas. The sharara, with its wear-anywhere allure, naturally takes center stage. It's time to challenge the notion of staples as mundane basics and unlock the hidden potential of the sharara suit.
Belt It Up: Adding Definition to Flare
Kick off the style revolution by cinching your sharara with a statement belt. This simple tweak transforms the silhouette, adding a dash of definition to the flowing flare. The result? A chic and modern interpretation of the conventional sharara that's bound to turn heads.
Saree Blouse Swagger: Ditching the Conventional Kurta
Why limit yourself to the predictable kurta? Amp up your sharara look by replacing it with a saree blouse. This unexpected twist injects a touch of glamor and avant-garde charm, ensuring your outfit stands out in the crowd. It's a bold move that speaks volumes about your fashion-forward sensibilities.
Risque Kurta Heights: Amping Up the Sensuality
Take the conventional kurta to daring heights by opting for a risque iteration. Picture a sultry, figure-hugging top paired with your Sharara pants. This fusion of traditional and contemporary elements creates a look that's sophisticated and sensuous, perfect for a night of celebration.
Peplum Power Play: Tunic Tales with Sharara
Step into the world of peplum tops and tunics when styling your sharara. The structured silhouette of a peplum adds a playful dose to the flared bottoms, striking a harmonious balance between elegance and modernity. It's a power play that effortlessly blends traditional and trendy vibes.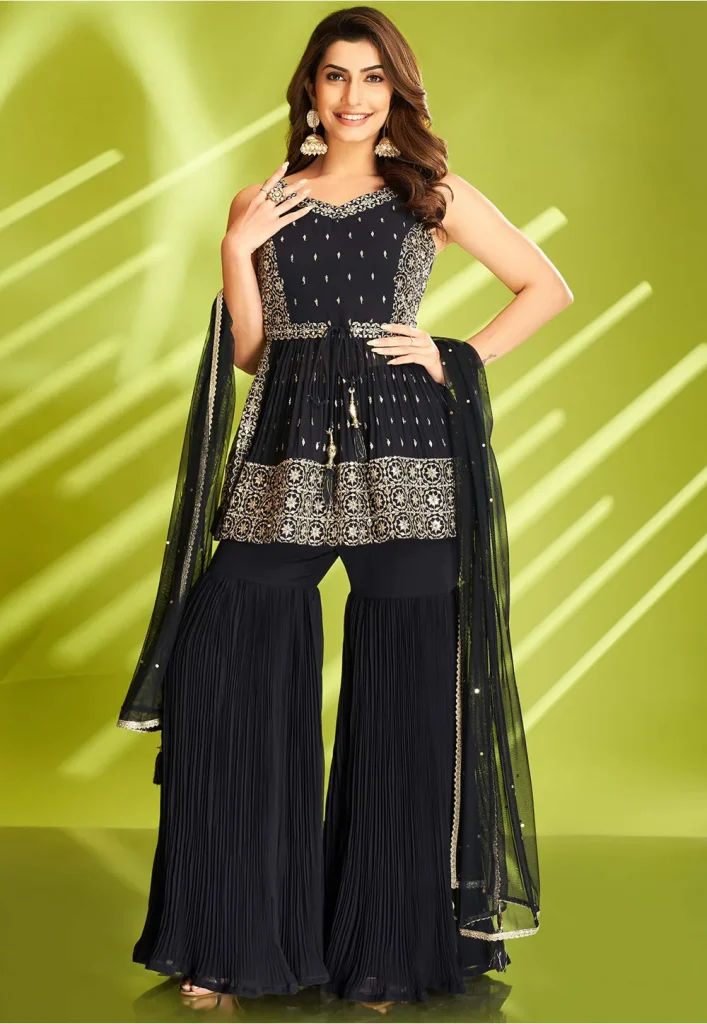 Caped Crusader: Layering with Jackets and Capes
Elevate your sharara ensemble by introducing layers. A chic jacket or a flowing cape draped over your kurta adds an element of drama and flair. This stylish layering technique not only keeps you warm during winter weddings but also turns your outfit into a visual masterpiece.
Prints and Patterns: Mixing It Up with Confidence
Fearlessly mix prints and patterns to create a head-turning sharara ensemble. Whether it's floral with stripes or polka dots with geometric shapes, the key is to embrace bold combinations that exude confidence. This eclectic approach ensures your outfit is as unique as you are.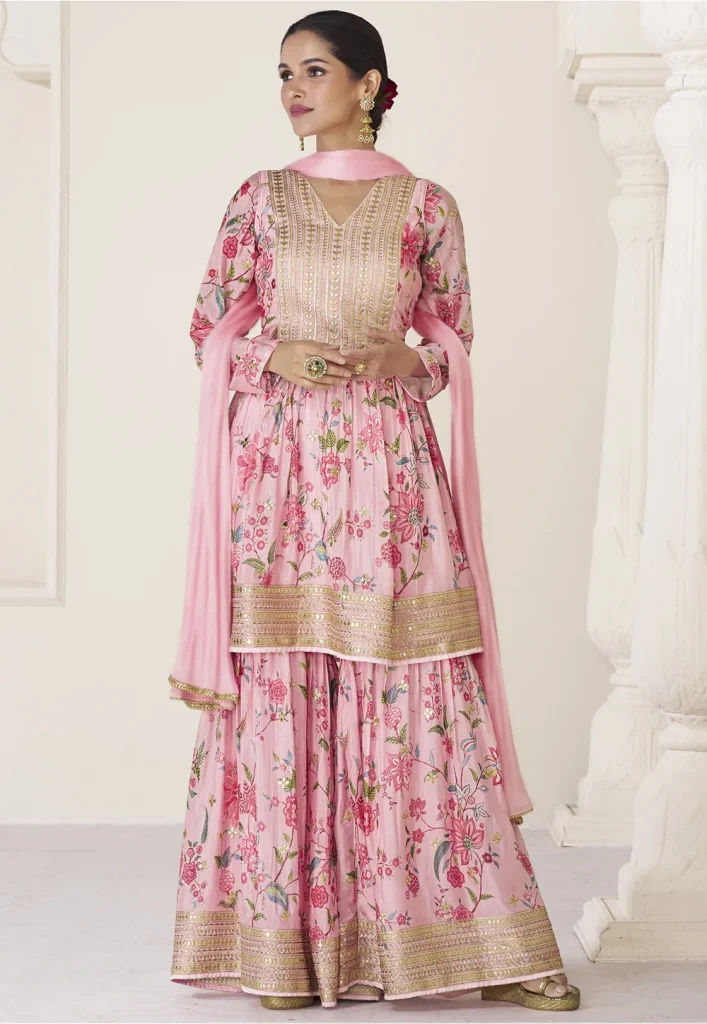 Ruffled Radiance: Vibrant Tops with Flared Bottoms
Infuse a breath of fresh air into your sharara styling by opting for a vibrant ruffled top. The playful cascades of fabric add a whimsical touch to the flared pants, creating a look that's both lively and classy. It's a fun way to experiment with textures and elevate your overall aesthetic.
Embroidered Elegance: Kimono Style Wrap-Around Jackets
Let an embroidered kimono-style wrap-around jacket be your style savior when donning flared bottoms. This unconventional pairing strikes a balance between opulence and comfort, offering a unique amalgamation of traditional craftsmanship and contemporary chic.
Your Sharara, Your Style Statement
As you gear up for your BFF's wedding extravaganza, remember that your sharara is not just an ensemble; it's a canvas for your personal style. Embrace these styling tips, mix, match, and reinvent your ethnic wear game. Let your sharara be a reflection of your confidence, creativity, and a celebration of the modern Indian woman who seamlessly blends tradition with trendsetting panache.