Organza sarees have a timeless appeal, making them a go-to choice for every festive occasion. However, it can be tricky to style them in a way that does justice to their elegance and gracefulness. Don't worry. We've got you covered if you're wondering how to style your organza saree dress for a festive look.
Firstly, choose the right blouse. An organza saree is best paired with a blouse made of the same fabric or something lightweight like chiffon or silk. The blouse design should complement the saree's border and motifs. A high-neck collar or boat neck works well with this saree.
Secondly, accessorize smartly. An organza silk saree already has an element of grandeur to it. So keep the accessories minimalistic and elegant. You can opt for statement earrings and bangles instead of heavy neckpieces. This will draw attention to your face while adding just the perfect sparkle to your outfit.
Understanding Organza Sarees
Organza is a sheer, lightweight, and crisp fabric made of silk, synthetic fibers, or both. It has a transparent sheen and a stiff texture, making it perfect for creating structured garments like sarees. The smooth finish of the organza gives the saree an elegant appeal, ideal for festive occasions.
Different types of organza sarees are available in the market, such as pure, crepe, jacquard, and embroidered organza sarees. Pure silk organza sarees are made from 100% silk threads, giving them a luxurious feel and shine. Crepe organza sarees have a slightly textured surface that makes them easy to drape while giving them an elegant appearance.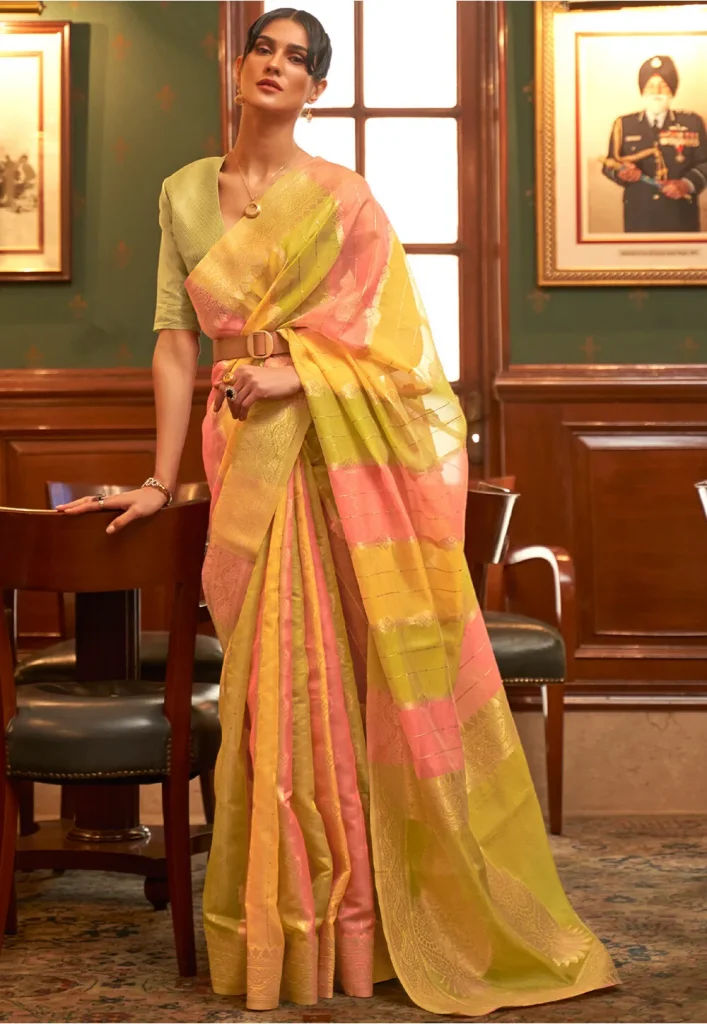 Jacquard organza sarees are woven with intricate patterns using different colored threads, which create beautiful motifs on the fabric. On the other hand, embroidered organza saree is decorated with delicate embroidery work using thread or beads that add glamor to the attire.
Selecting an organza saree online or from the market depends upon one's preference, as each type has unique characteristics. The beauty of this fabric lies in its versatility which can be dressed up or down depending on your style, making it perfect for any occasion.
Choosing the Right Accessories
There are plenty of options when it comes to accessorizing the Organza silk saree. The key is to select pieces that will complement the saree without overpowering it. Statement earrings can be a great way to add some shine to your look. You can choose styles with intricate detailing or bold colors that will stand out against the delicate fabric of the saree.
Bangles are another popular accessory choice for these sarees. They can be stacked in multiples or worn alone to add a touch of elegance and sophistication to your outfit. You can opt for styles with embellishments like pearls, stones, or beads that match the color palette of your saree.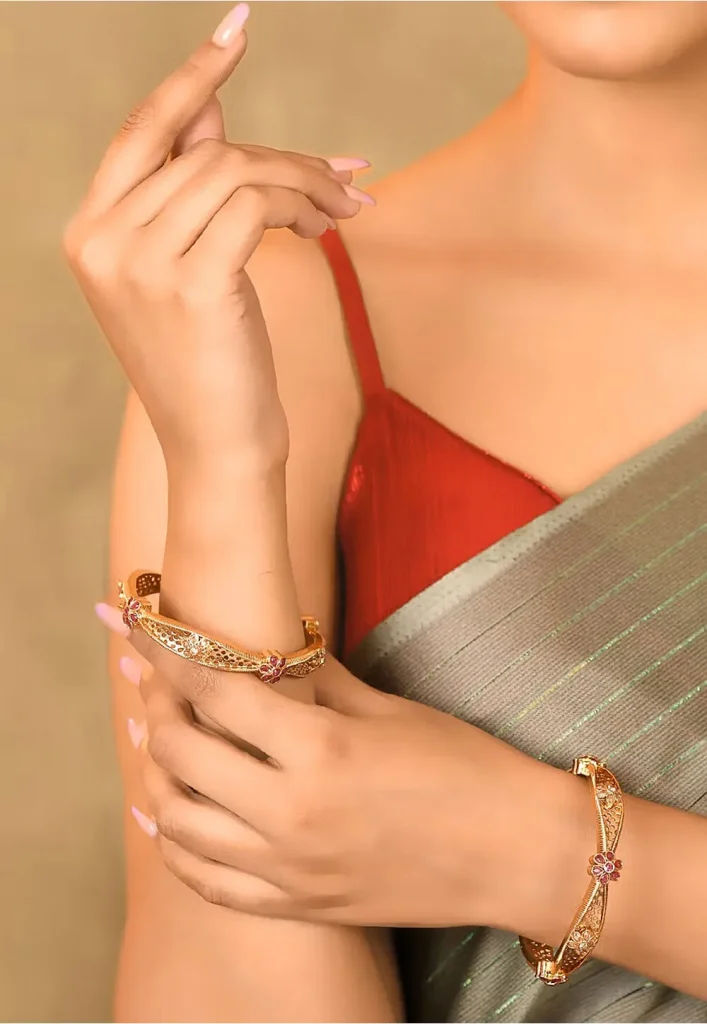 As for footwear, heels, wedges, or pumps work well with these sarees. Heels always work wonders when elongating the legs and adding height, but make sure you choose something comfortable enough, as festivals often require long hours of standing or dancing around! If heels aren't your thing, you could try flats, which have become increasingly popular in recent years thanks to their versatility and comfort.
Hairstyles for Organza Sarees
An outfit's overall look gets elevated by the hairstyle you select. Choosing the right hairstyle is crucial when styling an organza saree for a festive occasion.
A sleek bun is a classic and iconic look that pairs well with any saree. It's also perfect for highlighting statement jewelry pieces, giving you a sophisticated and effortless look.
If you're looking for something more playful, consider side-swept curls. These soft curls frame your face beautifully and draw attention to your features while maintaining the overall polished look.
Finally, if you want the best of both worlds, i.e., elegant and playful, go for a half-up and half-down hairstyle. This style lets you show off those gorgeous locks while keeping them out of your face so you can dance the night away without interruption. Whatever style you choose, remember that confidence is key, and you must own it!
Draping Techniques for Organza Sarees
Step 1: Start draping the saree from the right side of your waist and tuck it inside your dress. Bring it around to the front and drape it over your left shoulder.
Step 2: Take the pallu (the loose end of the saree) and pleat it neatly, ensuring all edges are aligned. After this, secure it with a safety pin.
Step 3: Place the pleated pallu on your left shoulder and adjust its length according to your preference.
Step 4: Tuck the remaining fabric from behind into your petticoat at the back.
Step 5: Smooth out any creases or wrinkles in the saree, showcasing its intricate details, such as embroidery or embellishments.
Step 6: Pair your organza silk saree with exquisite jewelry like chandelier earrings or jhumkas for a festive look.
By following these simple steps, you can easily drape an organza saree in a way that showcases its beauty and intricate details. However, remember to accessorize with bold jewelry pieces for a complete festive look!
Styling Ideas for Organza Sarees
For a plain white organza saree, keep the look minimalistic and elegant. You can pair it with a statement blouse in a contrasting color, such as black or red. Afterward, accessorize with silver jewelry and opt for a sleek hairdo to enhance the outfit's simplicity. Alternatively, add some drama by unconventionally draping the saree or adding a belt to cinch at your waist.
A printed organza silk saree is perfect for those who love bold patterns and colors. Pair it with simple accessories such as stud earrings or bangles to ensure your outfit doesn't overpower your personality. You can opt for nude makeup with bright lips to balance out the boldness of your ensemble.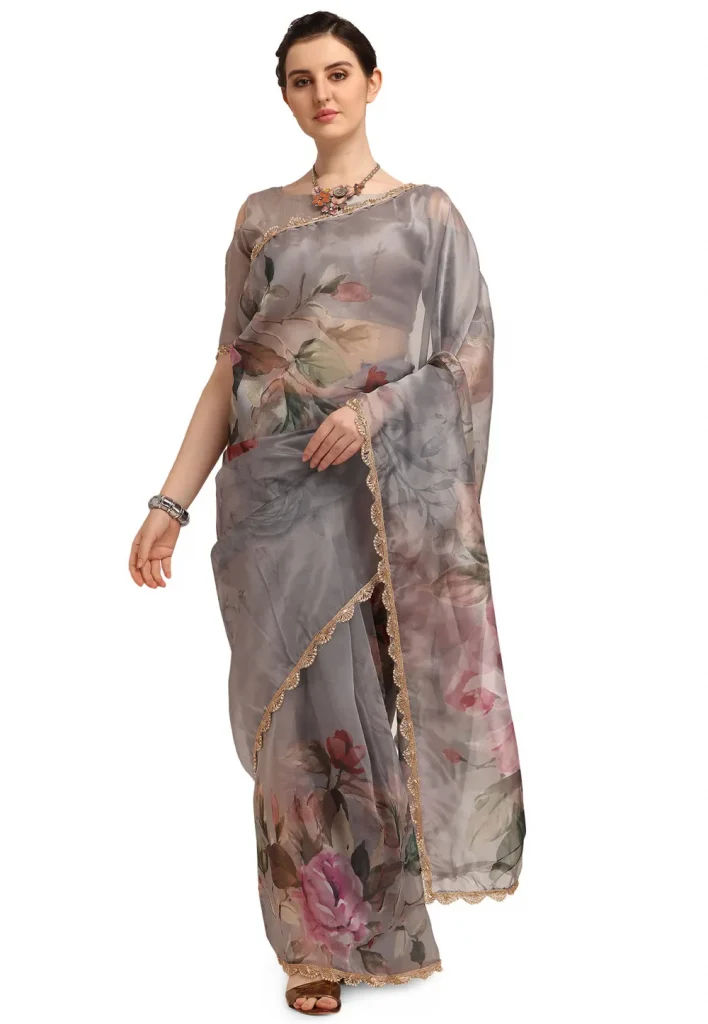 An embellished organza saree is perfect for evening events like weddings and receptions. The best way to style this type of saree is by keeping everything else minimalistic so that your outfit can take center stage. You can add some sparkle with diamond jewelry and go for an updo hairstyle to showcase the beautiful detailing on your blouse
Conclusion
Styling an organza design plain saree for a festive occasion requires attention to detail. It's all about finding the right balance between traditional and contemporary elements. The key is to focus on accessorizing the saree with jewelry that complements its color and design.
Regarding footwear, opt for comfortable yet stylish heels, flats, or wedges that go well with your outfit.
Hair and makeup are also essential in completing your overall look. Remember to keep the hairstyle simple yet elegant so as not to take away from the beauty of your saree. For makeup, go with bold eyes or lips, depending on what you feel most comfortable with.
With these tips in mind, you'll be sure to turn heads at any festive occasion while feeling confident and beautiful in your organza saree!