Silk sarees are the epitome of grace and elegance in Indian fashion. These sarees are a staple in every woman's wardrobe. Whether it's a family function or an office party, silk sarees can be worn for any occasion, as they instantly add charm to your overall look. However, styling silk sarees can be challenging, especially if you're new to wearing them.
Choosing the right blouse is crucial when styling silk sarees. A well-fitted blouse can enhance the look of your attire by adding more definition to your figure. Accessorizing plays a significant role in elevating your style game when it comes to silk saree dress. Pairing the right jewelry set with your outfit can make all the difference. Experimenting with draping styles is another way of giving a fresh twist to traditional wear like silk sarees.
This article will discuss the essential tips for styling silk sarees to look perfect on any occasion.
Choose the Right Silk Saree for the Occasion
Different types of silk sarees are available in the market, and choosing the right one for a specific occasion can be daunting. Kanjeevaram silk sarees feature intricate designs woven from pure silk and gold zari threads, making them perfect for weddings and formal events.
Banarasi silk sarees are known for their luxury and fine craftsmanship that incorporates gold and silver brocade work on pure silk fabric, which makes them ideal for festive occasions such as Diwali or Dussehra.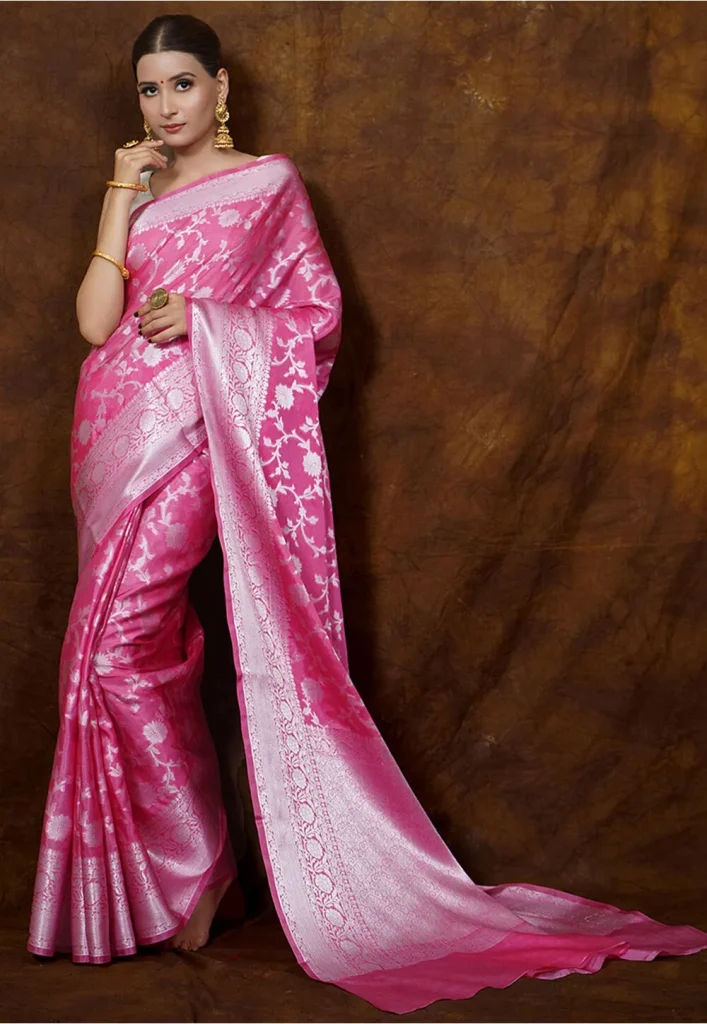 Chanderi silk sarees have a unique texture with sheer elegance, perfect for semi-formal or formal occasions like office parties or dinner gatherings. They come in various colors and often feature floral patterns with gold zari work that adds to their beauty.
The choice of silk sarees should also depend on the time of day. For instance, lighter-colored Chanderi silk sarees with minimal embroidery can be worn during daytime events. In contrast, dark-colored Banarasi silk sarees with heavy brocade work would be more appropriate for evening events.
Personal preferences should also be addressed when selecting silk sarees online since comfort is key to feeling confident and stylish at any event. Thus, choose a color that suits your skin tone or experiment with shades you haven't tried before to add variety to your wardrobe while remaining within your preferred style range.
Pay Attention to the Blouse Design
The blouse design can make or break the entire look of silk sarees. Choosing the right blouse that complements the saree and enhances your overall appearance is essential. A well-designed blouse can make a simple plain saree look stunning, while an ill-fitted or poorly designed one can ruin even the most exquisite silk sarees.
You can choose from different blouse designs to match your style and taste. A boat neck blouse with intricate embroidery or embellishments works well for formal occasions, while a high neck blouse with minimal detailing is perfect for casual events. Halter neck blouses are another popular choice and are great for showcasing toned shoulders and arms.
Other popular options include off-shoulder, cold-shoulder, corset-style, and backless blouses. When choosing the blouse designs for your soft silk sarees, consider your body shape and size and the occasion's dress code. With so many choices available today, finding a design that suits your needs perfectly is easy.
Drape the Saree Uniquely and Stylishly
Draping silk sarees is an art that requires practice, patience, and precision. The way you drape your saree can make or break your overall look. A properly draped saree can accentuate your curves, enhance your personality, and add a touch of elegance to your appearance. Therefore, it is essential to learn the proper technique of draping a saree that complements your body type and suits the occasion.
There are numerous ways to drape a saree that vary from region to region in India. Each style has its unique charm and adds a distinct appeal to the wearer's look. For instance, the Bengali draping style involves pleating the pallu at the back and bringing it over the left shoulder.
Similarly, the Gujarati style involves tucking the pallu at the back after completing one round around the waistline and then bringing it over the right shoulder while creating multiple pleats on one side of the waistline.
Experiment with Makeup and Hairstyle
Regarding styling, silk sarees, makeup, and hairstyle play an essential role in the overall appearance. Depending on the occasion, various makeup styles can complement your silk saree. Thus, opt for classic red lips, winged eyeliner, and subtle eyeshadow for a traditional look. For a more modern look, go for bold lips in shades of pink or plum with light eye makeup.
Another popular trend is smokey eyes which can be achieved using black or brown eyeshadow blended well to create a smudged effect. This style goes well with solid-colored silk sarees like black or navy blue.
As for hairstyles, there are endless possibilities depending on your preference and face shape. A sleek bun at the nape of the neck gives an elegant touch to any silk saree, while braids add a unique twist to the overall appearance. Loose curls enhance a soft feminine look, while straightened hair gives a strong persona.
Importance of Comfort When Wearing Silk Sarees
One of the most important things to remember when wearing silk sarees is comfort. Silk sarees are known for their elegance and beauty, but they can also be quite heavy and uncomfortable to wear for extended periods. This is especially true if you are attending a wedding or other formal event that requires you to sit or stand for long periods.
Choosing the suitable fabric and style for soft silk sarees online ensures maximum comfort. Hence, opt for lightweight silk fabrics like chiffon or georgette, which are much more breathable and easier to move around than heavier silks like raw silk or brocade.
Another crucial factor in comfortable silk saree-wearing is draping. Ensure that your saree is draped perfectly to sit well on your body without pulling or tugging at any point. A properly draped saree can make all the difference between feeling comfortable and confident versus feeling self-conscious and fidgety throughout an event.
Conclusion
Wearing a silk saree is an elegant and iconic fashion statement. However, the key to looking stylish in a silk saree is how you accessorize and carry yourself. By following the tips above, you can easily look fashionable and chic in a silk saree for any occasion. Remember to choose the right designer blouse that complements your saree and adds to its appeal. Additionally, try experimenting with different styles of draping your saree to keep things exciting and fresh. Accessorizing with jewelry, bags, shoes, or clutches can add an extra "oomph" factor to your outfit.