The saree's beauty stays in its adaptability. A single piece of cloth can be draped in countless ways to create unique and elegant looks. While many latest sarees online are being introduced every year, there is a certain charm to the old saree dress designs that always stay in style.
One such design is the classic drape with a pallu thrown over one shoulder. This timeless look can be achieved with any saree, whether simple cotton or embellished silk. Another vintage style is the retro half-saree, which features a long skirt paired with a shorter drape and blouse.
Finally, we have the traditional Maharashtrian nauvari saree, which drapes one end between your legs like pants instead of around your waist. This style is still worn by many women in Maharashtra for special occasions like weddings and festivals. These old saree dress designs prove that sometimes, classic is best.
Classic Saree Dress Designs
Sarees have always been a quintessential part of Indian culture, and the classic saree dress designs have stood the test of time. Vintage saree dresses are returning and taking the fashion industry by storm. These timeless outfits exude elegance, grace, and sophistication that never goes out of style.
One such classic design is the traditional Kanjivaram silk saree dress from Tamil Nadu. It's known for its rich texture, intricate zari work, stunning colors, and designs. This elegant attire can be styled with statement jewelry such as jhumkas or chandbalis to complete the look.
Another popular vintage-inspired saree dress design is Bandhani. The fabric is tie-dyed in vibrant shades such as red, yellow, or green to create mesmerizing patterns across the fabric. Bandhani saree are perfect for any occasion, from weddings to formal events and parties.
These classic saree dress designs continue to inspire modern-day designers who seek inspiration from old-world charm while adding a touch of modernity. If you're looking for an outfit that will make you stand out in a crowd while keeping up with trendsetting styles, then investing in a vintage-inspired saree dress is what you need!
Retro-Inspired Saree Dress Designs
The saree is a typical Indian cloth that has been worn for centuries. It is a versatile piece of clothing that can be draped in different ways and styled with various accessories. With the rise of retro fashion, old saree dress designs are making a comeback in a big way. From bold prints to intricate embroidery, there's something for everyone regarding retro-inspired saree dresses.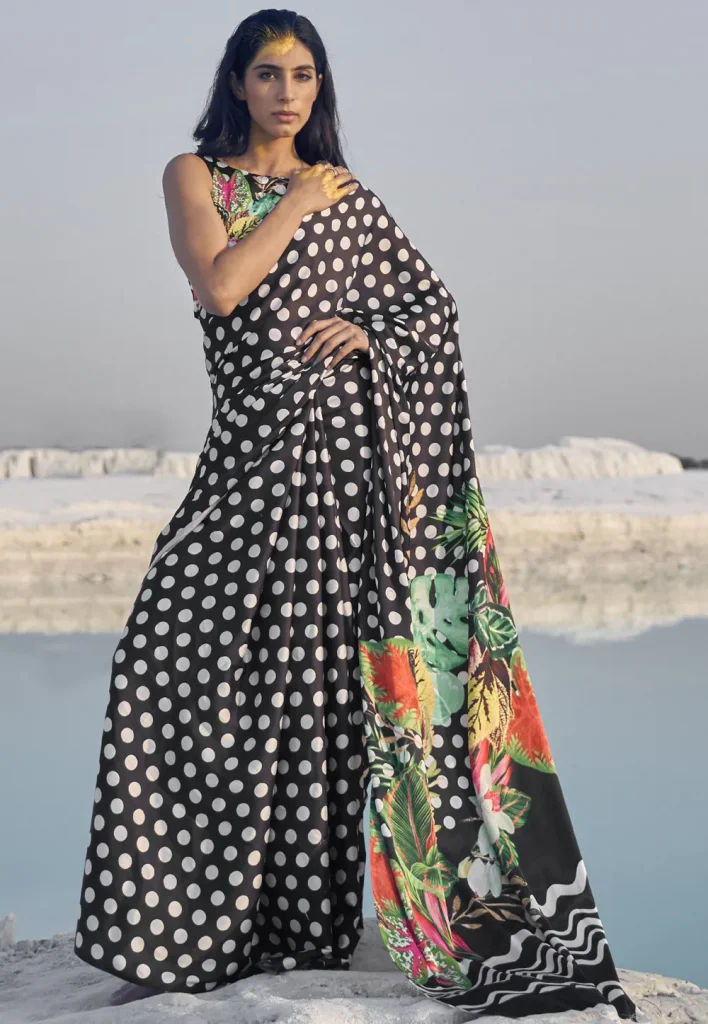 One popular trend in retro-style saree dresses is the use of polka dots. Polka dots add an element of fun and playfulness to any outfit, and they look especially chic on sarees. Pairing polka dot sarees with vintage-style blouses or crop tops can create a timeless look that never goes out of style.
Another trend in retro-inspired saree dresses is the use of floral prints. Floral prints have been popular for decades but are especially trendy now, thanks to their vintage appeal. Whether you opt for small ditsy florals or large-scale blooms, incorporating floral patterns into your saree dress design will give you an instant retro, feminine, and elegant vibe.
Fusion Saree Dress Designs
Fusion saree dress designs are a perfect blend of traditional and modern styles. These dresses combine the classic Indian saree with Western silhouettes, giving them a unique and contemporary look. The fusion saree dress design is gaining popularity among women who want to experiment with ethnic wear while keeping up with the latest fashion trends.
Vintage chic saree dress designs always stay in style because they appeal timelessly. These modern old saree dress designs incorporate traditional elements such as intricate embroidery, embellishments, and draping techniques passed down through generations. They can be paired with modern accessories to create a trendy yet classic look.
Some popular vintage chic old saree dress designs include the designer lehenga saree, which combines the skirt-like lehenga with the elegant drape of a saree; the sharara-style saree, which features flared pants instead of a skirt; and the pre-draped sarees, which comes in various styles such as pant-style or dhoti-style drapes. These modern old saree dress designs showcase India's rich cultural heritage while being functional for everyday wear or special occasions such as weddings and festivals
Tips on How to Style Old Saree Dress Designs
1. Accessorize with Modern Elements
One of the easiest ways to style a modern old saree dress design is by using modern elements. It can include anything from statement jewelry to contemporary handbags or even a pair of trendy shoes. Combining vintage and modern elements creates a striking look that turns heads.
2. Mix and Match with Other Fabrics
Another great way to breathe new life into old saree dress designs is by mixing and matching them with other fabrics. For example, you could wear your vintage saree dress with a denim jacket or pair it with a boldly patterned scarf for added interest. You can create an entirely new outfit that feels fresh and exciting by experimenting with different combinations.
3. Tailor for a Perfect Fit
One of the best ways to style old saree dress designs is by tailoring them for a perfect fit. Whether adjusting the hemline or taking in the waist, customizing your vintage pieces will ensure that they flatter your figure and enhance your natural beauty. Plus, when you invest in quality tailoring, you'll be able to enjoy your favorite saree dresses for years to come!
Conclusion
In conclusion, old saree dress designs are the perfect way to stand out from the crowd. They are timeless and never go out of style, making them a great investment for your wardrobe. The unique prints and patterns on vintage sarees make them an elegant yet playful choice for any occasion.
Wearing a modern old saree dress design is an eco-friendly option that reduces textile waste and promotes sustainable fashion practices. You can also repurpose old sarees into new dresses or accessories, creating a one-of-a-kind look that reflects your style. You can also buy retro bollywood sarees online according to your choice and requirements.