Linen sarees are a must-have in each lady's cloth cabinet, particularly for the hot summertime. Not only do they give a refreshing vibe, but they also make one feel effortlessly chic and comfortable. The lightweight fabric of linen sarees allows air to circulate freely, keeping the body cool and making them ideal for outdoor activities.
One of the best things about linen saree is its versatility. Depending on the situation and individual preferences, they can be worn up or down. A simple white linen saree paired with statement jewelry is perfect for a daytime event, while a brightly colored linen saree with minimal accessories is perfect for an evening party.
In addition to making your saree fashion more stylish and more functional, linen sarees are eco-friendly as they are made from natural fibers that require less water and energy during production than synthetic fabrics. With so many benefits, it's no surprise that linen sarees have become popular among fashion-conscious women looking for comfort and style in one garment.
What Are Linen Sarees? 
Linen sarees are popular among women who want to look elegant and feel comfortable during summer. These white linen saree are made from the fibers of the flax plant, which is known for its durability and breathability. The lightness of linen fabric makes it perfect for hot weather as it allows air to circulate through the cloth.
There are several hues, designs, and styles available for linen sarees. They can be plain or printed with floral or geometric designs. Some have intricate embroidery work, while others have simple borders. Linen cotton sarees also come in different textures ranging from smooth to slightly rough.
One of the advantages of wearing pure linen saree is that they are easy to drape and maintain. They do not require much ironing compared to other fabrics like cotton or silk. The linen also gets softer with every wash, making it more comfortable. Linen saree can be worn for informal and formal occasions depending on how they are styled, making them a versatile addition to any wardrobe.
How to Style Linen Sarees?
Linen sarees are the perfect summer wardrobe staple, thanks to their breathable and lightweight fabric. But styling them can be tricky. Here are a few tips to ensure you look your best in these sarees.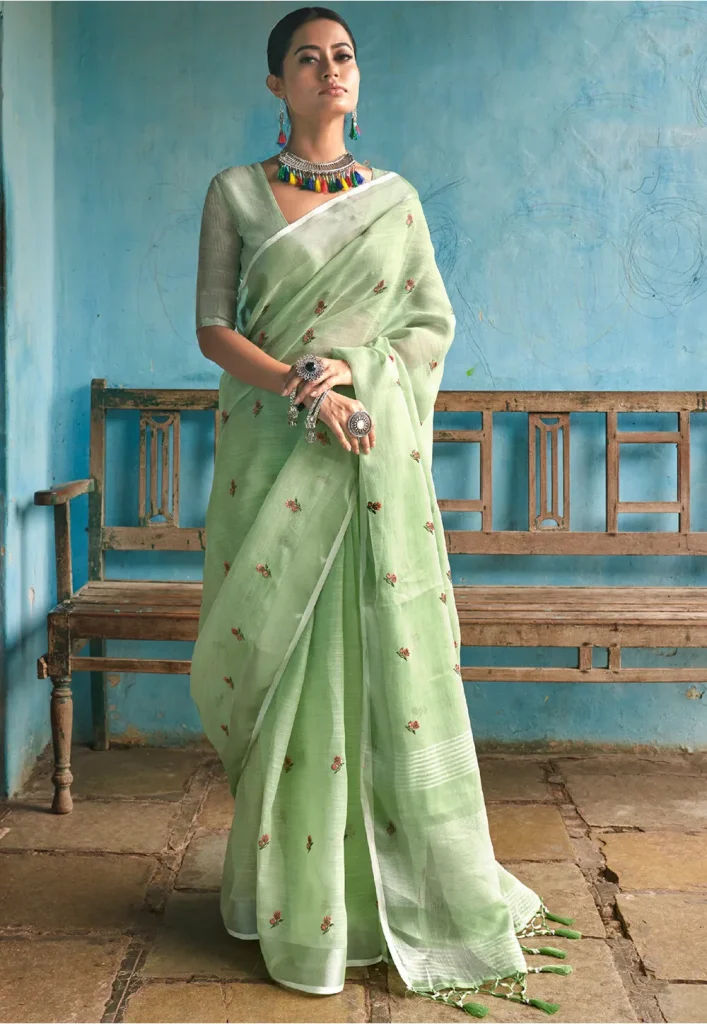 Firstly, keep it simple. Linen sarees only need a little accessorizing or heavy makeup since they have that effortless charm. Instead, go for minimal jewelry and light makeup.
Secondly, experiment with different draping styles. The beauty of a linen saree lies in its versatility. Try draping it differently each time you wear it to add some variety to your look.
Finally, play around with colors and prints. Linen sarees come in various colors and prints that can complement any skin tone or body type. So experience free to experiment with unique hues and styles till you locate the one that suits you!
Where to Buy Linen Sarees?
Linen sarees have become one of the most sought-after summer wardrobe staples. They are light, breathable, and perfect for hot summer days. However, finding the perfect linen saree can be difficult. Here are some places where you can buy linen sarees:
1) Online shopping websites: Several websites offer a wide range of linen sarees online at affordable prices. You can choose from different designs, colors, and patterns to suit your style.
2) Handloom stores: If you want to support local artisans and get authentic handwoven, pure linen saree, handloom stores are your best bet. These stores offer a variety of designs that are unique and exclusive.
3) Boutiques: Boutique stores would be perfect if you want something more trendy and fashion-forward. They offer modern designs with a fusion of traditional elements that make them stand out.
In conclusion, whether you prefer traditional or modern designs, there is a place for everyone to find their perfect linen saree. Online saree shopping websites, handloom stores, and boutiques offer various options to cater to your personal style needs while keeping it comfortable for the summer.
Care and Maintenance of Linen Sarees
Linen sarees are becoming increasingly popular due to their lightweight and breathable fabric. However, they require extra care and maintenance to ensure they stay in good condition. Firstly, it's important to wash linen saree with care. Hand washing is recommended, using mild detergent and lukewarm water. Avoid wringing or twisting the saree, as this can damage the delicate fibers of the linen.
When drying a linen saree, it's best to hang it on a line or lay it flat in a shaded area. Direct sunlight can cause discoloration and damage over time. Ironing may also be necessary to maintain the crisp texture of the linen fabric. Ironing while the fabric is damp is advisable, using low heat settings.
Storing your linen pure cotton saree properly is also crucial for longevity. Fold them neatly and store them in a cool, dry place away from direct sunlight or humidity, which can lead to mold growth or discoloration of the fabric. Proper care and maintenance will ensure that your favorite linen saree lasts for years without losing charm!
Conclusion
In conclusion, linen sarees are a must-have wardrobe staple for the summer season. They come in various colors and designs to suit every taste and occasion. Linen is a lightweight fabric that allows your skin to breathe, perfect for hot and humid weather conditions.
These plain silk sarees are easy to maintain and can be machine washed at home without causing any damage to the fabric. They also have an elegant drape that suits them for formal events such as weddings or office parties.
Investing in a few linen sarees this summer will keep you comfortable and look stylish no matter where you go. So why wait? Go ahead and add some linen sarees to your wardrobe today!