The lehenga, a revered traditional Indian clothes, symbolizes cultural pride and elegance. Its importance amplifies for a bride, representing a garment and a cherished heirloom of memories. When fashioned in the hues of gold, the lehenga transcends into a garment of opulence and magnificence. With its timeless charm, gold has long been synonymous with luxury, adding unparalleled grandeur to wedding fashion.
Choosing the Right Shade of Gold
Though universally admired, gold offers a spectrum of shades, each resonating with distinct sentiments. The conventional gold encapsulates the richness of Indian traditions, resonating with the tales of yesteryears. With its pinkish undertone, Rose gold brings forth a blend of tradition with a touch of modern romanticism. Champagne gold, with its muted brilliance, offers understated sophistication. When choosing, one should consider the aesthetic appeal and how the shade complements one's skin tone, ensuring that the bride shines at her brightest.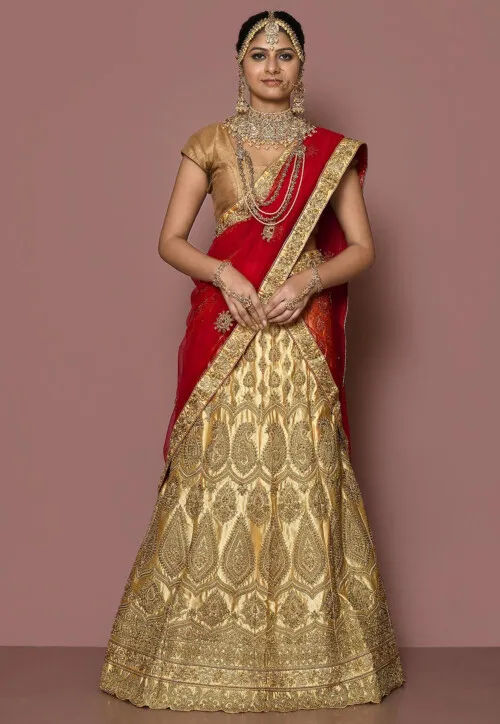 Selecting the Perfect Fabric
The fabric serves as the canvas for a lehenga, dictating its look and feel. Brocade exudes luxury with its intricate patterns woven using gold or silver threads. Silk, known for its smooth texture, offers an unparalleled regal sheen. Net, often layered, adds volume while being lightweight, creating an ethereal aura. Velvet, rich and plush, adds depth and warmth to the attire. One's choice should not only reflect personal style but also the season and time of the event, ensuring comfort and elegance.
Intricate Embroidery and Embellishments
The allure of a lehenga often resides in its ornate details. With their meticulous handwork, traditional methods like zari and zardozi tell stories of ancient craftsmanship. They involve weaving with fine gold or silver threads, lending a royal touch. On the other side of the spectrum, sequins and crystals provide a contemporary flair, catching light and adding a dash of sparkle. When choosing, it's essential to find a balance. While the detailing should be lavish, it should not overshadow the bride but rather enhance her natural beauty.
Pairing with the Right Blouse and Dupatta
While exquisite on its own, the lehenga achieves its full splendor when paired with the perfect blouse and dupatta. The blouse, often a statement piece, commands attention through its neckline and sleeve design. From deep Vs to regal boat necks and sultry sleeveless to traditional full sleeves, the choice should be a balance between personal comfort and aesthetic appeal. It's not merely about following trends but also about accentuating one's best features and ensuring ease throughout the event.
As for the dupatta, it's not just an accessory but an art form. Draping it correctly can transform the entire look. Whether you choose to drape it the traditional way, cascading over the shoulder and wrist, or go for a more contemporary style, letting it flow freely from the waist, ensuring the drape complements the lehenga and doesn't overshadow it. In its graceful fall, the dupatta adds a touch of elegance and femininity, sealing the ensemble's grandeur.
Accessorizing the Golden Look
The right accessories can further enhance the allure of a golden lehenga, while powerful on its own. Statement Indian jewelry pieces can truly elevate your ensemble. Consider pairing your lehenga with a bold choker, a piece that has returned to contemporary bridal fashion. This not only accentuates the neck but also complements the richness of the gold fabric. The maang teeka, a traditional headpiece, adds a touch of regality, drawing attention to the bride's face and often echoing the motifs of the lehenga itself. And, of course, the rhythmic jingle of bangles – preferably in harmonizing gold tones – completes the traditional bridal look.
When it comes to footwear, comfort is paramount, but that doesn't mean sacrificing style. Opt for heels that resonate with the lehenga's grandeur yet are comfortable enough for the myriad of ceremonies and inevitable dancing. Your choice of bag, preferably a potli or a clutch, should be both functional and stylish, holding essentials while not overshadowing the main outfit. When chosen carefully, the final touch ensures that your golden look shines cohesively from head to toe.
Hairstyles and Makeup to Complement the Gold
One's outfit might be the canvas, but hairstyles and makeup are the finishing strokes that bring the entire look to life. Especially with color as radiant as gold, the accompanying makeup and hair should be meticulously chosen to augment rather than overshadow.
A trial makeup session is not just recommended; it's indispensable. Gold can reflect light, so understanding how your makeup interacts with both the outfit's sheen and the lighting of your venue is crucial. Matte foundations, a highlight to catch the light just right, and perhaps a touch of gold on the eyelids can all work harmoniously. For lips, one might consider rich, deep tones to provide contrast or softer hues to keep things understated.
Regarding hairstyles, the aim is twofold: to frame the face beautifully and showcase the outfit, especially if your blouse or dupatta has intricate detailing around the neckline or back. The choice, in the end, should resonate with one's personal style while also enhancing the gold lehenga's splendor.
Care and Storage Post-Wedding
Your golden lehenga is more than attire; it's a cherished memory. Always opt for professional dry cleaning after use to maintain its shine and detailing. When storing, keep it in a cool, dry place away from direct sunlight. Use cloth garment bags for breathability, including silica gel packets to remove moisture. Preferably, store it flat, especially if it's heavily embellished, to retain its shape. Every few months, air it out to prevent mustiness. With proper care, your lehenga will remain a radiant keepsake for years.
Conclusion
Choosing the perfect golden lehenga for your special day is a journey filled with decisions, from the right shade of gold to the intricate details and accessories. But the effort is well worth it, resulting in a look that not only dazzles but also resonates with your personal style and the cultural significance of the occasion. Remember, it's not just about the ensemble but the memories you create in it. With careful planning and attention to detail, your golden lehenga will not just be a showstopper on your wedding day but a cherished heirloom for generations to come.