Crop-top lehengas have become popular for modern brides and wedding guests. It is a traditional Indian outfit comprising a simple lehenga (skirt) and a crop top (short top). The skirt is typically ankle-length and flares out from the waist, while the crop top is a midriff-baring blouse that can be sleeveless or have short sleeves. Women have widely used the crop top lehenga because it is versatile and is designed to provide comfort and add style at the same time.
The versatility of the crop top lehenga lies in your ability to style this unique attire in different ways. Styling it will allow you to showcase your unique personality and fashion sense. One such style is to go without the traditional dupatta. This article will explore how to style your crop top lehenga without a dupatta to give you a captivating look. So, let's get started!
Benefits of Wearing a Crop Top Lehenga Without a Dupatta
Most ladies wear a crop top lehenga without a dupatta because it is the ideal choice for parties and other traditional events where they crave a dress that can infuse a contemporary twist to their look.
Wearing a crop top lehenga without a dupatta will allow the crop top lehenga to shine independently. In addition to providing you with a chance to show off your lehenga's intricate embroidery and design, it is also sleek. It also adds a modern twist that is very trendy and stylish to your classic ensemble.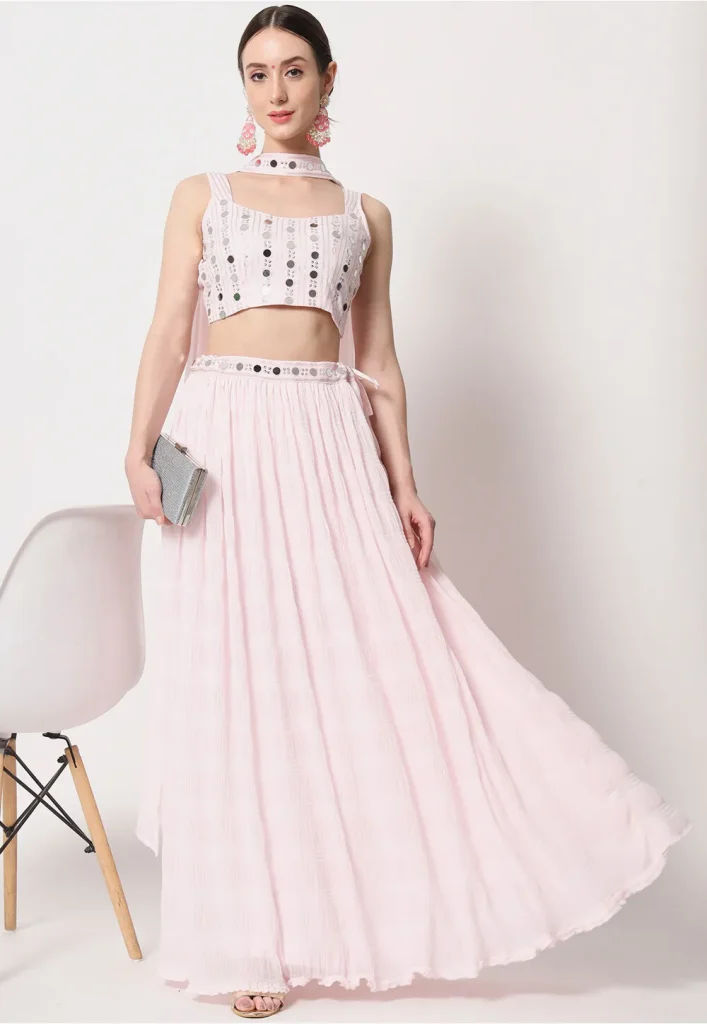 A crop top lehenga without a dupatta makes your outfit and ensemble feel lighter and more comfortable for easier movement. It can make it easier to manage your outfit, especially when dancing or moving around. Above you can see white lehenga and maroon bridal lehenga. You can explore these outfits on our official website as well.
Wearing a crop top lehenga without a dupatta can be a more weather-appropriate pick during the hot weather allowing you to be more comfortable and at ease with your simple designer lehenga.
Styling Tips for Wearing a Crop Top Lehenga Without a Dupatta
Wearing a crop top lehenga without a dupatta is a fashionable and modern way to showcase your style. Here are some tips and tricks to help you rock this look:
Choose the Right Crop Top
When wearing a crop top lehenga without a Dupatta, choose the crop top that fits well and is comfortable. You can select from a range of styles, one that is suitable for your body size, including halter necks, spaghetti straps, or an off-shoulder. These pairings are very much ideal for helping you rock your look:
Style your crop top with a high-waisted lehenga skirt for a flattering curvy outline.
You can pair a plain or less-designed crop top with a heavily embroidered or embellished party wear designer lehenga skirt to make it the outfit's centerpiece.
You can pair a heavily embellished crop top with a minimally designed lehenga skirt, making the top the outfit's centerpiece.
Blend your bright-colored crop top with a mild-colored lehenga or vice versa to complement and better suit your skin tone.
Choose Complimentary Statement Jewelry
Concentrate on accessorizing with statement jewelry when styling your crop top lehenga without a dupatta. Choose neck, handmade jewelry or famous kundan jewellery that will complement your outfit and add a pop of class or texture to your look. You can use big chunky necklaces, oversized earrings, and bangles to add style features to your ensemble.
Be Flexible with Layering
If your costume is incomplete without a dupatta, you can try layering. You can choose a long necklace that compliments your neckline, draws the eye down, and adds visual interest to your outfit. You can use a scarf that contrasts with your crop top instead, which will enhance an added interest to your look. Extra layering will have a similar effect without covering up too much of your costume. However, experiment with different combinations while layering to find which works best for you and your style!
Try Out Different Fabrics
Wearing a crop top lehenga without a dupatta is a great chance to experiment with various fabrics, designs and textures. Mix and match fabrics like cotton, velvet, silk, sequence, or chiffon, to create an unusual and eye-catching outfit. However, settle for a fabric that will enhance your look and the overall quality of your garments. You must choose the right fabric that ensures that you are fit, comfortable, and flexible.
Consider Your Footwear
Since your lehenga skirt will be the main focus of your outfit, it's important to choose footwear that complements it. Since a crop top lehenga can be a heavy outfit, choosing comfortable footwear that can support your feet for long hours is essential. Your footwear should complement the style of your lehenga. For example, suppose you are wearing a traditional lehenga. In that case, you can opt for juttis or mojris, and if you are going for a more modern look, you can choose heels or sandals. Additionally, Your footwear should complement the color of your silk lehenga. If your lehenga is brightly colored, you can go for neutral-colored footwear, or if your lehenga is a neutral color, you can choose bright-colored footwear.
Conclusion
Styling a crop top lehenga properly without a dupatta is about striking the perfect balance between elegance and modernity. You can upgrade your look and make a lasting impression by choosing the right crop top, accessories, jewelry, and footwear. Whether you prefer a minimalist or a bold approach, there are different ways to make this versatile garment work for any occasion. So, experiment with different styles to find your unique expression of this timeless classic!