Are you ready to slay the fashion game in 2023? Well, then it's time to dive into the vibrant world of Salwar Kameez, a timeless outfit that has been winning hearts for centuries. From its fascinating origin story to its current place in the fashion world, we'll explore everything you need to know about this iconic ensemble. So, fashionistas, brace yourselves because we're about to embark on a stylish journey!
The Salwar Kameez Saga
Let's start from the beginning, shall we? The Salwar Kameez, also known as the Shalwar Kameez, traces its roots back to the Mughal era in the Indian subcontinent. This garment was designed for both comfort and elegance, and it's still ticking those boxes today. The Salwar, a loose-fitting pant, pairs flawlessly with the Kameez, a long tunic-like top.
A Fashion Icon through the Ages
Fast forward to 2023, and the Salwar Kameez has become an enduring symbol of beauty and style. It's a versatile attire that seamlessly transitions from casual to formal settings, making it a must-have in every fashionista's closet. Now, let's explore some of the trendiest Salwar Kameez styles that will keep you in vogue this year.
Patiala Salwar Suit: Swirl in Style
Patiala Salwar Suits are all about comfort and panache. These suits feature voluminous, pleated pants paired with a shorter Kameez, creating a playful and chic look. Ideal for casual outings or family gatherings, Patiala Salwar Suits are a must-try in 2023.
Anarkali Suit: The Regal Elegance
Channel your inner royalty with the Anarkali suit. Named after the legendary dancer Anarkali, these floor-length, frock-style Kameez are embellished with intricate embroidery and are perfect for grand occasions like weddings or parties.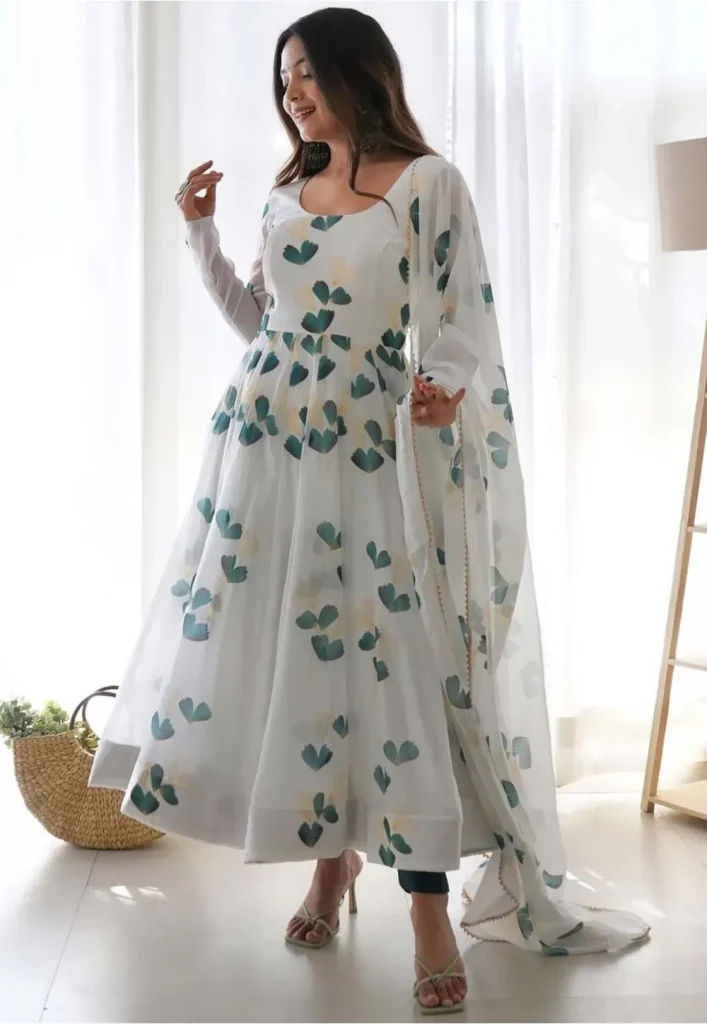 Punjabi Suit: Celebrate Tradition
The Punjabi Suit is a celebration of vibrant hues and traditional aesthetics. With its straight-cut Kameez, churidar pants, and skillfully designed dupatta, this style is a testament to Punjabi culture and fashion.
Floor Length Salwar Suit: Dramatic Elegance
For a touch of drama, opt for the floor-length salwar suit. This style features a long, flowing Kameez that gracefully drapes the floor. It's ideal for those special evenings when you want to make an ultimate style statement.
Straight Cut Salwar Suit: Chic and Minimal
If you're a fan of minimalism, the Straight Cut Salwar Suit is your go-to choice. With a simple, straight-line Kameez and slim-fitting pants, it's a classic choice that never goes out of style.
Jacket Style Salwar Suit: Layered Glamour
Layer up with the jacket-style salwar Suit. This trendy ensemble includes a Kameez with a coordinating jacket, offering a stylish and modern twist to the conventional outfit.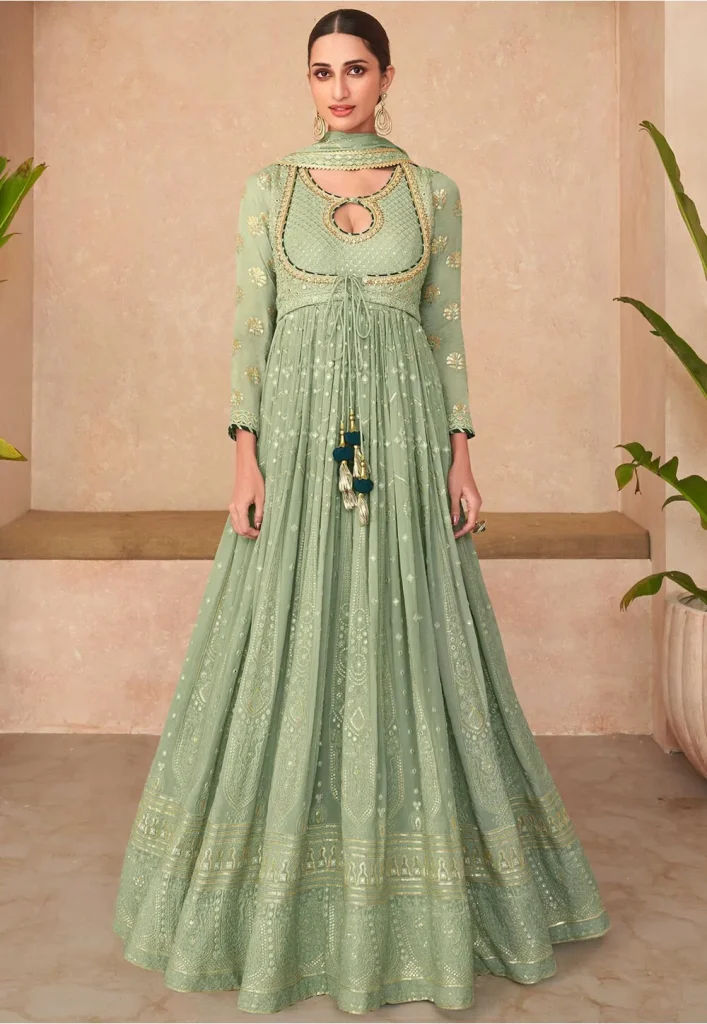 Churidar Salwar Suit: Sleek and Stylish
Churidar Salwar Suits are all about the sleek fit. The narrow, tightly fitting pants create a streamlined look that pairs gracefully with a variety of Kameez styles.
Floral Suit: Blooming Beauty
Florals are forever in fashion, and the floral suit is no exception. Whether it's delicate, pastel blooms or bold, oversized flowers, this style adds a dash of natural beauty to your wardrobe.
Pakistani Suits: Elegant Drapes
Pakistani Suits are known for their elegant drapes and intricate embroidery. With their long, flowing Kameez and distinct bottoms, these suits are perfect for formal occasions.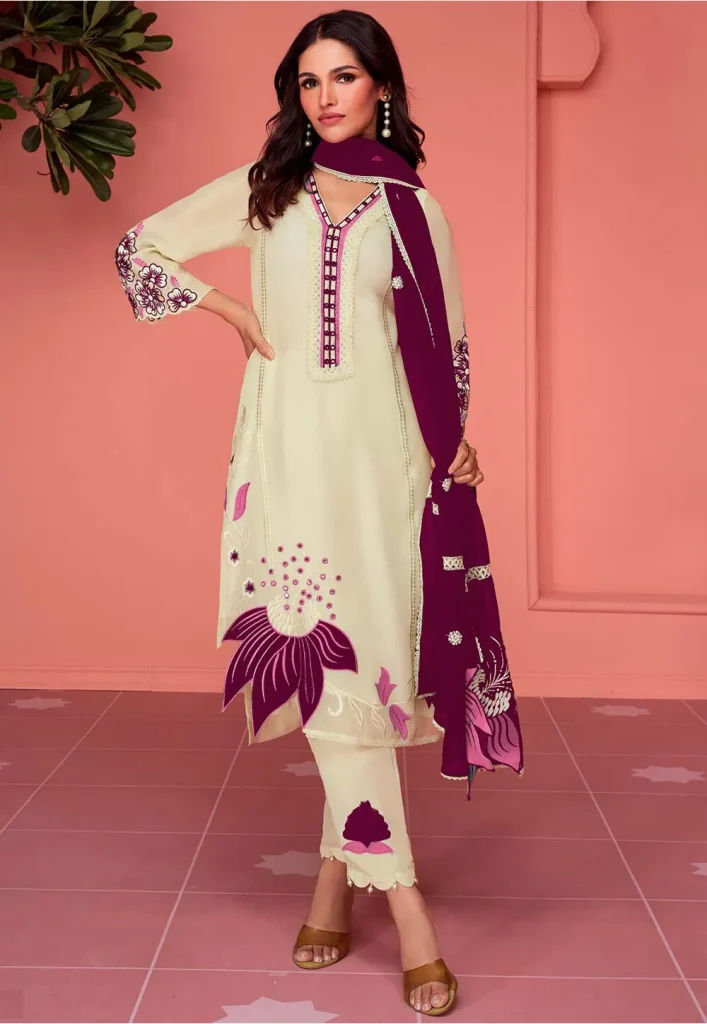 Bollywood Style Salwar Suits: Glamour on Demand
Inspired by Bollywood divas, these Salwar Suits bring the glitz and glam of the silver screen to your wardrobe. They often feature bold colors, intricate embellishments, and dramatic silhouettes.
Palazzo Style Salwar Suits: Flared Elegance
The Palazzo Style Salwar Suits combine the comfort of Palazzo pants with the charm of the traditional Kameez. The result? Effortless elegance and a trendy silhouette.
Bandhani Designs: Tie-Dye Magic
Originating from the vibrant state of Gujarat, Bandhni designs are created through a tie-dye process. These complex patterns add a touch of ethnic charm to your Salwar Kameez collection.
2023 Salwar Kameez Tips and Trends
Now that you've got a glimpse of the amazing Salwar Kameez styles of 2023, it's time to dive into some tips to keep you at the top of your fashion game:
Mix and Match: Always try to experiment with different combinations. Mix a Patiala Salwar with a Jacket Style Kameez or pair Palazzo pants with a classic Straight Cut Kameez.
Accessorize with Finesse: Enhance your look with statement accessories. A pair of jhumkas, bangles, or a statement necklace can work wonders.
Fabric Matters: Pay attention to the fabric of your Salwar Kameez. Light and breathable fabrics like cotton are perfect for summer, while silk and velvet add a dash of luxury to winter affairs.
Play with Colors: Embrace the color palette of the season. In 2023, pastels and earthy tones are making a splash, so consider adding these to your collection.
Wrapping Up!
The Salwar Kameez is a timeless fashion staple that continues to evolve and enchant fashion enthusiasts worldwide. Whether you're a fan of conventional styles or prefer a modern twist, there's a Salwar Kameez out there for everyone in 2023. So, go ahead and make a bold statement with your choice of Salwar Kameez, and let your style shine the brightest!