Pre-stitched or ready-to-wear sarees add convenience to grace. These sarees are crafted so ingeniously that they can be worn in a one-step process, just like putting on a skirt. Also, you don't need to buy a petticoat separately because the pre-stitched saree comes with the attached stitched petticoat.
Indeed, it takes approximately 15 seconds to slip into the pre-stitched saree. But draping the normal saree sets the wearer back by 7 to 10 minutes. The piece de resistance: once worn, the pre-stitched saree looks exactly like the conventional saree.
Easy to drape sarees
In essence, a pre-stitched saree is a skirt with pleats at the center. It can be worn without the fuss of tucking, pleating, or adjusting of the pallu length. In fact, this easy-to-wear fancy saree even does away with the bother of draping. All that the wearer needs to do is to put the loose end of the outfit over the shoulder.
The blouse is worn separately. These sarees are best suited for people who want to wear one of the most iconic elements of Indian couture while avoiding the knottiness of drapes. Pre-stitched sarees are thus ideal for foreigners, Indians settled abroad, and working women with time constraints.
Apart from convenience, pre-stitched sarees offer another unbeatable attraction. The wearer looks slimmer and more sophisticated.
Get Pre-stitched sarees at Utsavfashion
At Utsavfashion.com, most of the sarees can be made into a pre-stitched saree for $20 extra. The charge includes the cost of petticoat stitching. You can choose this option on the Saree Product page.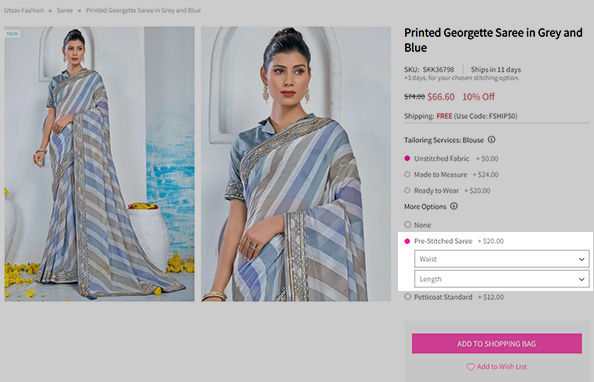 Steps to Wear Pre-Stitched Saree
You can make your saree into a pre-stitched saree with an attached petticoat that can be worn just like a skirt. This easy-to-wear, pre-stitched saree can be worn by anybody without the bother of actually draping it.
Step 1: The first end of the saree is attached to the righthand side with a hook.
Step 2: Pre-stitched pleats are becoming very popular as they are easy to drape, the pleats are even and there is no excess fabrics tucked into the underskirt. Therefore making the silhouette of the wearer slimmer and more sophisticated.
Step 3: It takes approximately 15 seconds to slip into the pre-stitched saree and saves one's hassles of getting the pleats right as in a regular saree.
It takes 7 to 10 minutes to drape a normal pleated saree. The saree is stitched in a way that one cannot differentiate between a normal and a pre-stitched saree once it is draped.