Also see: Salwar Kameez or Saree Blouse
Are you looking to buy lehenga choli online? But uncertain of how to measure your own body specifications right? We've made it easier for you with Utsav Fashion's Lehenga Choli Measurement Guide.
Learn to measure lehenga choli with these simple lehenga choli measurement tips and record the right Indian designer Lehenga Choli measurement and fittings, as per your customization requirement. To get you the perfect fit and style, our fashion experts have incorporated the most trendiest statements for choli, lehenga, sleeves and necks. Come, take your pick.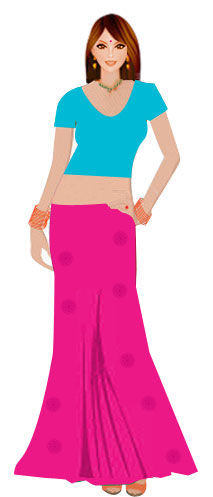 Front Neck Style
For an ultra-feminine look, custom-tailor your choli design with these curvaceous front neck style options.
Chinese Collar
Décolleté
Round with Oval
Round with V
Kurti Neck
Opposite Glass
Flame Neck
Scallop
hexagon
Leaf Shape
Scalloped U
Glass
Horse Shoe
Pointed
Rounded Sweetheart
Scalloped Glass
Square
Sweetheart
Sweetheart with Collar
Simple U
Simple V
Multi String
Wave Neck
Inverted Tomb
Key Hole
Key Hole with String
Square with String
Oval with String
Butterfly Bustier
Bustier
Halter with Oval
Envelope
Shape with Bustier
Halter
Halter with Ring
Off Shoulder
One Shoulder
Back Neck Style
Deck up your choli blouse design with these bold and trendy back neck styles.
Chinese Collar
Bateau or Boat
Curved Square
Horse Shoe
Pointed
Rounded
Simple U
Simple V
Asymmetrical
Loop with Button
Scallop
Asymmetrical Scallop
Pointed Round
Round with String
Potli with String
Pointed with String
Asymmetrical with String
Glass with V
Sweetheart with String
Square with Lace
Circular with String
Open with String
Four String
Bustier
Butterfly Bustier
Stringed Deep Neck
Off Shoulder
One Shoulder
Backless
Sleeve Style
Choose a sleeve style for your choli blouse from our handpicked styles and pepper up your ethnic look.
Cap Sleeves
Half Sleeves
Sleeveless
Elbow Sleeves
Short Sleeves
V Cut
Bell Sleeves
Flutter
Laces
Lantern Sleeves
Puff Sleeves
Roll up Sleeves
Round with String
Zig Zag String
Bishop Sleeves
Trumpet 1
Trumpet 2
Bottom Style
Select a pattern from our myriad lehenga style design options and stay in vogue.
Umbrella
A Line
Fish Kali
Mermaid/Fish Tail
Straight