When it comes to fashion, this season, stepping out of the conventional norms is the ultimate style statement. From Bollywood queens to renowned fashionistas, we have witnessed them flaunting extraordinary footwear with total panache, all while prioritizing comfort. If you're looking to elevate your Indian attire with a dash of uniqueness, we've got the perfect inspiration for you. From Mojaris to Kolhapuris, stilettos to sneakers brogues to loafers, and uggs to wedges, we'll explore each style and help you discover the ideal ethnic wear combinations.
Mojaris
Originated in Rajasthan, Mojaris are traditional Indian footwear. These beautifully handcrafted shoes have an exclusive allure that complements a range of ethnic outfits. Made from leather or fabric, Mojaris are adorned with intricate embroidery, beads, and mirror work, making them an ideal choice for festive occasions. Pair your Mojaris with lehengas, anarkalis, or sarees to create an outstanding fusion look. These shoes provide a touch of tradition and elegance to your ensemble, ensuring that you stand out in the crowd.
Kolhapuris
Originally from Maharashtra, Kolhapuris are flat sandals with a distinctive T-strap design. Known for their comfort and simplicity, Kolhapuris are a versatile option that pairs well with kurtas, palazzos, and even jeans for a more casual ethnic look. Their vibrant hues and beautiful patterns add a touch of rustic charm to your ensemble, making them an ideal choice for both daily wear and festive occasions.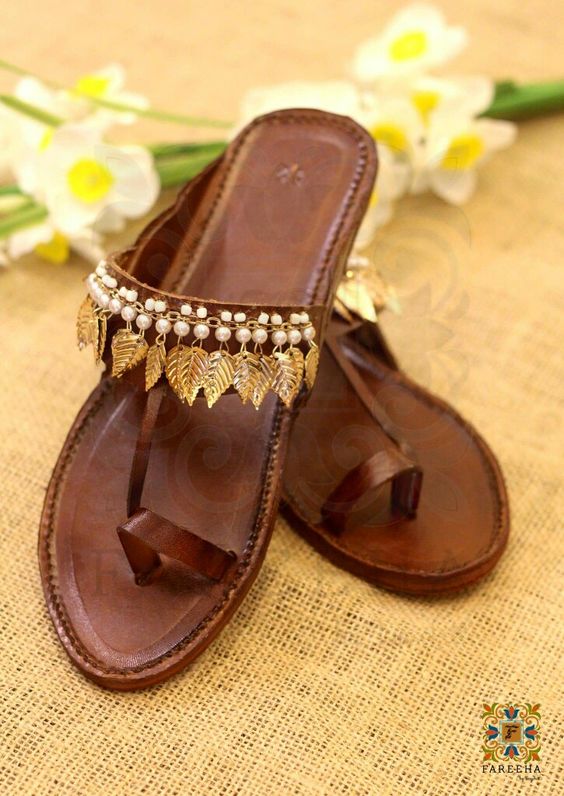 Stilettos
An epitome of elegance and sophistication, Stilettos adds a dash of glamor to any outfit, including traditional Indian wear. Stilettos work wonders when paired with sarees and lehengas. The elongated silhouette they provide accentuates your posture and makes you feel like a superstar at any special event. Opt for stilettos in neutral shades to keep the focus on your outfit, or go bold with vibrant colors to make an ultimate statement.
Sneakers
Want to break the traditional norms? Look no further than sneakers! A trendy and unconventional option, sneakers add a modern touch to your ethnic outfits. Team them up with Indo-western dresses like crop tops and dhoti pants or fusion dresses to create a unique and edgy look. Sneakers provide comfort, making them perfect for those who want to dance the night away at weddings without compromising on style.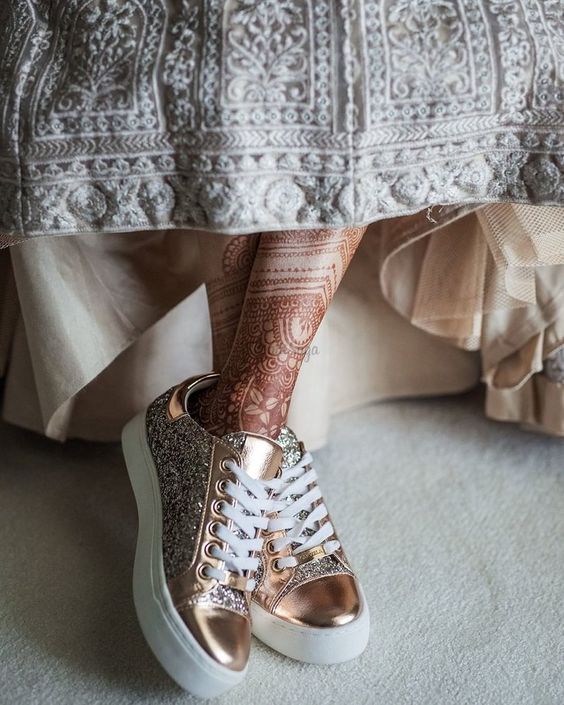 Brogues
Known for their decorative perforations and lace-up design, Brogues are a classic style of footwear. These versatile shoes can enhance your ethnic look when paired with well-fitted suits or indo-western jackets. Go for metallic or pastel-colored brogues to add a contemporary twist to your traditional attire. Whether you're attending a formal event or a cultural celebration, brogues can make heads turn.
Loafers
Loafers are the symbol of casual elegance. These slip-on shoes are comfortable, chic, and suitable for various occasions. Pair them with straight-cut pants, palazzos, or even long skirts for a stylish ethnic look. Loafers come in various colors and materials, allowing you to experiment and create a unique style. They're perfect for relaxed gatherings and daytime affairs.
Uggs
Known for their comfort and warmth, Uggs, might seem like an unusual option for Indian attire, but they can work wonders in the colder months. Opt for short or mid-calf Uggs to keep your feet warm while wearing lehengas or long, flowing Indian dresses in the winter. To keep the balance, choose Uggs in neutral colors that won't conflict with your vibrant ethnic outfit. This unconventional choice will surely make you the talk of the event while ensuring your feet stay cozy.
Wedges
Wedges offer the perfect amalgamation of comfort and style. They provide a stable platform while adding height, making them an excellent choice for those who prefer not to wear stilettos. Wedges pair beautifully with anarkalis, long kurtas, and flowing ethnic gowns. They create a sense of balance and make you feel confident while dancing or walking gracefully at weddings and festivities.
Wrapping Up
Incorporating these unique footwear choices into your Indian attire can add a touch of uniqueness to your style. The key to mastering this unconventional style lies in creating a pleasant balance between the footwear and the outfit. Whether you choose traditional options like Mojaris and Kolhapuris or embrace modern styles like sneakers and stilettos, it's essential to feel comfortable and confident in your ensemble.
Experiment with colors, patterns, and materials to create an elite style. Remember, don't be afraid to mix and match. Go ahead, break free from the norm, and embrace the extraordinary. Let your feet do the talking and make a statement with every step you take!