Have you ever wondered what to do with an old saree in your closet? Recycling it into a beautiful dress is one option. Repurposing an old saree can be a creative and eco-friendly way to reduce textile waste while creating something unique and eye-catching. Making a dress from an old saree is sustainable and can also be an enjoyable DIY project for anyone who enjoys sewing.
The first step in making a dress from an old saree is selecting the right material. Ideally, choose a saree dress of your choice that has been well-worn or stained where the fabric is still intact. If the material is too thin or damaged, it may not hold up well during the sewing process. Once you have chosen your saree, carefully remove any embellishments or borders so they can be reused later.
Next, decide on the dress style you want to make- whether it's a maxi dress or something more tailored and fitted. Using existing patterns or sketching your design will help guide you through cutting and sewing. With some basic knowledge of sewing techniques such as hemming, darting, and gathering, you'll soon have transformed your old saree dress design into a brand-new garment!
Importance of Selecting the Right Saree for the Dress
It is crucial to select the right saree for making a dress, as it can make or break the entire outfit. While choosing a saree, one must consider the material's fabric, color, and pattern. The fabric should be comfortable and easy to work with while sewing the dress. A light fabric like chiffon or georgette would be ideal for summer dresses, while silk or pure cotton sarees are perfect for winter outfits.
The color of the saree should complement your skin tone and body shape. Bright colors like red, orange, and yellow are perfect for festivities and weddings, while subtle shades like pastels work best for formal occasions. The pattern of the designer saree also plays an essential role in creating a beautiful dress. For example, floral prints are great for summer dresses, while geometric prints look stunning on formal wear.
In conclusion, selecting the right saree is vital when making an old saree dress design. It helps create an outfit that is comfortable and stylish at the same time. Keeping factors like fabric, color, and pattern in mind will ensure you have created a stunning piece that stands out from others!
How to Prepare the Saree for Use in the Dress?
Firstly, washing the saree thoroughly before making a dress is important. It will help remove any dirt or stains that may have accumulated on the saree while it was stored away. You should use mild detergent and lukewarm water to wash the saree.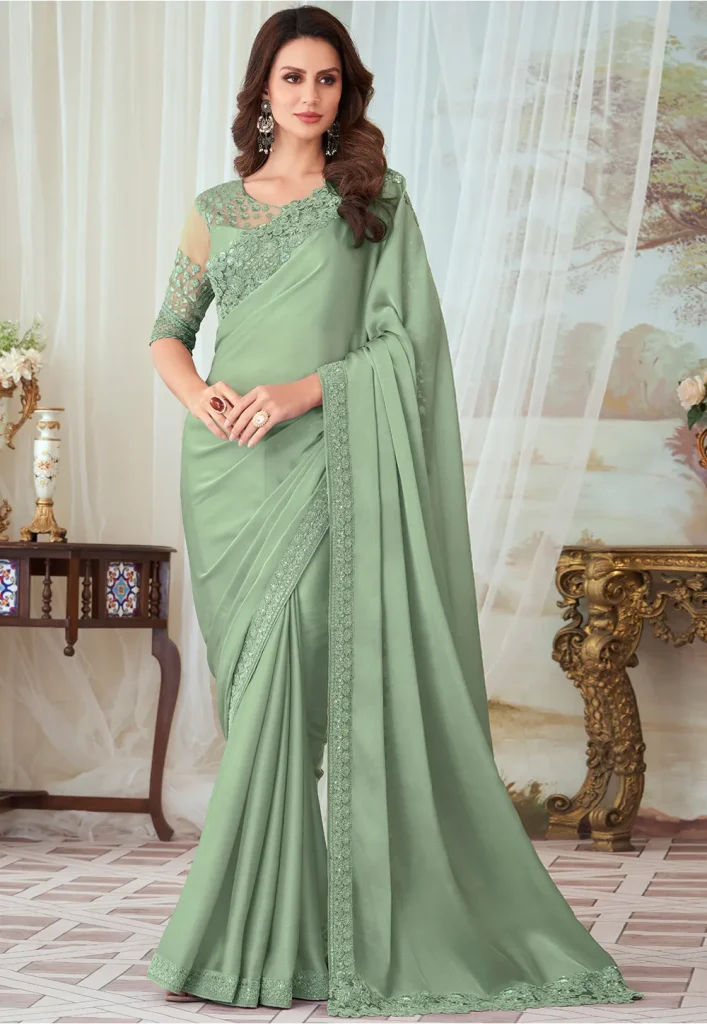 Once the plain saree has been washed, iron it to remove any wrinkles and creases. Ensure to iron both sides of the fabric carefully to avoid damaging it. If there are any embellishments on the saree, such as embroidery or sequins, be sure to iron gently around them so as not to damage these delicate details.
Suppose you plan to cut the saree into pieces for your dress, measure and mark your cutting lines with the tailor's chalk or pins before cutting. It will ensure that you cut accurately and don't waste any fabric. With these basic steps, you can prepare your old sarees to create beautiful dresses that reflect your style!
How to Make the Dress Fit Well and Look Professional?
Making an old saree dress design can be a creative and eco-friendly way to upcycle your wardrobe. But once you've sewn the dress together, it's important to ensure it fits well and looks professional. One key aspect of achieving this is ensuring the dress is tailored to your body measurements. You can do this by taking precise measurements before starting the sewing process or fitting the dress on yourself or someone else during construction.
Choosing the right undergarments is another important aspect of making your modern old saree dress design look professional. A well-fitted innerwear will ensure the dress sits properly on your chest without any sagging or bulging. Additionally, wearing seamless undergarments will prevent visibility from showing through the fabric.
Finally, consider accessorizing with jewelry, shoes, and other accessories to complete your professional look. Pairing your designer saree dress with simple yet elegant pieces can add sophistication and polish to your outfit. These tips allow you to wear your beautiful new saree dress anywhere confidently!
Conclusion
In conclusion, turning an old saree into a dress is an eco-friendly way of repurposing your wardrobe. It not only saves money but also helps reduce textile waste, which is a growing environmental concern. With the right tools and techniques, you can create unique and stylish old saree dress designs that reflect your personality.
Before starting the project, you must know what you want your modern old saree dress design to look like. Consider the fabric's texture, pattern, color, and length to determine how best to utilize it. Also, ensure you have all the necessary sewing tools and equipment before beginning.
Lastly, experiment with different designs and styles, like old saree gown designs and old silk saree dress designs, until you find something that works for you. The possibilities, whether simple shift dresses or elaborate old saree gown designs are endless! With some creativity and patience, making a dress from an old saree can be satisfying and rewarding.