We all aspire to look our best on our D-day, adorned with a beautiful wedding lehenga and beaming smiles. However, life can throw unexpected curveballs that disrupt our meticulous planning. With all the preparations, it's easy to lose track of time and miss out on strict dieting or rigorous gym routines. But worry not. There are ways to make styling work in your favor, whether you're curvy or not. If you want to wear lehnga dress for your wedding and achieve a slimmer appearance, some fantastic tips can help you rock your wedding attire.
Fortunately, achieving a slimmer appearance in your lehenga doesn't require drastic measures. With the proper styling techniques, you can get a more streamlined look. Simple changes to your lehenga's color, fabric, and embellishments can create an illusion of a slimmer frame. The right accessories and makeup can enhance your overall appearance and create a balanced look. So, even if you do not have time to hit the gym or stick to a diet, these tips can help you look and feel your best on your special day.
How Can the Right Fabric Make You Look Slimmer?
When choosing the suitable fabric for your wedding lehenga, it's essential to consider how it affects your overall appearance. The suitable fabric can make you look slimmer, while the wrong one can make you appear heavier than you are. Lightweight and thin fabrics are always the best choice for a slimmer appearance. Flowy and drapey fabrics like chiffon and light, soft cotton can create a flattering silhouette.
Choosing fabrics that skim over your prominent areas to camouflage them is best if you're heavier. However, ensure the material is detailed, which can draw attention to the right places and emphasize flaws. For instance, a thin knit fabric may cling to all the wrong places, making you look heavier than you are.
On the other hand, thick and heavyweight fabrics like denim, corduroy, fleece, fake fur, leather, and stiff materials can create a wider silhouette and make you look heavier. Hence, it's best to avoid these fabrics if you want to achieve a slimmer bridal look in a lehenga.
How Can Color Affect Your Appearance?
The colors you wear can significantly affect your overall appearance. It's a common belief that light-colored clothes can make you look heavier, while dark colors have a slimming effect. However, this doesn't mean that you should limit yourself to monochromatic shades of brown, navy blue, and black lehenga. Several other dark colors, like emerald green, maroon bridal lehenga, and indigo blue (Denim), can be just as flattering.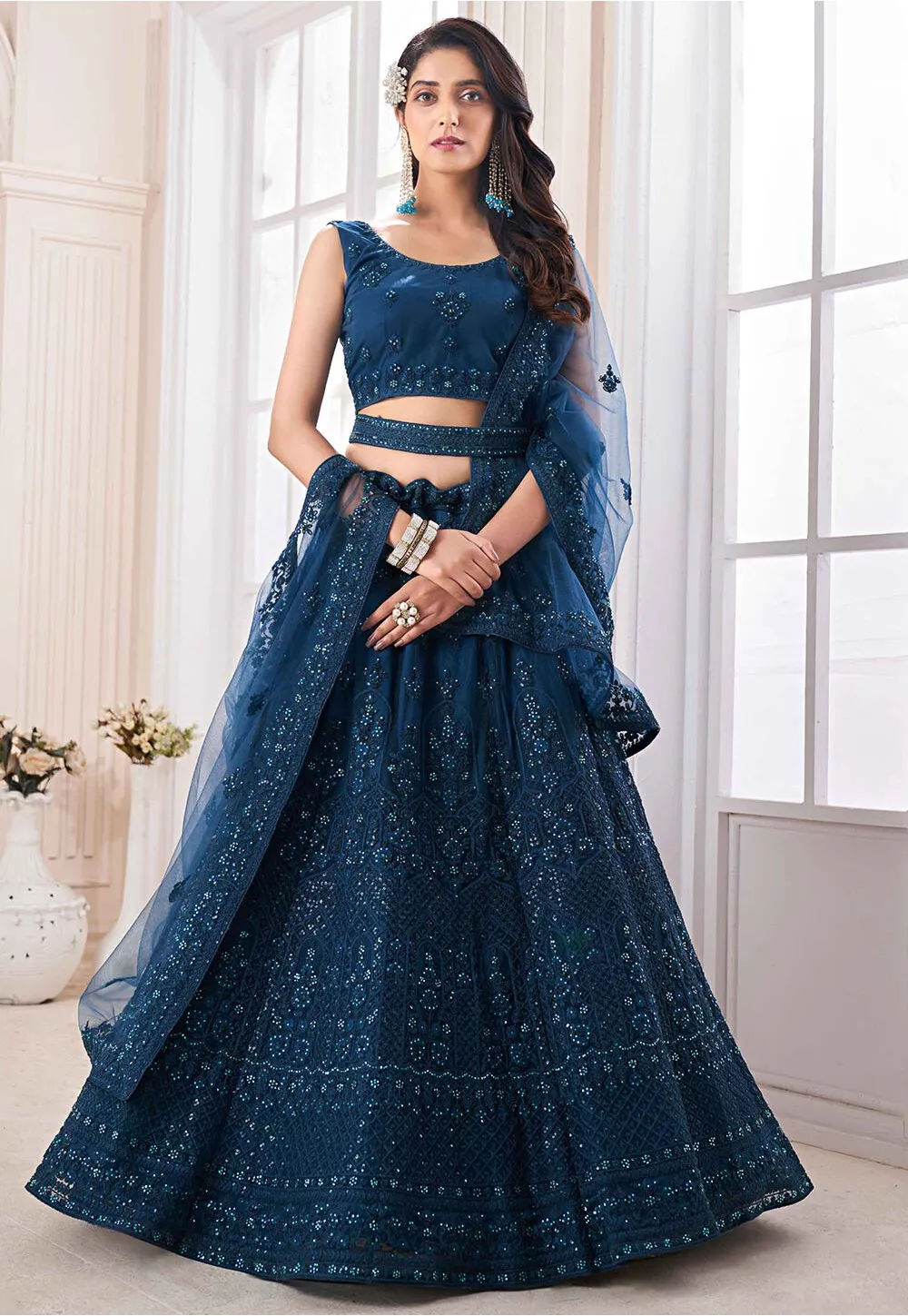 If you want to create a slimming effect, it's best to wear dark colors in your problem areas or opt for different shades of the same color. Layering various shades can add some interest to the monochromatic look, making it more visually appealing. When choosing lighter shades, it's essential to ensure they are in a fabric that drapes and doesn't add unnecessary bulk to your body.
Focusing on How the Right Fit Can Enhance Your Silhouette
Choosing a perfect wedding lehenga for the bride is essential, neither too tight nor too loose. An ill-fitted outfit affects your appearance and makes you uncomfortable and restricted. Therefore, selecting a lehenga that flatters your body shape and allows you to move freely without any discomfort is necessary.
Before finalizing your wedding lehenga, perform simple tests to ensure the dress's comfort level. You can try a mock Namaste pose, bend down, wiggle your body, or even dance routines to assess how well the dress fits you. This way, you won't have to worry about your dress's plunging neckline or feel breathless in a fitted garment.
Choosing a lehenga that accentuates your best features and flatters your body shape is crucial. Remember, the right fit is the key to enhancing your silhouette and making you look and feel beautiful on your special day.
Consider the Design Which Can Affect Your Appearance
The design of your outfit can significantly affect your overall appearance, especially on your wedding day. Avoiding bold, heavy embroidery designs is best when choosing your wedding Lehenga. Instead, opt for smaller motifs spread evenly and narrow borders to give you a subtle, slim look. Choosing a Lehenga with smaller prints rather than ones with enormous, bold print patterns creates a more streamlined and elegant look.
A monotone outfit, i.e., a single color from top to bottom, accentuates your curves and makes you look slimmer and more beautiful. Avoiding the lehenga trail is also essential, as it may add more weight to your attire, making you look bulkier. Although it may be on-trend, it's best to prioritize comfort and a slimming silhouette over the latest fashion trends.
A-line and flared skirts are more flattering than straight-cut skirts. They create an hourglass shape and help to camouflage any problem areas, giving you a slimmer appearance. Choosing the right fit for your body type is essential, ensuring the Lehenga is neither too loose nor too tight.
Accessorize Strategically
Regarding your bridal look, thinking beyond just the lehenga is essential. Your jewelry and other accessories can make or break the entire ensemble. It's best to have a cohesive plan to ensure everything works harmoniously together. Start by choosing the suitable fabric and color for your lehenga that will complement the jewelry you have in mind.
If you plan to wear heavy and elaborate jewelry, opt for an elegant lehenga design. It will ensure that your outfit and jewelry do not clash. On the other hand, if you have a more minimalistic jewelry set, you can experiment with more ornate and intricate lehenga designs.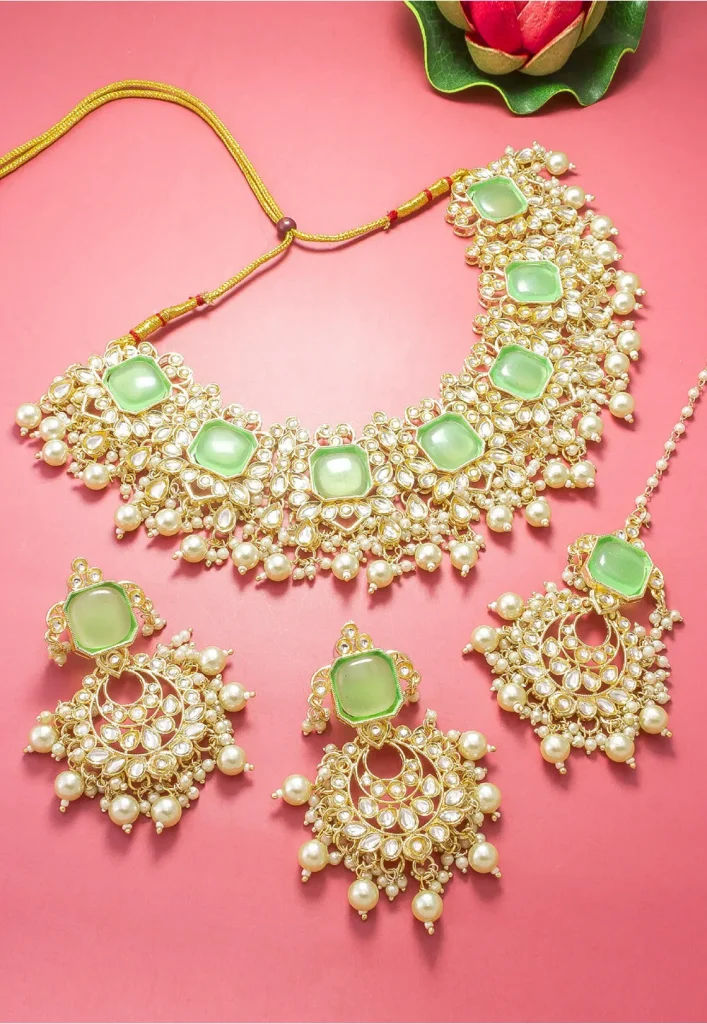 With gold jewelry, warm tones like red, maroon, and peach will complement it well—cool tones like blue, green, and pink for silver colour jewelry work best. By taking a strategic approach to accessorizing, you can ensure that your wedding day look is cohesive, stunning, and truly unforgettable.
Choosing the Right Undergarments for Your Wedding Lehenga
Wearing the wrong size or style of undergarments can affect how your lehenga dress for wedding fits and looks. A bra that is too tight or too loose can create bulges and make your silhouette appear unflattering. Opt for a bra that fits you perfectly and provides the proper support. A seamless bra can prevent unsightly bulges from showing through your lehenga.
Additionally, choose undergarments that are invisible under your outfit and don't create any panty lines. Consider wearing shape-wear that smoothens and contours your body and provides a flattering shape. Remember to try on your undergarments with a wedding lehenga to ensure a perfect fit and comfort on your big day.
How Good Posture Can Make You Look Slimmer and More Confident
Good posture can significantly impact how you look and feel in your wedding lehenga. Standing up straight with your shoulders back and your head held high creates an instant impression of confidence, grace, and elegance. At the same time, good posture can also help to elongate your body, creating the illusion of a slimmer and more streamlined silhouette.
Conclusion
As the wedding day approaches, many brides-to-be receive advice from various sources. Although some guidance can be beneficial, relying solely on it can be overwhelming. In such a complex situation, a bride must trust her instincts and follow her heart. After all, when it comes to choosing the perfect bridal designer lehenga saree, it is the bride's personal preferences and style that matter the most.