Lehenga cholis have become an extremely popular ethnic wear garment, both in India and abroad. People who like to dress up in stylish Indian clothing, love the elegant drape and sophisticated look of this outfit. It has a uniquely Indian aesthetic and can be worn for a variety of special occasions. Consisting of a long skirt called the lehenga, a fitted blouse called the choli and a flowing scarf called the dupatta, it looks great on different body types and really brings out the feminine beauty and charm. Besides, it is also extremely comfortable and easy to wear.
Lehengas might be a traditional garment of India, but today they are just as popular in modern, urban sections of the society. They are available in many different colors, cuts, designs and styles. Women can choose the type in accordance with their aesthetic sense and body type. From classic straight cut lehengas to the trending mermaid cut ones, from simple and colorful cotton pieces to delicately embroidered party wear skirts, there are plenty of options to choose from in the lehenga choli market.
However, one of the reasons that often compel women to hesitate in buying this resplendent outfit is a sheer lack of knowledge about how to take care of it. Like all fancy clothing meant for evening wear, certain types of lehenga cholis do require special care to ensure the shielding of their intrinsic beauty.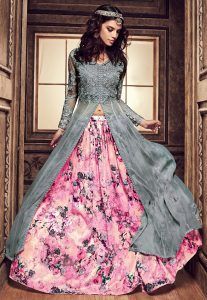 On the other hand, you can also find simpler types, which you can maintain sans any extra efforts. Lehenga maintenance requires the buyer to verify the type of lehenga, which includes specific details like material, design, embroidery and embellishments. Since there are many different varieties available in the market, it is important to ask vendors about every product detail before purchasing.
Fabric Maintenance
It is very important to maintain lehenga cholis and prevent them from getting crinkled, faded or torn. The fabric plays a huge part in maintaining lehenga cholis. Linen, for example, is easily creased and has to be stored very carefully on hangers. Folding can be disastrous with these types of lehenga cholis. Cotton outfits are usually easier to maintain, though again, hanging them is always better than folding.
When it comes to expensive and luxurious materials like silk, lehenga maintaining tips cover washing as well as storage. A lot depends on the type of silk being used. Pre-washed silk can be hand-washed and even ironed without a problem, but if the silk is of a finer quality and not so tightly wound, then washing it at home will shrink the fabric and thus ruin the outfit. For such outfits, dry cleaning is the best option.
Maintaining The Embellishments or Embroideries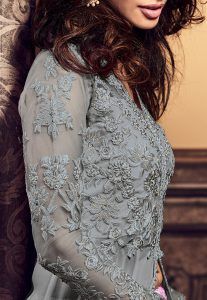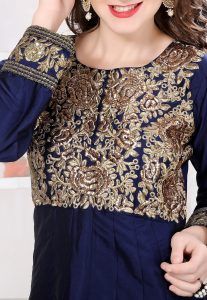 Lehenga maintenance is not just about fabric, but equally about factors like design and embroidery. Lehengas often come with heavy embellishments made using materials like sequins, gold thread (called zari), colorful stones and even pearls. Machine washing is a strict no-no with such outfits, and even hand washing can prove to be tricky. It is always better to take expert assistance for cleaning. While storing a lehenga with heavy designs, it is important to wrap it in tissue paper or muslin cloth. This would prevent the embellishments from getting entangled with one another.
Depending on the fabric, embroidered lehengas can be easily hand-washed. However, they should be washed very gently with water at the right temperatures to prevent the threads from snagging and gushing out. Some other important lehenga maintaining tips include putting the appropriate tablets in with the clothes to prevent insects from ruining the outfit and using cold water and line drying methods to prevent the colors from fading. Outfits should be stored in a cool, dry, moth-free environment, away from sunlight, and folded correctly to prevent unseemly creases. Ironing, in general, needs delicate maneuvering to prevent the color from fading and designs from getting ruined.
Many people buy lehenga cholis for a special occasion and then store it away for a long time without wearing it. If that is the case, it is always better to bring out the lehenga every few weeks and expose it to sunlight and air. This keeps the outfit fresh and maintains its 'new' look.
A few decades ago, lehenga cholis, especially those purchased for special occasions, were generally treasured and preserved with a lot of care, often passing from mother to daughter. One embellished lehenga choli was worn for many important occasions and was invariably maintained with utmost care. Nowadays, however, people don't pay much attention to lehenga maintenance. Many fashionistas prefer to leave last season's outfits behind and buy new garments every year.
While this trend is understandable for low-cost lehengas made of cotton and linen, which are primarily meant for informal parties and festivals, you will find that formal, stylish designer lehengas are truly one-of-a-kind pieces. You just need to maintain them with the aforementioned tips.