A much-awaited pre-wedding event in Indian weddings, the sangeet function is a celebration of joy, music, and dance. Family members and friends from both the bride's and groom's sides come together to celebrate this lively and vibrant occasion. It is a night brimmed with traditional melodies, foot-tapping beats, and the perfect chance to showcase some stunning ethnic fashion. Amongst the various traditional Indian outfits, lehenga cholis steal the show, and here we explore the latest trends and ideas for lehenga designs that are perfect for the sangeet ceremony.
Ivory Lehenga
The ivory lehenga exudes a sense of sophistication and elegance, making it a classic choice for the sangeet day. This timeless design often features detailed embroidery and shimmering sequins, adding a dash of subtle glamour. Complement it with statement jewelry, and you will be all set to dazzle on the dance floor!
Golden Lehenga
The stylish Golden Lehenga is an ideal pick for those who love reveling in the splendor of gold. Exuding opulence and grandeur, this regal ensemble will make you feel like a true diva. With its dazzling allure and radiant hue, you will surely be the center of attention throughout the sangeet ceremony.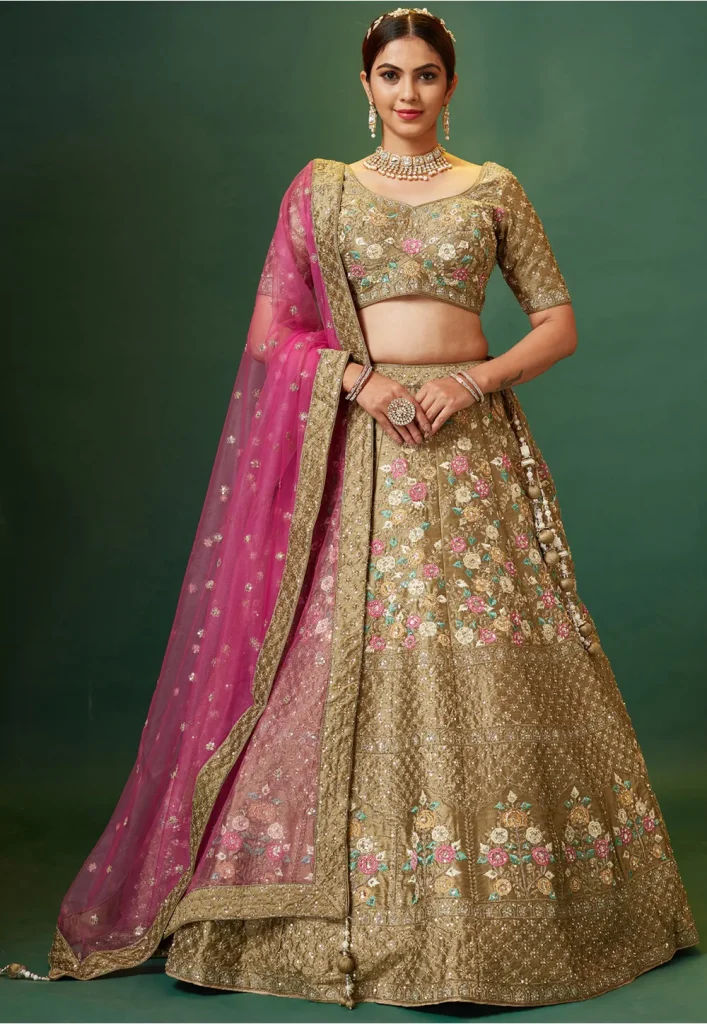 Floral Lehenga Designs
If you want to embrace nature and femininity, then floral lehenga are a perfect match. These lehengas have colorful floral motifs all over them, giving them a refreshing and delightful appearance. From dainty daisies to intricate rose motifs, the floral lehenga adds a touch of whimsy and charm to your ensemble.
Silver Lehenga Choli
Bringing a contemporary twist to the sangeet attire, the silver lehenga choli is a perfect way to step away from the traditional gold and copper tone. The shimmering silver hue will make you stand out, giving you a unique and contemporary edge. Accessorize with minimalistic jewelry to let the silver shine bright.
Lehenga in Shade of Blue
A popular choice for the Sangeet ceremony, the color blue symbolizes tranquility and poise. Opting for a lehenga in different shades of blue, such as royal blue, exude elegance and grace. To achieve a breathtaking look, complement your look with silver jewelry and a subtle makeup palette.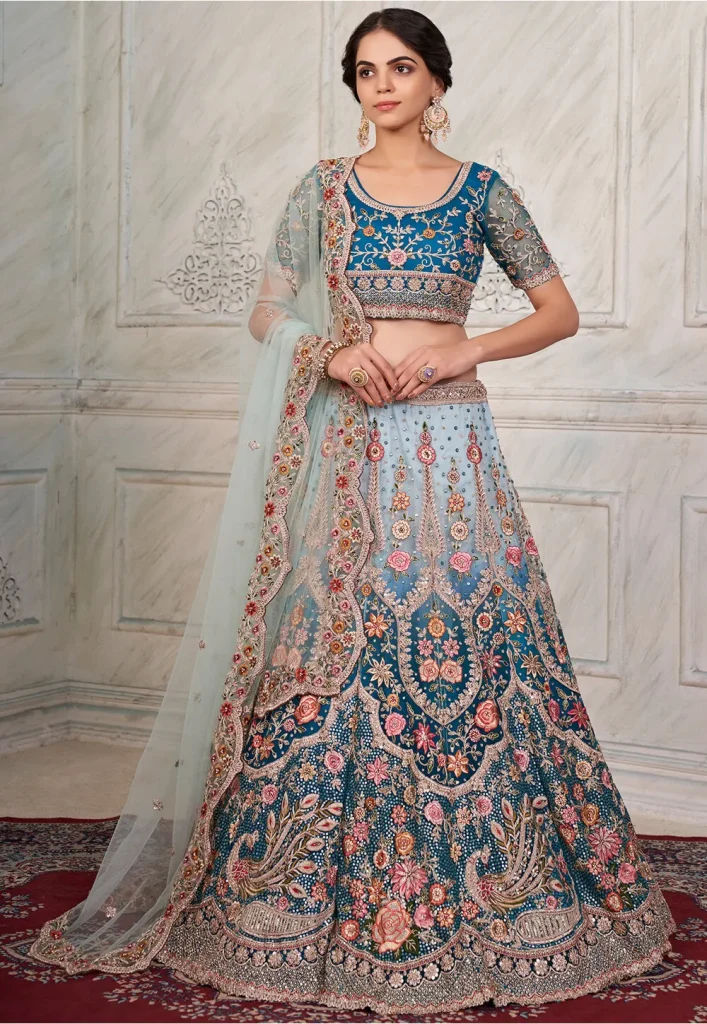 Lehenga Design in Dark Shades
Lehenga designs in dark shades are a definite go-to for those who love bold and dramatic looks. Deep maroons, rich burgundies, and intense blacks make for a mesmerizing and powerful statement. For those who wish to make a lasting impression with their captivating style, these lehengas are perfect.
Velvet Lehenga
Velvet has made a glorious comeback in fashion, and a velvet lehenga is a lovely option for the sangeet day. The smooth, opulent fabric drapes gracefully, adding a hint of royalty to your ensemble. Opt for jewel-toned velvets like emerald green or ruby red to steal everyone's heart.
Pastel Pink Lehenga
Pastel hues have their charm and will always be in vogue. A pastel pink lehenga radiates elegance and femininity. For individuals who prefer a romantic and dreamy appearance on their sangeet day, this ethereal and delicate choice is an ideal pick.
Conclusion
As the Sangeet function is a time for celebration and joy, your outfit should reflect that exuberant spirit. The Lehenga designs mentioned above offer a wide array of choices, catering to diverse style preferences and tastes. Whether you prefer traditional and timeless styles or contemporary and bold looks, there's a lehenga design that's perfect for you. Step into the spotlight on your Sangeet day with confidence, showcasing your unique style and grace. Keep in mind that it's not just about the outfit, but also about the happiness and love that surround you on this special occasion. So, dance your heart out, laugh with your loved ones, and create unforgettable memories that will last a lifetime!