The cherished festival celebrating the bond between siblings, Raksha Bandhan, is just around the corner! It's that time of the year again when sisters tie colorful threads of protection around their brother's wrist. In return, brothers shower them with love and gifts. And what better way to make this joyous occasion extra special than by embracing the timeless elegance of a white salwar suit?
In this blog, we are diving into the world of Indian fashion and exploring the charm of white attire. Also, we are discovering various white salwar suit styles that will undoubtedly elevate your style quotient.
The Allure of White in Indian Fashion
White has an undeniable appeal in the realm of Indian fashion. It signifies purity, tranquility, and timeless elegance. While bright and vibrant hues have their special place, white stands out for its ability to exude sophistication and grace. The pristine nature of white makes it a perfect canvas for intricate embroideries, delicate prints, and stunning embellishments. Also, the wearer can create a statement look without going overboard.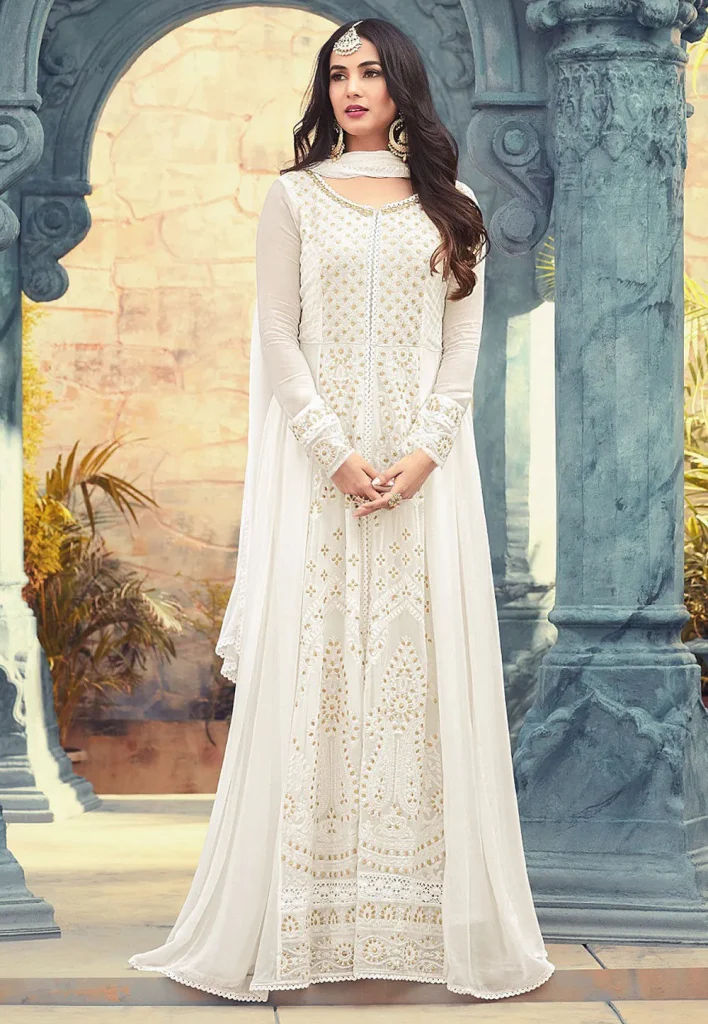 Different White Salwar Suit Styles for Raksha Bandhan
The Classic Anarkali:
For a regal and ethereal look, consider donning a white Anarkali salwar suit. The Anarkali silhouette, known for its flared design, radiates grandeur that perfectly suits the festive vibe of Raksha Bandhan.
Style Tip: Pair it with statement jhumkas and minimalistic makeup to let the outfit stand out.
Pakistani Elegance:
The Pakistani-style salwar suit in white color offers a contemporary twist with its long, flowy silhouette and unique cuts. Opt for a white suit with intricate threadwork or sequin detailing to add a touch of glamor.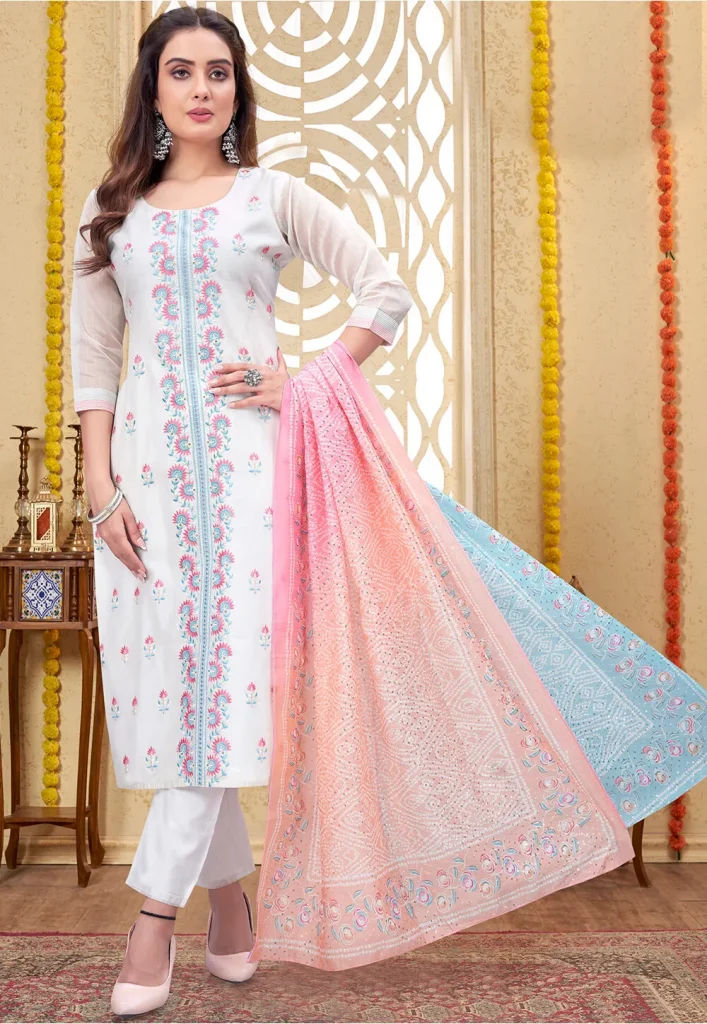 Style Tip: Accessorize with bold jhumka earrings and a delicate maang tikka to elevate the look.
Straight Cut Chic:
If you're looking for minimalistic and comfortable options, consider choosing a white straight-cut salwar suit. This style emphasizes clean lines and a straight silhouette, allowing you to showcase your style with accessories.
Style Tip: A colorful dupatta or bold statement jewelry can add the perfect contrast to your white attire.
Abaya-Inspired Grace:
For a touch of elegance and modesty, the Abaya-style salwar suit in white color is an excellent choice. This style drapes gracefully, with a long coat-like outer layer that adds an element of drama.
Style Tip: Pair the abaya-style suit with metallic silver heels and a matching clutch.
Punjabi Flair:
Bringing in a dose of Punjabi vibrancy to Raksha Bandhan, a white Punjabi salwar suit is both festive and fun. The short kurta paired with wide-legged pants is comfortable and lively.
Style Tip: Jazz up your Raksha Bandhan ensemble with colorful bangles, a bindi, and juttis.
Exploring Embroidered and Printed Variations
Embellishments are the heart of Indian fashion, and white salwar suits are no exception. Whether it's delicate threadwork, detailed mirror work, or exquisite zari embroidery, these embellishments add character to your outfit. If you're seeking for a more subtle look, consider these suits with delicate floral patterns or minimalistic motifs. These prints provide a charming appeal while keeping the overall look stylish and sophisticated.
Additional Reads: Patiala Salwar Suits For Punjabi Look
Wrapping Up!
Raksha Bandhan is a time of togetherness, love, and celebration. Embrace the spirit of this festival by adorning yourself in the grace of a white salwar suit. From the timeless Anarkali to the contemporary Pakistani style, the versatility of white hues in different salwar suit styles offers something for everyone. So, this Raksha Bandhan, let your style shine as brightly as your bond with your sibling. Pick a white salwar suit that suits your style, follow our fashion tips, and enjoy the festive joy.
☺ Happy Rakshabandhan! ☺