Parties, and Making them Count!
Ever experienced that awkward moment at a party? You know, the one where your outfit feels a tad out of place? Been there, done that, got the t-shirt. Quite literally. But here's the silver lining: with the latest collection, you'll never feel out of place again.
Why Choose Party Wear Shirts?
A wise old man had this nugget of wisdom: "It's not about chasing every trend, it's about wearing what resonates." And boy, did that stick! The  shirts are trendy yet timeless. Reflecting personal style and flair, they're the wingman you never knew you needed.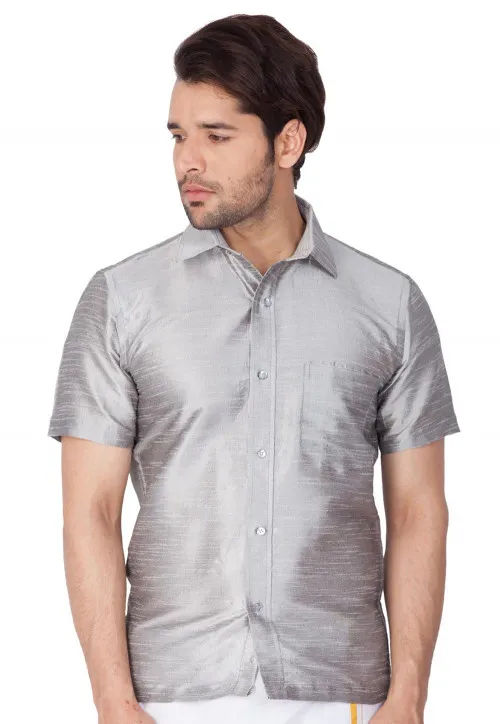 What Are Party Wear Shirts?
Party wear shirts for men, also referred to as "celebration shirts," are a distinctive category of clothing designed specifically for festive occasions and gatherings. These shirts are characterized by their attention-grabbing designs, vibrant colors, and unique patterns that set them apart from everyday attire. Party-wear shirts are crafted to make a statement and enhance your style quotient at parties, celebrations, and social events. They often incorporate detailing such as bold prints, intricate embroidery, or striking embellishments to create a visually appealing and memorable look.
Party wear shirts offer a blend of sophistication and flair, allowing men to express their personality while adhering to the festive atmosphere of the occasion. Whether you're attending a formal event or a more casual gathering, party wear shirts provide a versatile and stylish option to stand out and make a lasting impression. Utsav Fashion offers a range of party-wear shirts to help men retain an aura of absolute style.
The Party-Wear Essence
Remember the thrill of making a grand entrance at a party, soaking in admiring glances? We're serving just that. These shirts for men are a cut above your everyday wear. Radiating charisma with their unique patterns and colors, they're your ticket to making every event memorable. Whether you're into bold designs or subtle elegance, we've got a match for your vibe.
Notable Attributes of Party Wear Shirts for Men
With unique characteristics and attention-grabbing features, party wear shirts have become an essential component of modern men's fashion. Here are some distinctive attributes that set these shirts apart and contribute to their undeniable appeal:
Party-wear shirts commonly boast vibrant and vivid hues.
Crafted from a blend of satin and silk fibers, they exude a lustrous sheen.
These shirts are intentionally designed to stand out and make a statement.
Thin-fit variations are often favored to achieve an elegant and refined look.
Prints, colors, and patterns showcased on party wear shirts often exhibit creative ingenuity.
Distinctive embellishments like chains, buttons, or cuffs are frequently incorporated for an added touch of uniqueness.
Crafting a Memorable Collection
Fashion can be a maze and people get lost more times than they'd like to admit. That's why we've made it simple, selecting each piece with comfort, versatility, and sheer style in mind. The secret ingredient? Feedback from amazing folks like you!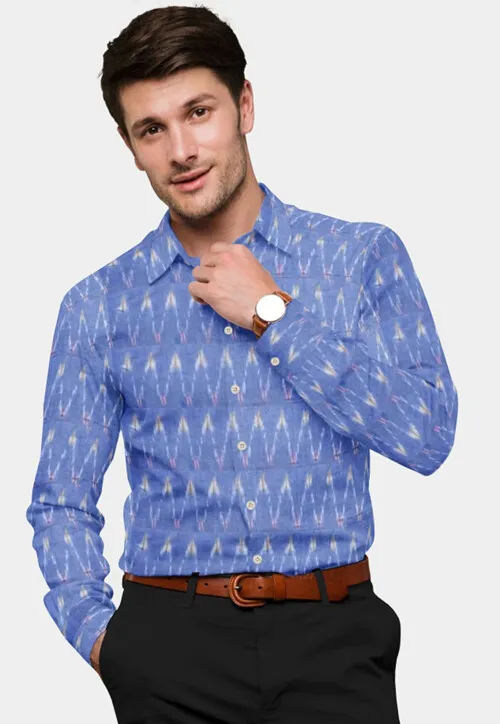 Quick Fashion Tips, Just Between Us!
Navigating the fashion world can feel like decoding rocket science. But as our precious client, Mabel often says, "It's not about the clothes, it's about how you wear them." So, here's a cheat sheet:
Day events? Light shades are your best buds.
Night event? Go for darker shades; they ooze sophistication.
Confidence is key. Rock your outfit, and you're halfway there!
A dash of accessories can amp up your look, but remember, less is often more.
Effortless Pairing – The Real MVP
Picture the shirts as the all-rounder in a cricket match – versatile and dependable. Aiming for a breezy look? Pair them with trusty denims. Got a swanky event? Those sleek trousers you've been saving for a special day are perfect. And for the unpredictable weather outings, a jacket layers over like a dream.
Versatile Pairing with the Party Wear Shirts
Utsav Fashion's collection of party wear shirts is meticulously crafted to seamlessly blend with your wardrobe, offering effortless pairing and styling options. Coordinate the party-wear shirts flawlessly with tailored trousers or chinos for an air of refinement. Roll up the sleeves and team them with denim for a relaxed, contemporary twist. Elevate the look by layering with a blazer or chic jacket, culminating in a polished ensemble. With inherent versatility, the party wear shirts empower you to curate numerous stylish outfits perfectly suited for a diverse range of events and occasions.
Endnote: Making Every Occasion Count
Those frantic "I've got nothing to wear" episodes? Consider them history. With a diverse range that doesn't empty your pockets, top-tier style is now in arm's reach. Envision these shirts as your passport to making each party a home run. And when you get those "Where did you snag that shirt?" queries, you'll have a fun anecdote up your sleeve.
Conclusion
Navigating the fashion maze doesn't have to be a challenge. Let's simplify, taking it one stylish step at a time. Trade in past fashion missteps for moments of sartorial brilliance. And always remember – as the wise grandma would say – "Your best accessory is your confidence and a genuine smile." Here's to turning heads at every party!