When it comes to bridal attire, the allure of lehengas remains an evergreen and timeless choice. The rich cultural heritage, detailed embroidery, and sheer grandeur of lehenga cholis have made them popular among brides. What's even more remarkable is how versatile this silhouette is, fitting beautifully on women of all body types. However, finding the perfect lehenga for curvy Indian brides can be a tad challenging. But worry not, as we're here to provide you with a treasure trove of styling tips that will make you look absolutely fab on your big day
Ravishing in the Right Hues
The first step to looking sensational in a plus-size lehenga for brides is selecting the right hues. While you might be tempted to go for darker shades to conceal certain areas, remember that your wedding day is a celebration of love. Also, it's a day all about exuding positivity. Opt for bright and vibrant colors like deep reds, regal purples, and lively pinks that not only make you stand out but also add a dash of regal allure to your ensemble. These colors will not only highlight your natural beauty but also make you feel like the radiant bride you truly are.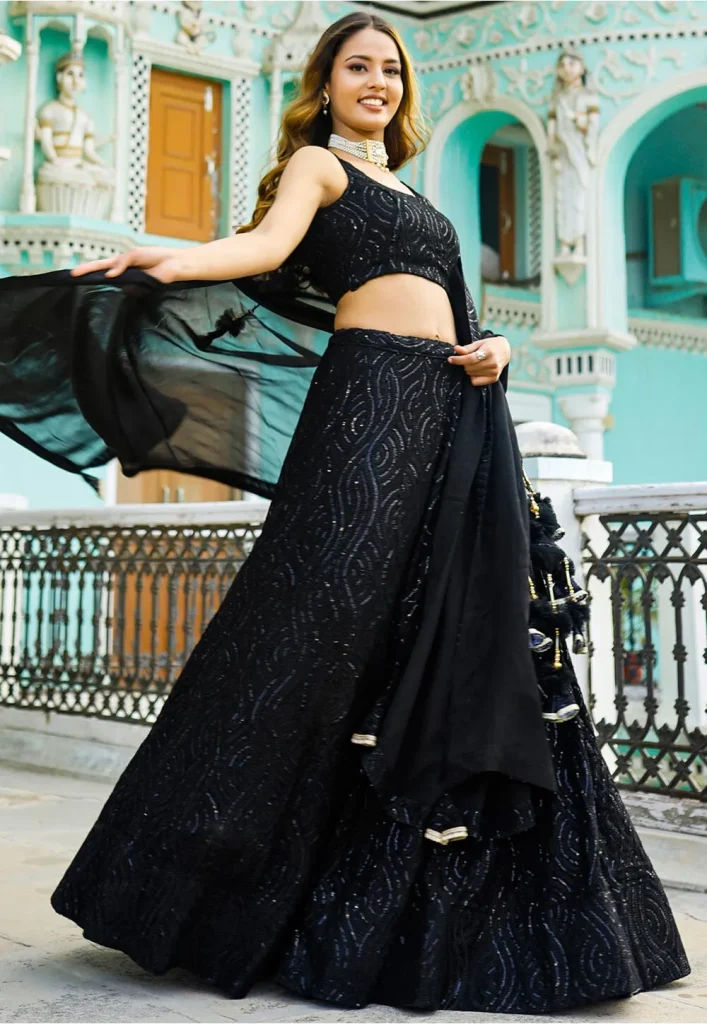 Embrace the High Waist and Long Choli Lehengas
One of the most flattering silhouettes for plus-size brides is the high-waisted lehenga paired with a stylish long choli or blouse. The high-waist design cinches at your narrowest point, creating a beautiful hourglass shape. Simultaneously, the longer choli offers coverage and elegance. This combination is perfect for enhancing your curves and giving you a confident, regal look. You can even experiment with embellishments and embroidery on the choli to draw attention upwards, emphasizing your upper body and face.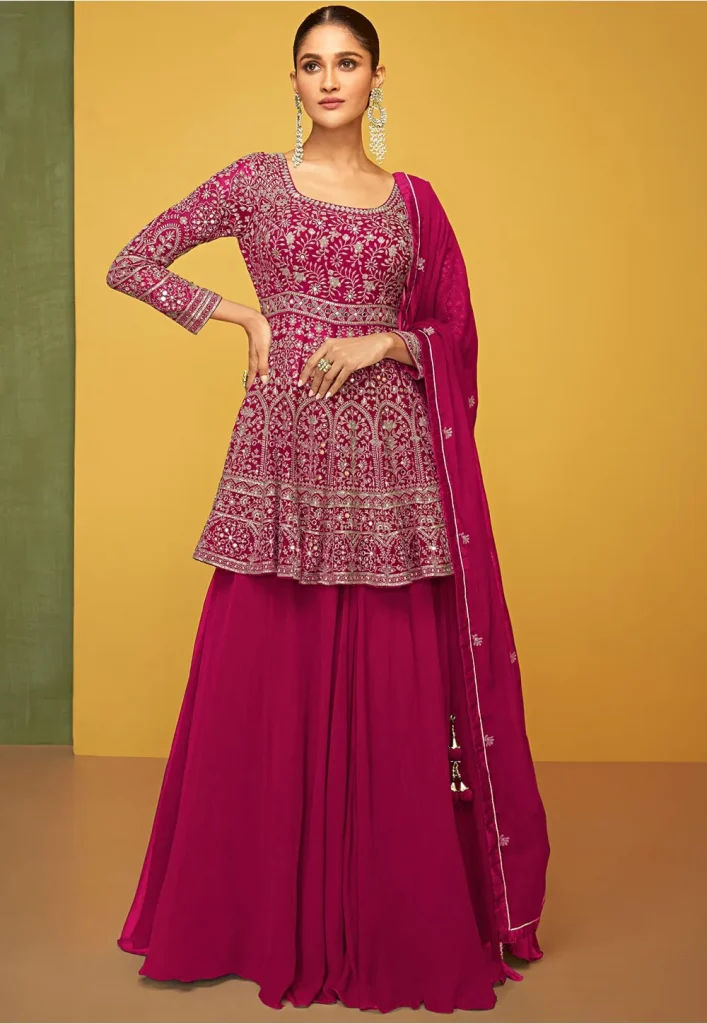 Dare to Go Deep with Neck Cholis
For plus-size brides, deep neck cholis are an ultimate game-changer. These alluring necklines elongate your neck, add a dash of glamor, and draw attention to your décolletage. A deep V-neck or scoop neck choli can be exceptionally flattering, making you look poised and confident. Just remember to strike the right balance between elegance and sensuality, and you'll be turning heads for all the right reasons.
Opt for Vertical Designs on Your Lehengas
Vertical designs on lehengas work like magic for plus-size brides. They create an illusion of height, making you appear slimmer and taller. Vertical patterns such as embroidered stripes or sequin lines can be well-placed to flatter your curves while maintaining a sense of sophistication. So, ditch the horizontal motifs and embrace the power of vertical designs to look like a true diva on your D-day.
Selecting the Right Fabric
The fabric of your lehenga can make a major difference in how you look and feel. Lightweight fabrics like georgette or chiffon can work wonders, as they drape beautifully and don't add unnecessary bulk. These materials flow gracefully, allowing you to move comfortably and feel like a queen on the dance floor. Avoid heavy fabrics like brocade or raw silk, as they can make you feel weighed down and less comfortable throughout the day.
Elevate your Style with Long Jacket Lehengas
Long jacket lehengas have taken the bridal fashion world by storm, and they are an excellent choice for plus-size brides. The jacket adds an extra layer of sophistication and can help camouflage any areas you may be conscious of. You can choose a jacket with intricate embroidery or embellishments to make a statement. The added length also elongates your frame, making you look slimmer and taller. Pair it with a high-waisted lehenga for the ultimate plus-size bridal ensemble.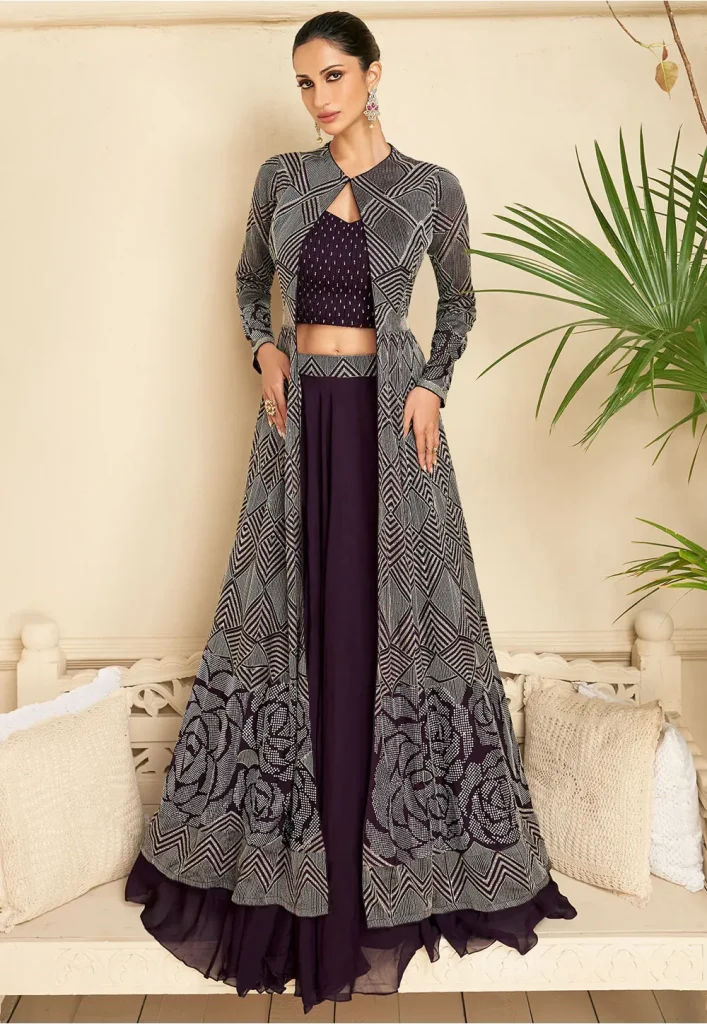 Wrapping Up!
Finding the perfect bridal lehenga as a plus-size bride may have its challenges, but with the right styling tips, you can look and feel absolutely stunning on your wedding day. Remember to focus on flattering colors, high-waisted designs, deep neck cholis, vertical patterns, lightweight fabrics, and the trendsetting long jacket lehengas. Embrace your curves with poise and celebrate your uniqueness as you embark on this beautiful journey of love. Your wedding day is all about you, and you deserve to shine brightly in the timeless elegance of a lehenga that's designed just for you.
So, go ahead, be the radiant, stylish, and confident plus-size bride you were born to be, and let your love story be as unforgettable as your bridal attire!