In the kaleidoscope of wedding festivities, the Mehendi function stands out as a vibrant canvas of colors, laughter, and intricate henna designs. This lively ceremony, deeply rooted in Indian traditions, is a prelude to the grandeur of the wedding day. And what better way to celebrate this joyous occasion than by choosing the perfect Lehenga look that mirrors the vivacity of the Mehendi function? Let's dive into the world of Lehengas and discover how you can add a touch of magic to your Mehendi album!
Fuschia Fling: Turquoise Tango
Picture this: A fuchsia lehenga that swirls with every dance move, paired with a bold turquoise blouse that adds a pop of contrast. This combination is not just a visual treat; it's a celebration of colors that harmonize with the Mehendi hues. Flaunt your curves with grace, and let the vibrant colors speak volumes about your zest for life.
Pastel Perfection: Taking a Cue from DeepVeer
Remember the iconic DeepVeer wedding? It was a pastel extravaganza! Embrace the elegance of a pretty pastel lehenga, reminiscent of Bollywood's power couple. Whether it's a serene mint green or a blush pink, pastels exude a timeless allure. Let your Mehendi ceremony be a canvas painted with the soft strokes of pastel hues.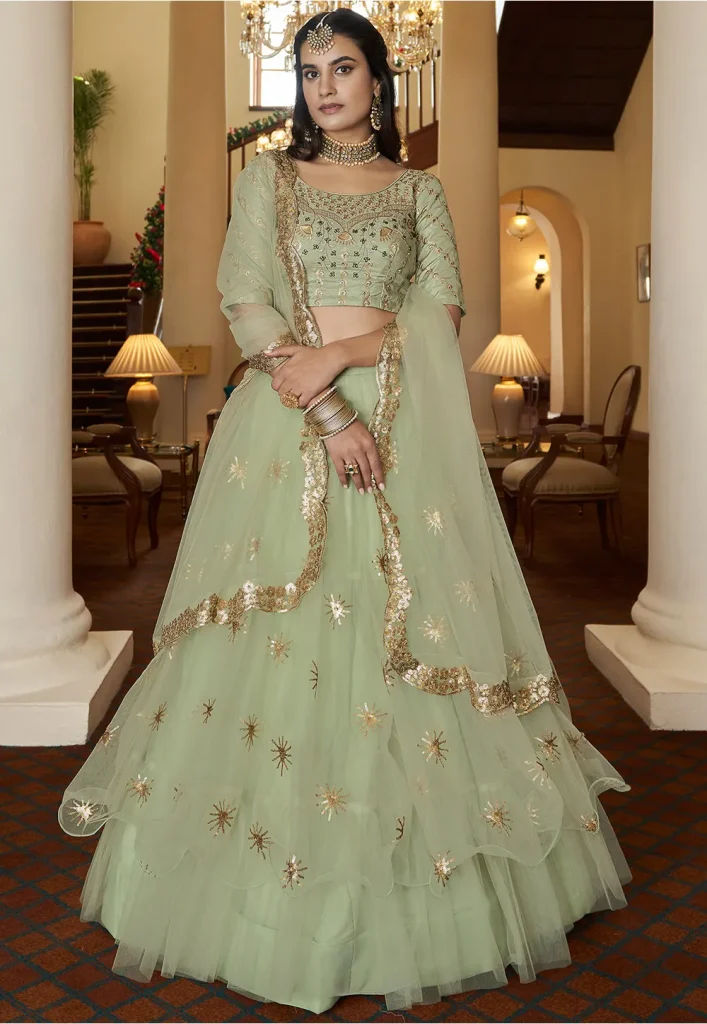 Silk Sophistication: Contrast Chronicles
Step into Mehendi royalty with a simplistic silk lehenga adorned with contrasting elements. A blouse that stands out, an Odhni with intricate embroidery – these are the details that elevate your overall appearance. The richness of silk combined with thoughtful contrasts creates a look that is both sophisticated and captivating.
Green Goddess: Embroidery Extravaganza
Explore the various shades of green with a lehenga that boasts heavy embroidery on the blouse. This ensemble is a nod to tradition with a contemporary twist. Let the richness of the green palette mirror the lushness of Mehendi leaves, and don't forget to accessorize with lovely trinkets that complete the ensemble.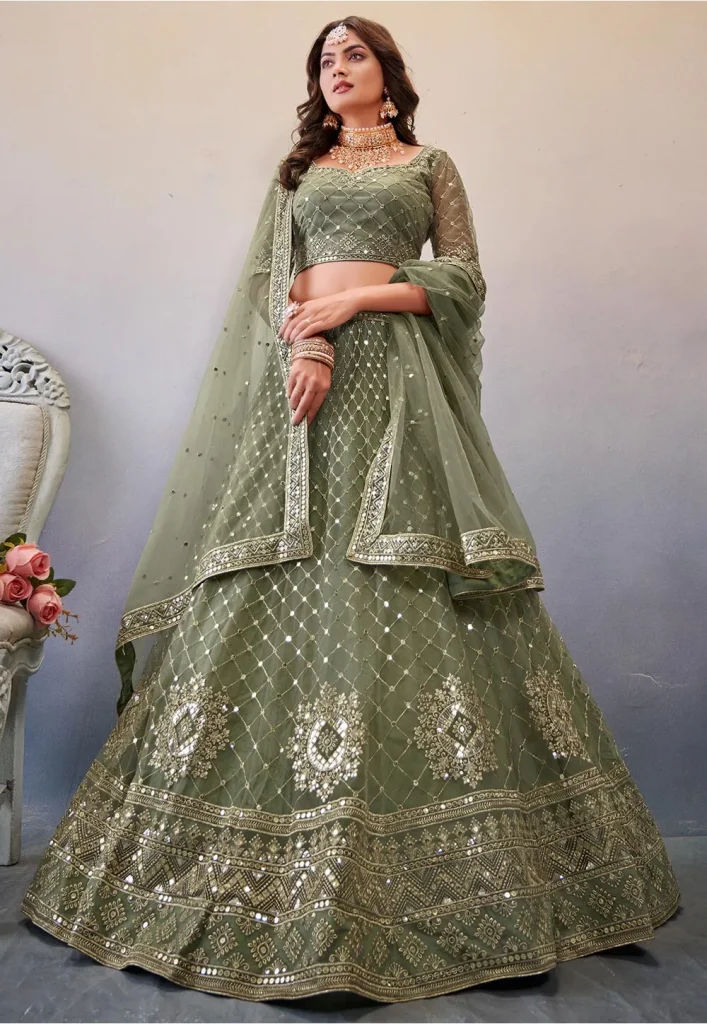 Brocade Bliss: Weaving Traditions
For those who cherish the heritage of Indian textiles, a brocade lehenga is the perfect option. The intricate patterns of brocade add a dash of regality to your Mehendi look. Pair it with a contrasting blouse, and you have a timeless ensemble that seamlessly blends tradition with contemporary aesthetics.
Floral Fantasy: Monochrome Magic
Bring a touch of nature to your Mehendi celebration with a monochrome ensemble adorned with beautiful floral embroidery. The delicate flowers on your lehenga add a whimsical charm, creating a look that is both ethereal and romantic. Let your Mehendi ensemble be a garden of blossoms, reflecting the joy of new beginnings.
Duo-Chrome Delight: Playing with Contrasts
Turn heads with a duo-chrome ensemble that breaks the usual color barriers. Picture a yellowish lehenga paired with a pastel blouse, topped with a duo-chrome dupatta. This unconventional combination adds a playful twist to your Mehendi look, making you stand out as the trendsetter of the celebration.
Why Lehengas for Mehendi? The unmatched Allure
Lehengas have firmly established themselves as the heartbeat of bridal fashion, and the Mehendi ceremony is no exception. These swirling, twirling ensembles are an expression of joy, love, and cultural richness. The vibrant hues, intricate embroideries, and flattering silhouettes make Lehengas the perfect choice for your Mehendi celebration.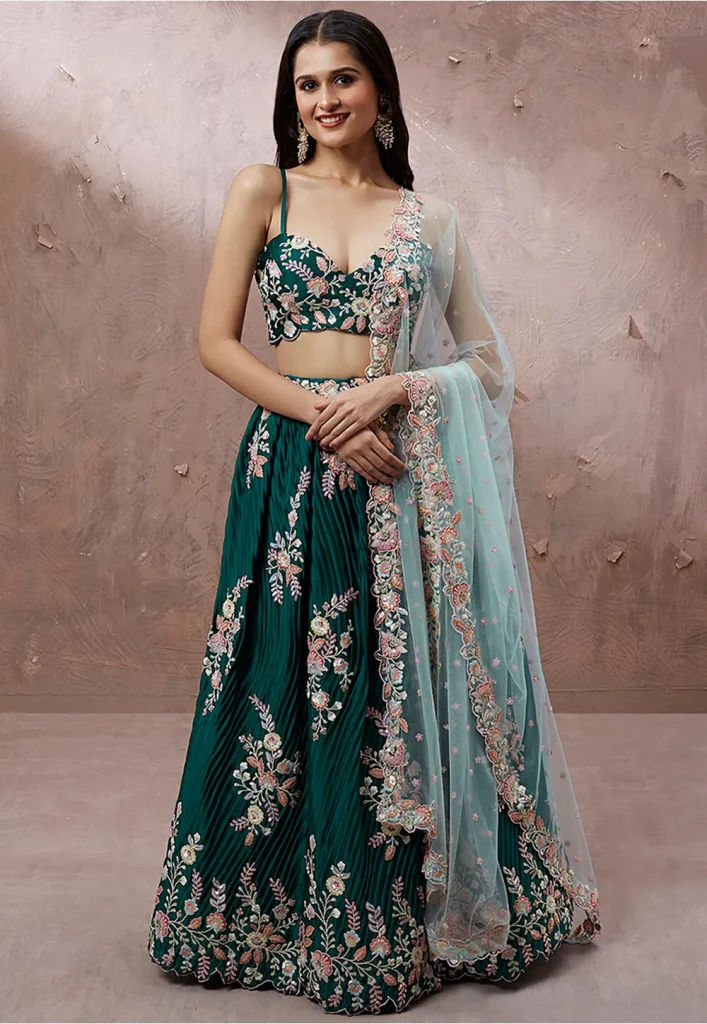 Accessorize like a Pro, Mehendi Edition
No Mehendi look is complete without the right accessories. Consider adorning your hands with statement Mehendi designs that complement your lehenga. Go for traditional jhumkas or Chandbalis that add a dash of sparkle to your ensemble. A delicate maang tikka or a floral hair accessory can further enhance your Mehendi avatar.
Mehendi Moments, Lehenga Dreams
As you embark on the Mehendi leg of your wedding journey, let your Lehenga be a reflection of your personality and the vibrant spirit of the occasion. Whether you choose the bold fuchsia lehenga and turquoise blouse, the pastel elegance inspired by DeepVeer, or the timeless sophistication of silk and embroidery, make sure your Mehendi album is a testament to the joyous celebration of love, laughter, and Lehenga dreams. Dance, twirl, and let the Mehendi magic unfold in the enchanting swirls of your chosen Lehenga!