Hey there, fashionistas!
As the joyous festival of Raksha Bandhan approaches, it's time to gear up and make a stunning style statement. And what could be more perfect than embracing the eternal allure of salwar suits with silk fabric?  These enchanting ensembles not only pay homage to the rich Indian heritage but also offer a dash of contemporary glamor. So, let's explore silk salwar suits and find the perfect one to make you shine this Raksha Bandhan.
A Celebration of Sibling Love
Raksha Bandhan, a festival that celebrates the unbreakable bond between siblings, is a perfect occasion to showcase your ethnic fashion flair. It's a day when brothers and sisters come together to exchange tokens of love and affection. So, why not embrace your culture with a touch of contemporary style to enhance the spirit of the festival?
The Allure of Silk Salwar Suits
Silk salwar suits are a quintessential part of Indian fashion, offering an irresistible amalgamation of grace, elegance, and luxury. These suits are characterized by their smooth and lustrous texture, making them a perfect choice for festive occasions. The beauty of silk lies in its capability to drape flawlessly, accentuating your curves and radiating a majestic aura.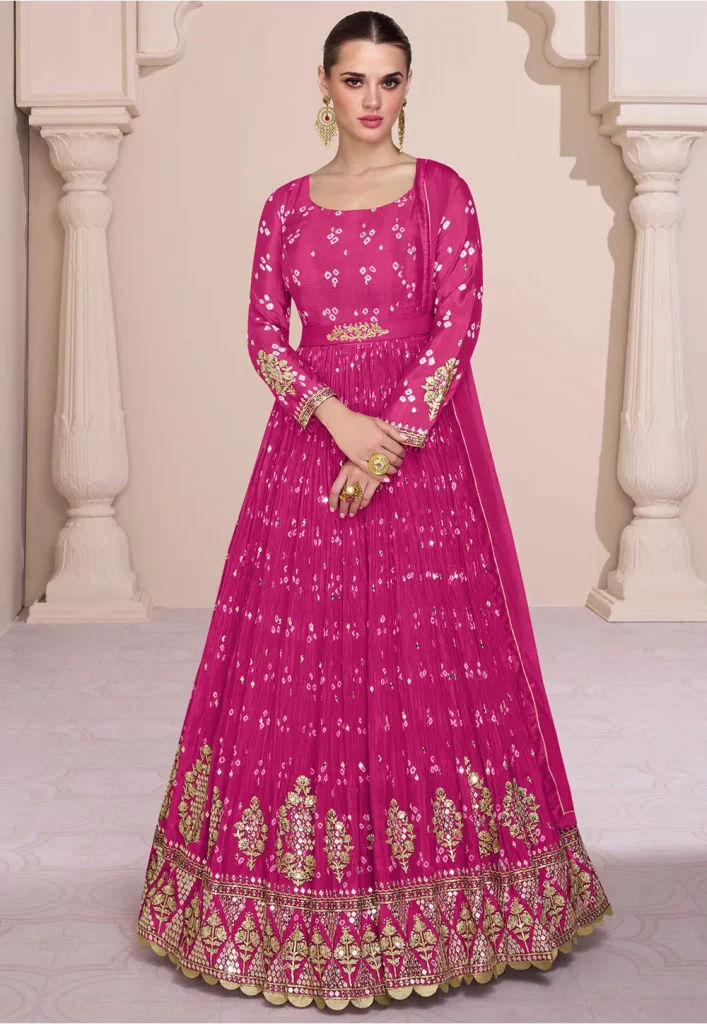 The Splendor of Silk Fabric
Often referred to as the "queen of fabrics", Silk holds a special place in Indian fashion and heritage. With a history dating back thousands of years, silk was first discovered in China. The legend goes that a Chinese empress Hsi Ling Shi discovered silk when she was drinking tea. A silkworm fell into her tea, unraveling its fine threads. Thus, the enchanting journey of silk began. From there, silk spread to India, and it became synonymous with opulence and royalty. The fabric is known for its natural sheen, smoothness, and breathability, making it an ideal choice for various occasions.
Features of Silk Salwar Suits
Silk salwar suits come with a plethora of features that make them a must-have:
Rich Variety: Silk salwar suits are available in a wide range of styles, colors, and designs, ensuring there's something for every taste and preference.
Intricate Embellishments: These suits often feature intricate embroidery, zari work, sequins, and other embellishments that add a touch of richness to your ensemble.
Flawless Draping: The natural smoothness and sheen of silk ensure that the suit drapes beautifully, creating a flattering silhouette.
Elegant Patterns: From traditional paisleys and florals to contemporary geometric motifs, silk suits offer a variety of patterns to suit your style.
Versatility: Whether you're attending a daytime ceremony or an evening celebration, silk salwar suits are perfect for any time of the day.
Choosing the Perfect Silk Salwar Suit
Now that you're well-versed in the allure of silk salwar suits, let's explore how to choose the one that enhances your personality and style quotient:
Colors: Choose colors that complement your skin tone and resonate with the festive spirit. Consider vibrant hues like deep reds, royal blues, and rich greens.
Body Type: Consider your body type while selecting the silhouette. Anarkali suits work wonders for most body shapes. On the other hand, straight-cut suits are perfect for showcasing a tall and slender frame.
Prints and Motifs: Opt for prints and motifs that resonate with your personal style. Delicate florals, intricate paisleys, and contemporary geometric designs can all add a distinctive charm to your ensemble.
Embroidery and Embellishments: Focus on the type of embroidery and embellishments on the suit. Subtle adornment is perfect for a sophisticated look, while heavy embellishments create a grand appearance.
Accessories: Remember to accessorize! Statement with Indian Jewelry like earrings, bangles, and a clutch can elevate your look to the next level.
Additional Reads: What are the Must-Have Types of Salwar Suits for Your Wardrobe?
A Variety of Silk Salwar Kameez Styles
Silk salwar suits are available in various styles- each one has its unique charm:
Anarkali Suits in Silk: Anarkali suits are available in a variety of silk fabrics, ranging from Banarasi silk to brocade silk. The flowing silhouette of an Anarkali suit exudes elegance and grandeur, making it a perfect choice for a lavish celebration.
Straight-cut salwar Suits: With clean lines and a modern touch, straight-cut suits in silk offer a contemporary yet traditional look. You can find this exquisite ethnic attire in various silk fabrics, including chanderi, pure kota silk, and dupion silk.
Sharara Salwar Suit: The flared pants of a sharara suit add a touch of drama and fun to your ensemble. The silk's luxurious flow combined with the wide pants flare creates an elegant and attention-grabbing silhouette.
Pakistani Suit: With its long kameez and intricate embroidery, the Pakistani suit beautifully blends elegance and cultural richness. The use of silk elevates this ensemble, adding a touch of opulence and refinement to the outfit.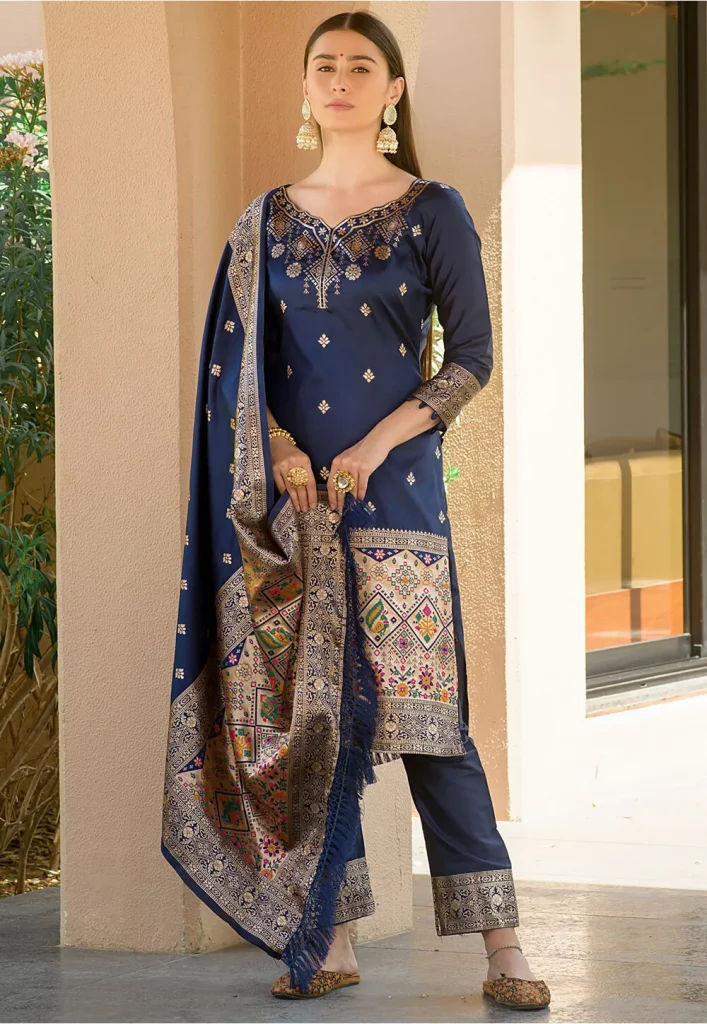 Abaya Style Suit: This style exudes modesty and sophistication. The choice of silk fabric elevates the ensemble. It lends a luxurious touch that seamlessly harmonizes with the celebratory atmosphere of Raksha Bandhan.
Elevate Your Raksha Bandhan Look with Silk Salwar Suits
Get ready to capture the festival's essence with a silk salwar suit that aligns with your style and personality. Whether it's Anarkali, straight-cut, or sharara, your Raksha Bandhan look will be extraordinary! So go ahead, embrace the grace of silk, and shine like a true star on this special day.
Happy Raksha Bandhan! ☺