Ah, marriage! ☺ That heavenly day when dreams dance down the aisle, hearts unite, and two souls begin a new chapter together. It's a day of joy, of promises, and of celebration. And let's be honest, it's also a day when every bride wants to dazzle like a superstar on the red carpet.
Planning your dream wedding? Discover the ultimate guide to choosing a wedding saree that'll make you shine the brightest on your big day.
The Unforgettable Elegance of a Bridal Saree
In the alluring world of Indian wedding fashion, where lehenga cholis, gowns, and Anarkali dresses stand tall, the bridal saree holds an unwavering place. It's a garment that's not just wrapped around you but around traditions, stories, and generations of love. With every drape, it weaves together culture and style, heritage and modernity, all while making sure that you shine brighter than the North Star.
Color Your World: Tips for Choosing the Right Hue
Imagine walking towards the mandap in a saree that complements your skin tone like a match made in heaven. To get there, opt for colors that flatter your natural complexion. Warm undertones might light up in shades of red, gold, or deep maroon. On the other hand, cooler skin tones might dazzle in blues, greens, or shades of lavender.
Mix and Match: Popular Color Combinations and Fabrics
Just like spices in recipes, color combinations can either make or break it. For a timeless appeal, consider classic combinations like red and gold, pink and silver, or even regal cream and gold. The fabric also plays a crucial role. Silk sarees like Kanjeevaram and Banarasi are evergreen choices, while georgette and chiffon can create an ethereal, dreamy look.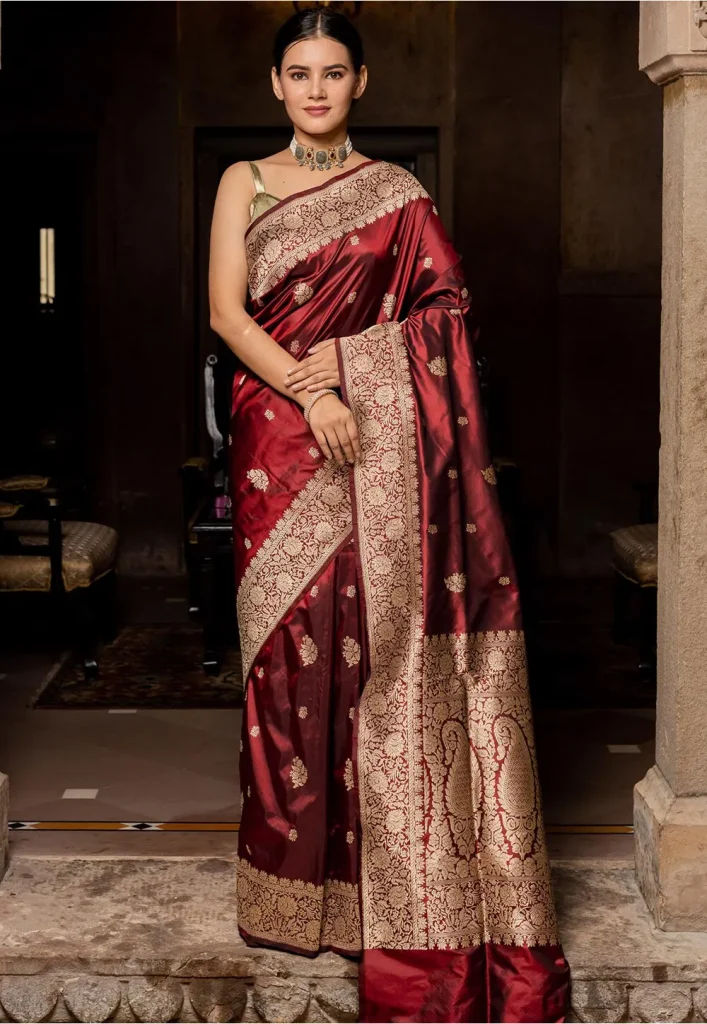 Seasons and Scenes: The Role of Location and Weather
The location where you tie the knot matters, especially when it comes to picking your bridal saree dress. A grand indoor affair might call for intricate embroidery and heavier fabrics. Alternatively, a beach wedding could offer the perfect setting for minimal embellishments and lighter fabrics.
Style Speaks: Choosing the Right Design
From classic to contemporary, there's a design out there for every taste and preference. Traditional brides might opt for intricate zari work, while the modern bride might lean towards minimalistic elegance. Think about the neckline, the border, and the overall vibe you want to create.
The Body Beautiful: Flatter Your Form
Just like picking the right partner, choosing the right saree for your body type is all about balance and harmony. If you're on the petite side, opt for smaller borders and lighter fabrics. Taller brides can carry off bold patterns with grace.
Wrap it Right: The Drape and Accessories
The art of draping a saree is like creating a masterpiece, one pleat at a time. The drape can transform the saree from drab to fab. And let's not forget the accessories – they're like the icing on the cake. Choose jewelry that complements the saree without overpowering it.
Additional Reads: 10 Fascinating Ways to Drape a Wedding Saree
Elegant Wedding Sarees That Steal Hearts
Now that you know about choosing the perfect saree, let's talk about some timeless options that have stood the test of time.
Kanjeevaram Sarees: The queen of silk sarees, Kanjeevaram sarees are renowned for their rich colors, intricate designs, and luxurious feel. They're a celebration of South Indian craftsmanship and can make any bride feel like royalty.
Banarasi Sarees: If opulence is your style game, Banarasi sarees are your go-to. With their lustrous silk and detailed brocade work, these sarees are a true embodiment of grandeur and elegance.
Red Wedding Sarees: Red is the color of love and passion, and red wedding sarees are a classic choice. They radiate confidence, beauty, and timeless charm.
Bandhni and Patan Patola Sarees: For brides who love vibrant colors and intricate tie-dye patterns, Bandhni and Patan Patola sarees are the perfect choice. They bring a dash of traditional artistry to your big day.
Your Saree, Your Story
As you embark on the journey towards your happily ever after, remember that your wedding saree is like a story waiting to be told. It's a canvas where tradition and individual style merge, where dreams are woven into every thread. So, take your time, explore your options, and let your heart lead the way. Because on your wedding day, you're choosing an expression of your love, identity, and unique journey.
So, here's to the elegance of wedding sarees, the magic of marriage, and the promise of a new beginning. May your saree shine as brightly as your smile, and may your journey ahead be as beautiful as the fabric that adorns you. Cheers to love, laughter, and a saree that's as unique as you are!