Are you all set to add a touch of vibrancy to your wardrobe? Look no further than Punjabi suits, the timeless attire that seamlessly blends tradition with modernity. No doubt, Salwar suits in Punjabi Design have captured the hearts of fashion enthusiasts worldwide and are a go-to choice for various occasions. From casual gatherings to grand affairs, Punjabi suits offer a plethora of styles that are sure to make heads turn.
In this blog, we're delving into the world of Punjabi suits, exploring their features and styles. Plus, find valuable tips to choose the right one for every occasion.
Why are Punjabi Suits Popular and Timeless?
Also known as Salwar Kameez, Punjabi suits are celebrated for their unparalleled comfort, versatility, and attractive designs. Originating from the colorful and culturally rich Punjab region of India, these suits have become an epitome of grace and charm. Their popularity has spread far and wide, attracting fashion aficionados with their vibrant hues, intricate designs, and luxurious fabrics. Punjabi suits offer a unique amalgamation of tradition and contemporary aesthetics. They make an ideal choice for women of all ages and backgrounds.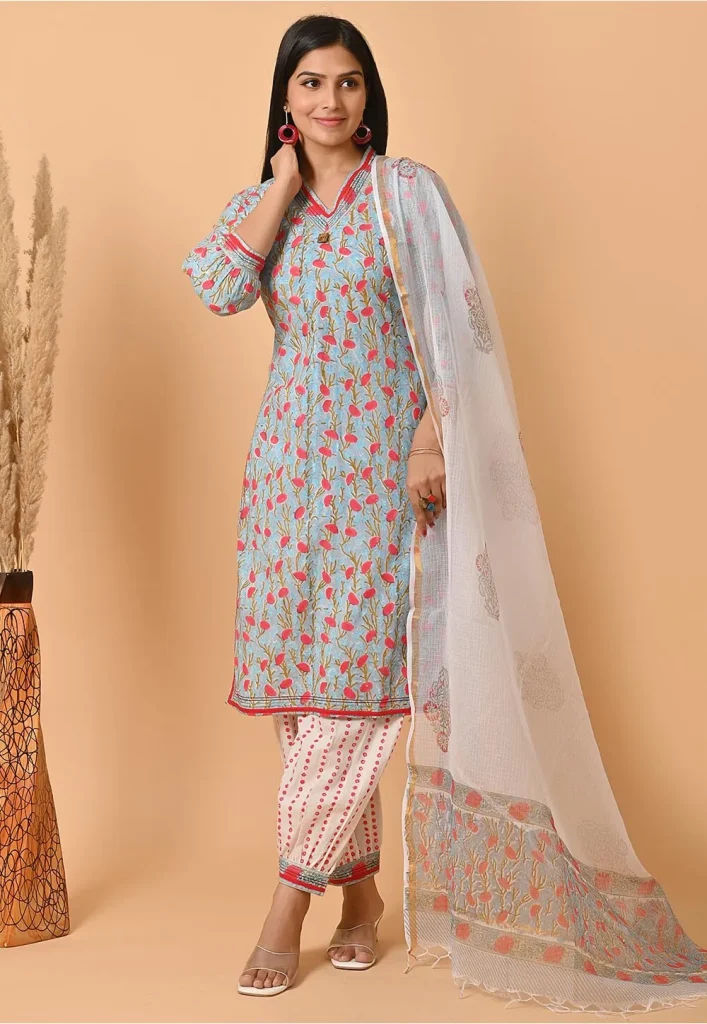 Exploring the Distinctive Features
Punjabi suits boast several features that set them apart from other conventional attires. The ensemble consists of three main components:
Kameez: This is the upper garment, typically a long tunic or dress, adorned with intricate embroidery, mirror work, or prints. It's the main highlight of the outfit, showcasing the most creative patterns.
Salwar: The bottom piece is a loose-fitting trouser that provides unmatched comfort and ease of movement. It complements the kameez perfectly and creates a balanced look.
Dupatta: The ensemble is completed with a matching or contrasting dupatta, which is a versatile piece. It adds an element of grace and completes the overall look. Also, people often wear it as a scarf or shawl.
Punjabi Suit Styles That Steal the Show
Designer Punjabi Suits
If you're looking to make a bold fashion statement, opt for designer Punjabi suits – they're your best bet. These suits feature intricate detailing, rich fabrics, and innovative designs that reflect the designer's unique style.
Mirror-Work Punjabi Suits
For a dash of alluring elegance, consider mirror-work Punjabi suits. The mirrors add a playful sparkle to the outfit, making it an excellent choice for festive occasions and celebrations.
Jacket Style Punjabi Suits
Adding an extra layer of sophistication, jacket-style Punjabi suits are a fusion of traditional and contemporary elements. The stylish jacket enhances the overall ensemble, making it suitable for formal gatherings.
Floral Printed Punjabi Suits
Embrace the beauty of nature with floral printed Punjabi suits. These suits radiate a fresh and youthful vibe, making them a perfect choice for daytime events and casual outings.
Silk Punjabi Suits
When it's time to indulge in luxury, silk salwar suits in Punjabi Design are your go-to option. The rich texture of silk adds a royal touch to your attire, making it suitable for weddings and grand celebrations.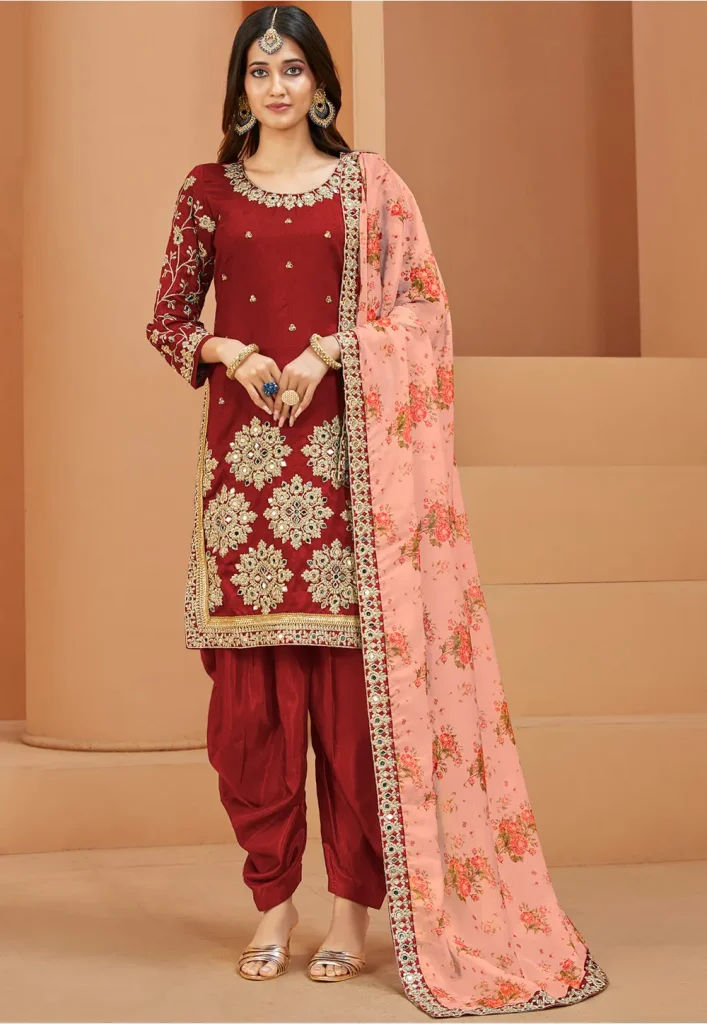 Embroidered Punjabi Suits
Embrace the rich cultural heritage of Punjab with traditional embroidered Punjabi suits. The intricate embroidery showcases timeless artistry and elegance, making it ideal for cultural events and family gatherings.
Additional Reads: 9 Tips to Style Up Your Anarkali Suits in 2023
Styling Tips for Every Occasion
Casual Outings: Choose lightweight and comfortable fabrics like cotton or georgette. Floral prints and minimal embroidery work well for a casual look. Pair with juttis or sandals for a relaxed look.
Festive Celebrations: For festivals and traditional gatherings, opt for vibrant hues and intricate designs. Mirror-work, embroidery, and silk fabrics can add a festive flair to your ensemble.
Formal Events: Jacket-style Punjabi suits or those with elegant embroideries are perfect for formal events. Pair with statement jewelry and heels to elevate the overall look.
Weddings and Parties: Silk Punjabi suits with heavy embroidery or embellishments are ideal for weddings and parties. Accessorize with bold jewelry and stylish potli bags to make a grand entrance.
Choosing the Perfect Punjabi Suits for Every Occasion
Choosing the right Punjabi suit for an occasion involves considering various factors, like the type of event, your individual style, and the season. It's essential to strike a perfect balance between comfort and elegance. Don't be afraid to experiment with different styles to find the one that resonates with you and your style.
Discover a World of Punjabi Suits at Utsavfashion.com
Are you looking to explore a diverse range of Punjabi suits? UtsavFashion.com is your one-stop destination. With a wide range of styles, designs, and fabrics to choose from, you'll be spoiled for choice. Whether you prefer classic embroidery or modern designer styles, you'll discover the ideal Punjabi suit for your taste and event. Plus, their worldwide shipping ensures that you can embrace the elegance of Punjabi suits, no matter where you are.
In conclusion, Punjabi suits are an embodiment of cultural heritage and contemporary fashion. Their versatility and timeless appeal have earned them a place in the fashion world. So, embrace the charm of Punjabi suits and let your style shine on every occasion!