Imagine this: lively hues, intricate embroidery, and a dash of swag – that's the essence of the quintessential Punjabi Kudi look. And what better way to embody this vibrant tradition than with the timeless charm of Salwar Suits? These versatile ensembles not only celebrate the rich cultural heritage of Punjab but also seamlessly blend tradition with modernity. Join us on a fashion journey as we explore five fabulous styles that will help you achieve that perfect 'Punjabi Kudi look with Salwar Suits.
Punjabi Patiala Suit: A Riot of Colors and Comfort
When it comes to Punjabi fashion, the Patiala suit takes the limelight. Characterized by its billowy, pleated pants and short kameez, this style screams comfort without compromising on style. Go for vibrant hues like royal blue, emerald green, or fiery red to capture the true essence of Punjabi joie de vivre. Pair it with a contrasting dupatta and accessorize with jhumkas and bangles for that extra oomph.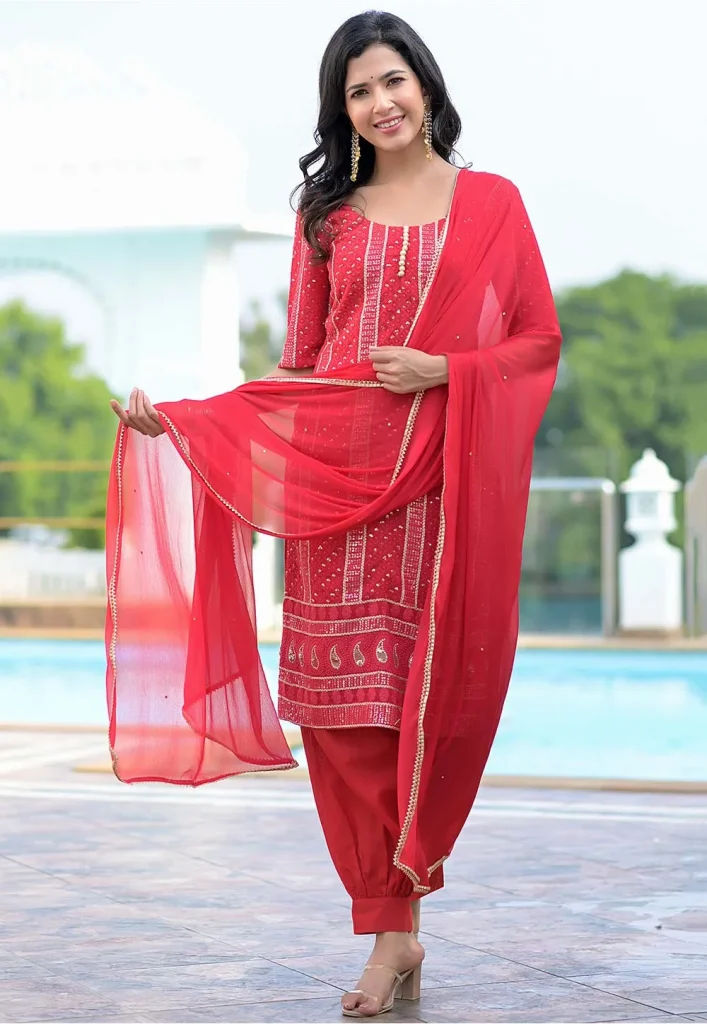 Styling tip: Keep the makeup bold with kohl-rimmed eyes and a pop of color on the lips.
Peplum Salwar Suit: Fusion of Tradition and Trend
For those who love to blend tradition with contemporary style, the Peplum Salwar Suit is the perfect choice. The peplum top adds a dash of modern elegance to the classic salwar, creating a chic fusion look. Choose fabrics like silk or brocade for a royal touch, and experiment with contrasting or matching palazzo pants. This style allows you to dance effortlessly between tradition and trend, making it an ideal choice for weddings or festive gatherings.
Styling tip: Add a statement maang tikka or passa to elevate the look.
Short Kameez and Patiala Salwar Suit: Playful and Flirty
For a playful and flirty twist on the traditional Patiala suit, opt for a short kameez. This style is all about showcasing your Patiala pants in a stylish, modern way. Choose a kameez that ends just above the waist of your Patiala pants, allowing the pleats to steal the spotlight. This look is perfect for daytime events or casual outings.
Styling tip: Go for a side braid or loose waves to keep the look effortlessly chic.
Cowl Salwar Suit: Draped in Elegance
If you're someone seeking sophistication with a touch of drama, the Cowl Salwar Suit is your go-to option. The cowl drape adds an element of grace and fluidity to the outfit, making it a standout choice for special occasions. Opt for luxurious fabrics like satin or georgette to enhance the draping effect. Keep accessories minimal, letting the cowl drape take center stage.
Styling tip: Choose a bold color for the suit and balance it with subtle makeup and statement earrings.
Cape Top with Crotch Pants: Contemporary Glam
For a modern and contemporary take on the Punjabi Kudi look, the Cape Top with Crotch Pants is a showstopper. The cape adds a dash of drama and flair, making it a perfect choice for cocktail parties or evening soirées. Experiment with contrasting colors for the cape and pants, or go for a monochromatic look for a sleek and sophisticated appearance.
Styling tip: Pair this ensemble with high heels to add a touch of glamor and elongate your silhouette.
Wrapping Up!
In the fashion landscape, embracing tradition doesn't mean compromising on style. Salwar Suits offer a spectrum for expressing your individuality while celebrating the rich heritage of Punjab. Whether you opt for the vibrant Patiala suit, the fusion charm of the Peplum Salwar Suit, the playful Short Kameez and Patiala Suit, the elegant Cowl Salwar Suit, or the contemporary Cape Top with Crotch Pants, each style tells a unique story of tradition and modernity.
So, go ahead, experiment with colors, play with accessories, and let your inner Punjabi Kudi shine through. After all, fashion is not just about what you wear; it's about how you wear it with confidence and flair.