Hello, fashionistas!
Are you looking to dazzle the world with your impeccable style this year? Anarkali suits are the ideal way to add a dash of class and grace to your closet. These salwar suits have been fashionable for ages and are still a top choice among fashion enthusiasts. Anarkali suits are making a spectacular comeback in 2023, and there are gorgeous designer varieties available that are sure to make you the center of attention at any event. From embroidered wonders to trendy Indo-Western designs, we've got you covered with nine gorgeous Anarkali suit styles that will take your fashion game to the next level!
Designer Anarkali Suits
Designer Anarkali suits are a must-have in your closet if you love indulging in luxury and sophistication. These suits, made by fashion designers, stand out from the crowd because of their elaborate embellishments, distinctive cuts, and premium fabrics. Designer Anarkali suits exude luxury and elegance with their regal designs and modern patterns, making them the perfect option for formal events like weddings and parties.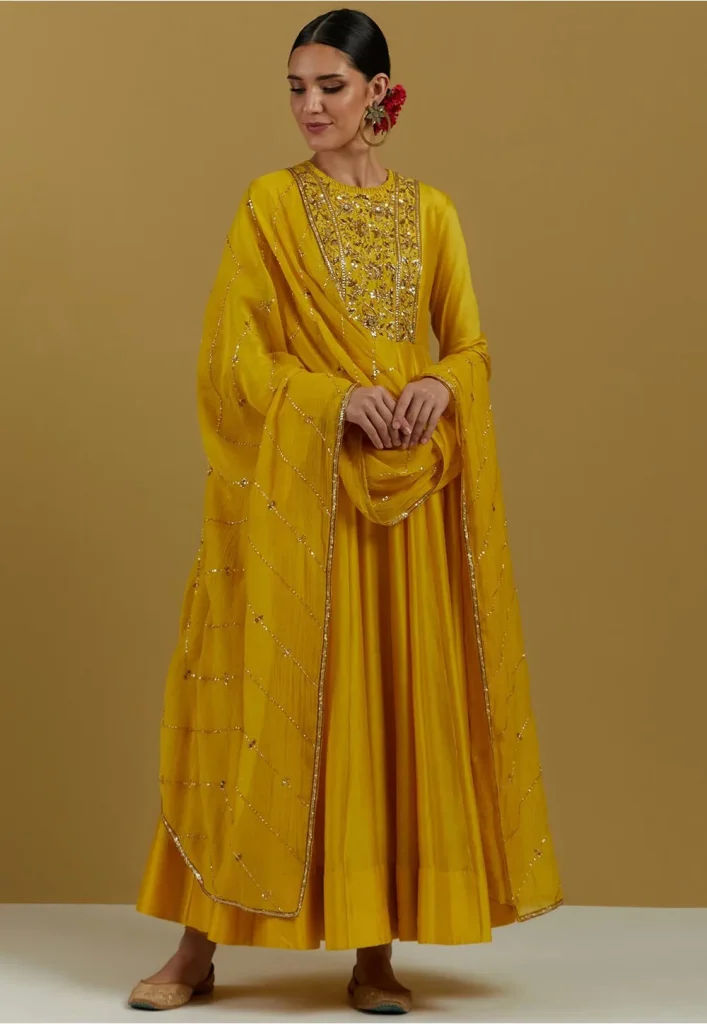 Embroidered Anarkali Suits
Looking to add a bit of artistic flair to your ensemble? Embrace the allure of embroidered Anarkali suits! These suits boast excellent embroidery work on the bodice, sleeves, and hemline, which gives them their distinct attractiveness. The rich detailing on these suits amplifies their visual appeal, guaranteeing that you stand out in the crowd. Whether it's delicate threadwork, glittering sequins, or magnificent zari, the intricate embellishments on embroidered Anarkali suits are sure to make a statement and elevate your fashion game!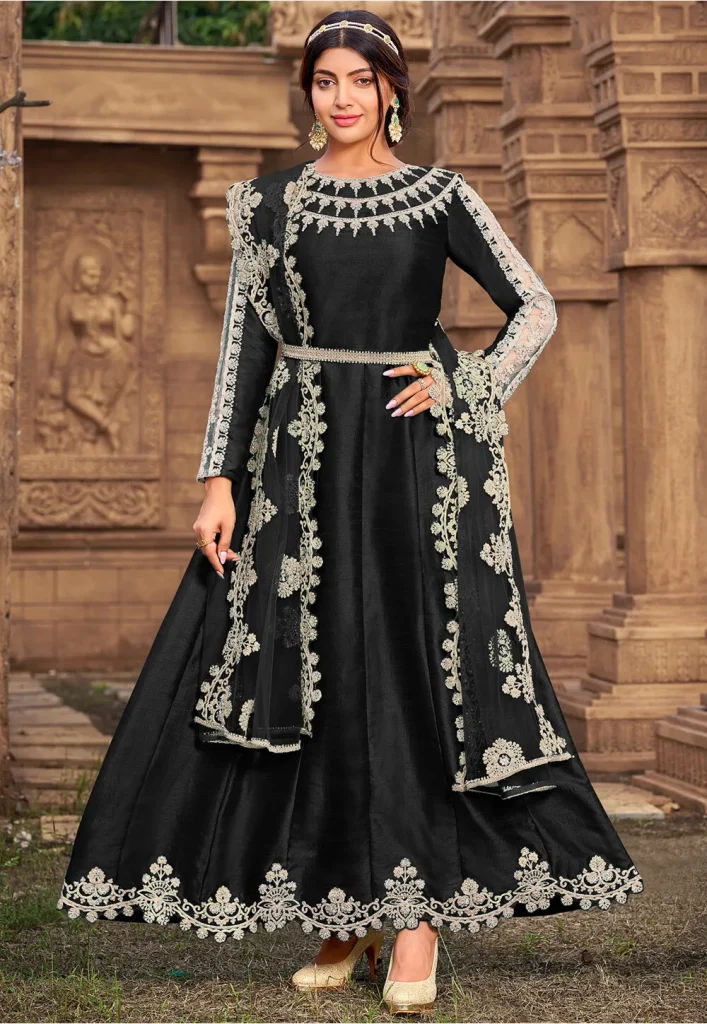 Indo-Western Anarkali Suits
Want to blend tradition with a contemporary touch? Indo-Western Anarkali suits are the answer. These fusion-style garments combine the elegance of the conventional Anarkali with contemporary shapes and silhouettes. Indo-Western Anarkali suits seamlessly bring together the best of both worlds, featuring elements like asymmetric hemlines, off-shoulder necklines, and fashionable designs, making them ideal for social gatherings or cultural events. With their unique blend of traditional charm and modern appeal, Indo-Western Anarkali suits are a trendy and versatile choice for fashion-forward individuals.
Jacket Anarkali Suits
The jacket Anarkali suit is the perfect choice for layering up in style! These outfits feature a gorgeous long jacket worn over the traditional Anarkali dress, adding more panache to your look. Jackets can be adorned with embroidery, mirror work, or even crafted with contrasting fabrics, giving you a chance to flaunt your fashion-forward flair. Whether you're heading to a wedding, a festive celebration, or a special event, the jacket Anarkali suit is sure to make you stand out with its chic and sophisticated look.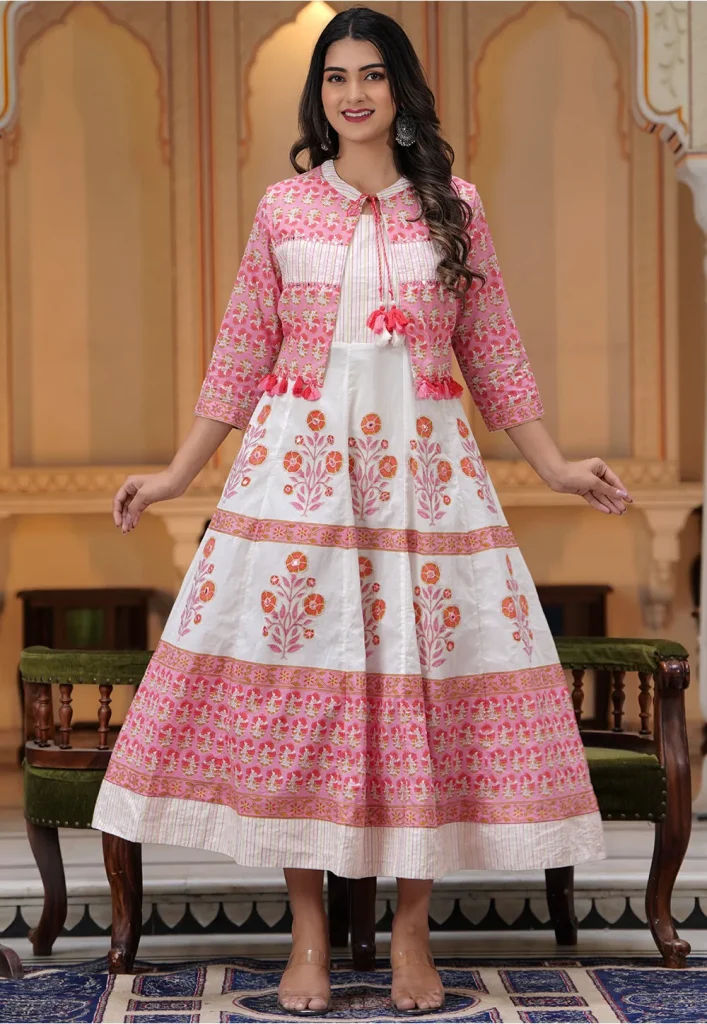 Additional Reads: Stylish Indo-Western Suits
Layered Anarkali Suits
The lovely layered Anarkali suit will instantly add a sense of volume and drama to your overall look. As the name implies, these suits feature numerous layers of fabric, creating a cascading effect that exudes regal splendor. Whether you choose gentle pastel tones or vibrant colors, layered Anarkali suits are ideal for festivals and festive occasions. With their graceful flow and elegant design, these suits are sure to make you feel like royalty and turn heads wherever you go.
Cape Anarkali Suits
Cape Anarkali suits are a fashionable option to add a dash of modern glitz to your look. Replace the conventional dupatta with a stylish cape that gracefully falls over your shoulders, giving you a more contemporary and chic appearance. The cape is a versatile piece of clothing, as it can be plain, decorated, or even in contrasting colors, allowing you to experiment with different styles and looks. Whether you're attending a party, a cocktail event, or a festive celebration, cape Anarkali suits are the perfect choice to make a statement.
Angrakha Anarkali Suits
The Angrakha Anarkali suit, which has deep roots in Indian culture, draws its inspiration from the traditional Mughal-era garment. These suits feature an elegant and charming cross-over style with two flaps that tie at the side. The Angrakha Anarkali suit is a timeless classic that is ideal for formal occasions and celebrations. With its rich historical significance and timeless appeal, this outfit is sure to add a touch of regal charm to your fashion.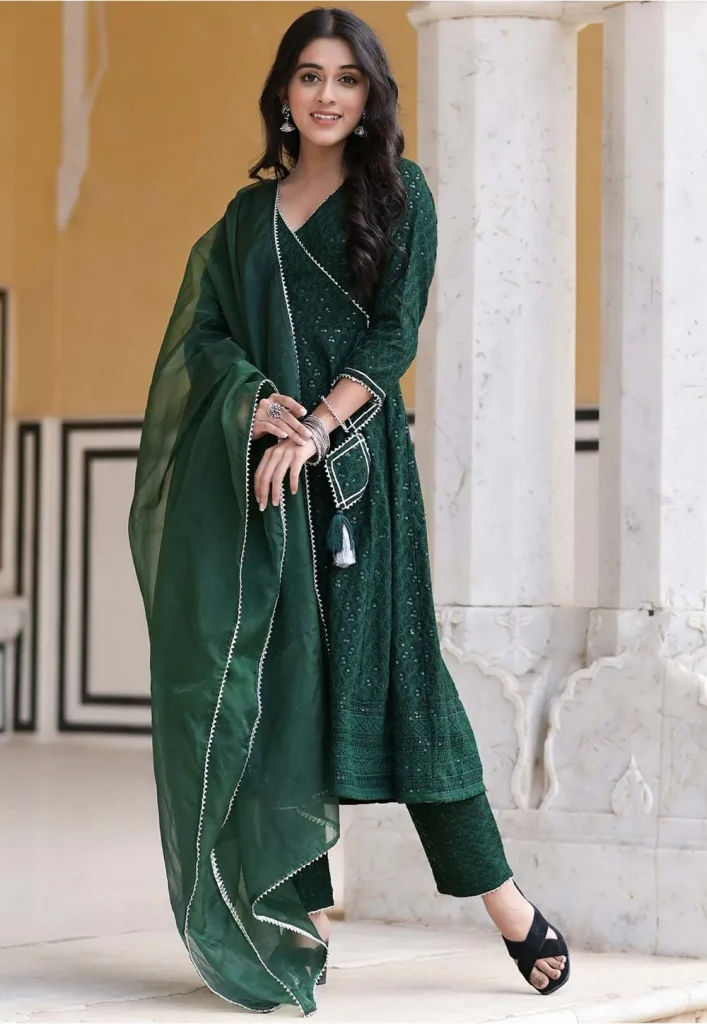 Georgette Anarkali Suits
Lightweight and flowy, georgette Anarkali suits are the epitome of grace and comfort. The light and airy fabric drapes beautifully, flattering all body types. Whether you opt for solid colors or prints, a georgette Anarkali suit is a great choice for social gatherings and daytime occasions. Embrace the effortless elegance of georgette Anarkali suits and let your style shine bright.
Sequin Anarkali Suits
When it's time to shine like a star, turn to the dazzling sequin Anarkali suits! These suits are adorned with sequins and beads, creating a shimmering effect that's perfect for glamorous evening events and parties. With sequins catching the light at every turn, you're sure to be the showstopper of the night. So, step into the spotlight with confidence and exude the glitz and glamour of sequin Anarkali suits.
Wrapping Up!
There you have it, nine gorgeous Anarkali suit styles that are set to rule the Indian fashion world in 2023. From the royal appeal of designer Anarkalis to the modern charm of Indo-Western styles, each version has its own special allure. So, elevate your fashion game and embrace the splendor of Anarkali suits to make a statement wherever you go. Dress to impress and let your impeccable style speak volumes!