A timeless symbol of elegance and grace, these six yards of sheer beauty have the power to transform any wearer into a mesmerizing diva. But why limit yourself to the traditional draping styles when you can embrace a world of creativity and innovation? So, brace yourself, fashion enthusiasts, we have got some exciting and unique draping styles for your fancy saree to try at your next wedding event. Get ready to dazzle everyone with your stunning wedding saree drapes!
Effortless Elegance
For those aiming for a contemporary yet elegant look, the Mermaid/Fish style draping is perfect for you. This style enhances your curves and adds a dash of drama to your saree drape. To achieve this look, start by pleating the saree as usual and then tuck it in at the center. Now, take the pallu around your waist and drape it over the opposite shoulder. Voila, you are all set to look like a stunning mermaid gliding through the waves!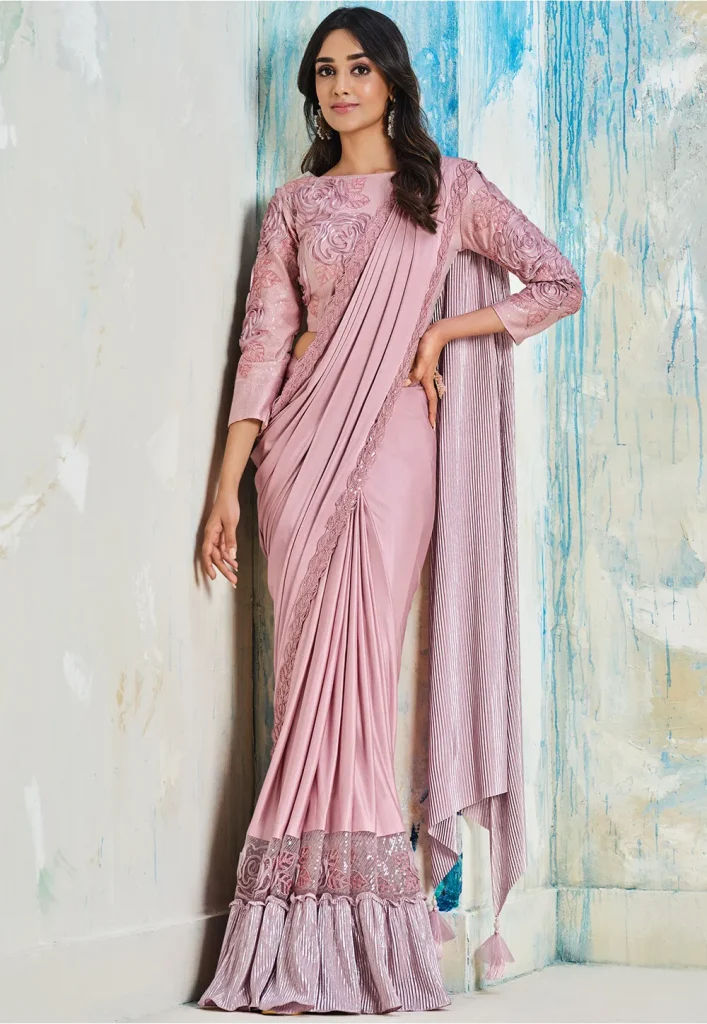 Traditional with a Twist
If you want to radiate traditional charm with a modern touch, the South Indian style draping is your go-to choice. This style is known for its unique temple jewelry and vibrant borders. Begin by tucking the saree into your petticoat and bring the pallu to the front. Now, drape the pallu over your left shoulder, creating pleats, and fasten it with a brooch or pin. You'll look like a resplendent South Indian princess.
Reliving the Golden Era
Inspired by the legendary Bollywood actress Mumtaz, the Mumtaz/Retro style draping will take you back in time. This style is all about flaunting the midriff and creating a retro vibe. To achieve this look, make pleats and tuck the saree at the center. After that, take the pallu and wrap it around your body, letting it fall freely over your shoulder. There you go, looking like the epitome of retro glamor!
Power Dressing with Feminine Touch
Want to break free from conventional norms? The Dhoti/Nauvari saree style draping is an empowering and unique choice. It originated from Maharashtra and is characterized by its trouser-like appearance. Make pleats, then tuck the saree at the center, wrap it around your legs like a dhoti, and secure it in place. Complement this style with a statement belt, and you're ready to rock the wedding dance floor!
Graceful and Ethereal
A mesmerizing fusion of modern and traditional elements, the Butterfly drape is all about creating pleats that resemble the wings of a butterfly. Start by pleating the saree and tuck it in securely. Then, drape the pallu around your shoulders, creating fan-like pleats on your back. The result is a gracefully enchanting look that will leave everyone awestruck!
Indo-Western Fusion
Offering a chic and stylish appearance, the Lehenga style draping is a delightful blend of saree and lehenga. First, make pleats and tuck them in the center. Take the pallu, pleat it neatly, and drape it over your shoulder. This unique draping style is perfect for those who enjoy experimenting with fashion and love standing out from the crowd!
Elegance at its Best!
If you're short on time but still want to look gorgeous, the Pre-Stitched Gown style is your savior. As the name says, it's a saree that's pre-stitched to resemble a gown. Slip into it like you would with any other outfit, and you're ready to dazzle at the wedding.
Classic with a Twist
The Seedha Pallu style is a classic and versatile way of draping a saree with a contemporary twist. Create pleats and tuck them at the center. Then, take the pallu and bring it across your back to the front, letting it fall over your shoulder. This style allows you to showcase the elegance of your saree's pallu while maintaining a touch of modernity.
Embrace the Bengali Tradition
The Bengali draping style adds a cultural flair to your wedding attire. Drape the saree in a regular style, but ensure that the pallu is wide enough to be pleated and pinned on your shoulder. Accessorize with traditional Bengali jewelry, and you'll radiate elegance and tradition!
Bling it On!
Accessorize your wedding saree drape with some glitz and glam! Add an embellished belt or waistband to highlight your curves and elevate the overall look. Don't forget to add statement jewelry and a clutch to complete your dazzling ensemble.
So there you have it – ten exciting and distinctive ways to drape a wedding saree. Allow your creativity to soar, and have fun experimenting with these styles to find the one that best suits you. Whether you opt for the traditional South Indian style or the contemporary Mermaid drape, remember to wear your confidence with pride and be the star of the show!