Jamawar fabric is one of the most exquisite textiles from/in India. The term 'Jamawar' means 'yard long robe'. The fabric was so named because it was traditionally used to make thick shawls and robes to protect people against the cold. Jamavar has a long and interesting history. It arrived in Kashmir from Persia many centuries ago; artisans and weavers in the region soon embraced the richness and beauty of this fabric and made it their own.
Originally, it was made with wool mixed with a little cotton and took many months or even years to produce. The intricate, shimmering tapestry like weave and artistic designs were made using specialized techniques and the finest materials. The end result was a luxurious fabric that not only provided excellent protection against the cold, but was also both beautiful and one-of-kind.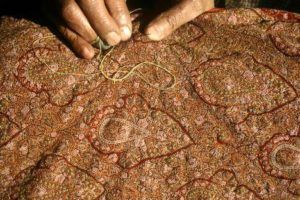 Over the years, the weavers invented newer techniques, which reduced the production cost of this fabric and made it less time consuming. At the same time, they were able to expand the scope of their designs and patterns to include delicate new motifs and styles. In the last couple of centuries, however, the patronage of the royals declined and so did the Jamawar weaving industry. It is only due to the efforts of the Indian government that this fabric has today been revived and has regained much of its lost popularity and glory.
As a matter of fact, the popularity of this fabric is such that you can also get authentically woven and designed Jamawar fabric online. This has expanded the customer base for this fabric; people residing across the world can now purchase different varieties of this fabric from the comfort of their home. The revival of Jamawar fabric has had a dual focus. First, they wish to preserve the ancient techniques which make this fabric such a unique one. Secondly, the aim is to popularize this fabric by updating and expanding the scope of the designs and patterns, and using it to make all types of interesting garments.
Today, you can find all types of Jamawar outfits for men and women. Men can choose between angarakhas, sherwanis, shawls and coats made with intricately decorated Jamawar. From rich, innovative designer garments to recreations of traditional royal robes, men will find many interesting options to choose from.
For men, both wool and silk Jamawar fabric is worthy of usage. However, for women, Jamawar silk remains the most popular. This is a relatively recent addition to the roster but has gained immense popularity in no time, primarily because it is much finer and more light-weight than woolen fabrics.
The Jamawar Banarasi saree is the most exquisite garment made with this fabric. Though Jamawar has Kashmiri roots, it is also woven in Banaras using similar techniques. They were employed by Banarasi silk weavers. These are very rich fabrics, decorated with detailed, artistic depictions of flowering trees, fruits, birds, animals and other nature inspired motifs. Designs are woven into every inch of the fabric.
Specialized techniques are used to ensure that there are no loose ends on the other side of the fabric. This is what sets Jamawar silk sarees apart from the typical Banarasi sarees.
Each Jamawar saree dress is a brilliant canvas upon which the weavers transpose their unique designs. It is so rich and lavish it can be compared to a tapestry of beautiful, interweaving designs. Wearing such a distinctive and luxurious piece of clothing, women can't help but feel like royalty. It takes four months or more to weave Jamavar silk sarees; very complicated and time-consuming methods are employed to create it.
Though Jamawar sarees are very opulent, they are also classy and refined; the kinds of designs used, the soft and silky material, all work together to create a sophisticated piece of clothing. This is the kind of garment that can be passed down from one generation to the next.
Besides sarees, Jamawar fabric is also used to create salwar kameez and lehenga cholis. You can also find shawls, dupattas and kurtis made with this fabric.
Varieties of Jamawar Dresses
Women can easily buy a Jamawar saree online, which is both beautiful and authentic. The same goes for kurtas, shawls, kurtis, sherwanis, salwar kameez and lehenga cholis made with this fabric.
A fancy party, traditional ceremony or wedding would be the best environment to wear a Jamawar silk saree. Since the saree is already quite rich and heavy, the jewelry should be kept to a minimum. A single pair of dangling Kundan or Polki earrings, a set of golden bangles or a long gold necklace would be all that is needed to complete the ensemble. Instead of opting for a full set of matching jewelry, women should go for striking single pieces that complement the work on the sari.