Chiffon fabric is an extremely popular form of fabric with women across the world. This fabric can be made with cotton, synthetic fibers like rayon, as well as fine materials like silk; it resembles a fine mesh or net, which is one of the reasons why chiffon can be slightly see through.
Sheer textures of chiffon fabric
The word chiffon itself comes from the French word for fabric or cloth. Silk chiffon fabric is usually the sturdiest form of chiffon from the entire lot, although the other versions of this fabric are equally popular.
Made from yarns of crepe that have been twisted in alternate Z and S shapes, the fabric itself is slightly puckered and is slightly rough to the touch. Due to the slightly fragile nature of this fabric which essentially comes from the thinness of it, embroidery on this is usually either minimalistic or avoided altogether as there is always the danger of ripping through the fabric and creating holes.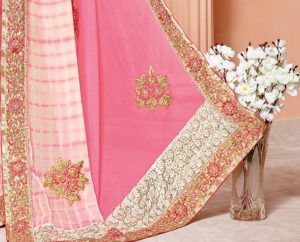 This is why embroidered chiffon fabric has very little or very light work done on it. However, when it comes to incorporating designs and different aesthetic themes on this, printed chiffon fabric is highly popular and easily found and used.
Light prints with intricate patterns and lighter shades of color are used more often than darker, bolder patterns and colors due to the delicate look of the fabric. However, when designers want to create juxtaposition, they do use darker colors and heavier patterns. This decision obviously depends mostly on the kind of outfit that is being created by the designer.
Chiffon fabrics can be used to create a variety of attires. One of the most popular forms of clothing is the chiffon saree, which is considered to be extremely elegant. As the fabric itself is very light, it creates a interesting flow and fall, which is ideal for sarees as they look best when they look like they have been wrapped in the most effortless manner possible, something that really comes across with the soft, flowing and light-weight chiffon.
White chiffon fabric in particular is a popular choice when creating a saree as it lends an extremely ethereal look to the wearer, making this outfit even more elegant than it already is. Chiffon is also used while creating salwar kameez sets. Sometimes, the entire ensemble, that is the kurti, the salwar and the dupatta can be made from this fabric.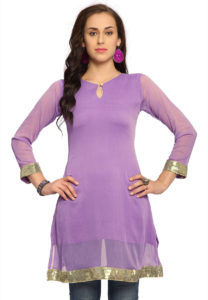 While, at other times just the dupatta is made with either plain chiffon or printed silk chiffon fabric to add an extra dimension to the overall aesthetics of the ensemble. Similarly, when the fabric is being used to create a lehenga choli set, it is most commonly used to create the dupatta itself or other an added layer over the skirt to give it a light gauzy effect. Both, the pure chiffon fabric as well as silk chiffon fabrics can be used in these types of garments.
Styling your Chiffon outfits
One of the highlights of chiffon fabrics is that they can be styled easily as they lend an extremely classic look to the garment and make the woman wearing it look extremely elegant. When wearing a chiffon saree, the best way to approach the styling is to go with a more regal approach.
This means Indian jewelry that is made with precious stones and metals is the perfect accompaniment to these sarees. As the fabric itself is extremely delicate looking, creating juxtaposition with the help of heavier, chunkier jewelry can look extremely interesting and visually appealing. Kundan sets including necklaces, bracelets and earrings can be a great way to go about creating this look.
Other types of Indian jewelry such as Meenakari sets as well as Polki sets are also a great way to go about it. When it comes to footwear, high heeled shoes are the most appropriate for sarees as they not only add a certain level of height to the woman wearing them but also add to the fall of the saree, making it look all the more regal and elegant. Indian handbags look great with sarees, especially clutches, pouches and strappy bags.
When wearing a chiffon salwar kameez, both high heeled shoes such as wedge heels and stilettos as well as flat footwear such as V shaped footwear and flip flops can look great. As a salwar kameez is usually worn for casual occasions, chunky street jewelry is the most ideal types of jewelry to wear with the outfit.
Trendy beaded necklaces as well as multicolored bracelets or stud earrings can look extremely good with the entire outfit. Many women wear heavy rings as well as various metallic bangles with chiffon salwar kameez sets in order to make the entire ensemble look more youthful.