Elevate your Style with the Navy Blazer
Are you bored of the same old suit and tie routine for every formal occasion? Want to amp up your style game without giving up comfort and versatility? Look no further than the timeless classic that has earned its place as a must-have in every man's wardrobe. In this blog, we're going to dive deep into why owning a navy blazer is a game-changer for your fashion repertoire.
The Navy Blazer: A Brief Introduction
The navy blazer is a symbol of timeless elegance and sartorial versatility. This wardrobe staple has duly earned its place among the essentials for any well-dressed man. Unlike a full suit, a navy blazer allows you to mix and match. Also, it allows you to step out of a pre-set ensemble's confines, giving you the freedom to express your individual style.
Breaking Away from the Suit Set
Imagine this: You've got an upcoming social event, and you want to look sharp, but not too stuffy. The conventional suit set just doesn't feel right for the occasion, and that's where the navy blazer comes into play. It seamlessly bridges the gap between formal and casual, offering a sophisticated yet relaxed look. No doubt, it is an ideal choice for a wide range of situations.
Versatility: The Navy Blazer's Superpower
Owning a navy blazer offers unparalleled versatility, making it one of the most compelling reasons to have it in your closet. Whether you're heading to a business meeting, a wedding, a date night, or a casual brunch with friends, the navy blazer has got your back. Pair it with different trousers, shirts, and accessories and you are all set to stand out on every occasion.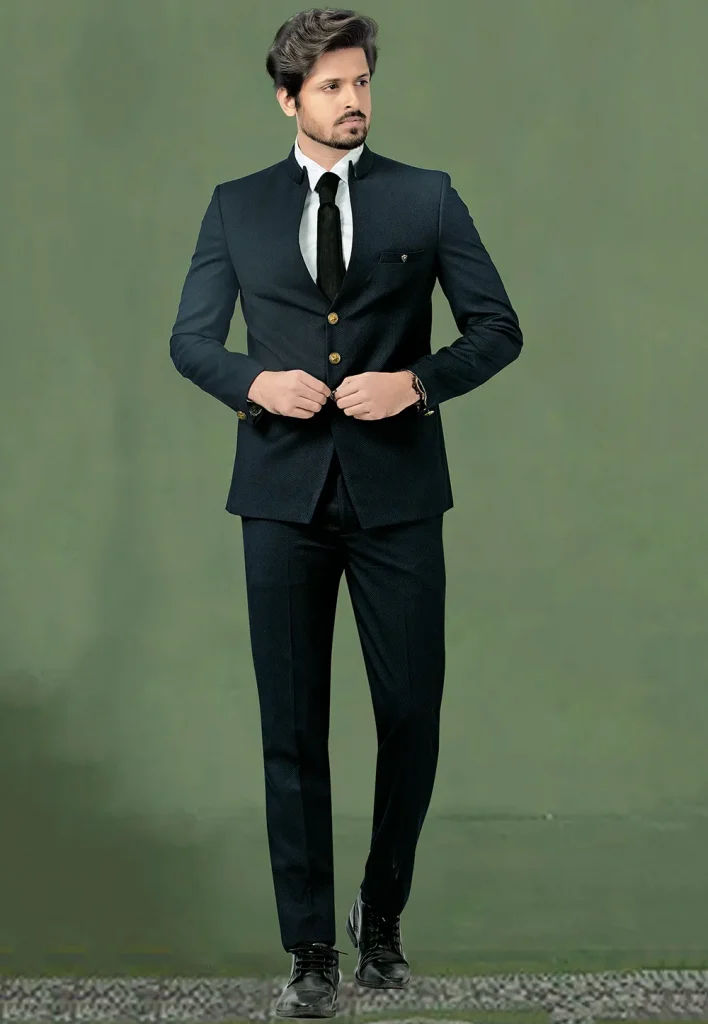 Different from Suit Separates
Now, you might be wondering, "What's the difference between a navy blazer and a suit separates?" Well, let's sort it out! Suit separates are usually part of a matched set, made from the same fabric, and are often worn together. Alternatively, a navy blazer is a standalone piece, designed to be worn with a variety of other clothing items. This key difference allows for a wider range of dressing combinations, making the navy blazer a staple piece for every man's wardrobe.
The Best Companion
Just like the chino pants and loafers, the navy blazer finds itself comfortably nestled between casual and formal wear. It seamlessly complements both these style categories, giving you the choice to adapt your outfit to any event or occasion. Whether you're seeking a more relaxed look or a stylish appearance, the navy blazer can seamlessly fit the bill.
Dressing Up Your Navy Blazer
Now, let's talk about how easy it is to dress up and style your navy blazer. With a bit of creativity, you can make this piece the star of your wardrobe. Here are five versatile style combinations to get you started:
The Classic Business Look:
Navy blazer
Crisp white casual shirt
Charcoal gray trousers
Black leather dress shoes
A silk tie or a pocket square for that extra touch of classiness
Casual Elegance for Date Night:
Navy blazer
Light blue casual shirt
Khaki chinos
Brown leather loafers
A minimalist leather watch for a touch of sophistication
Weekend Brunch with Friends:
Navy blazer
Striped or patterned polo shirt
Beige or navy blue shorts
White sneakers or boat shoes
A pair of stylish sunglasses for that cool, relaxed vibe
Wedding Guest Attire: 
Navy blazer
Crisp white shirt
Light gray trousers
Brown leather brogues
A dapper silk tie and a well-folded pocket square to stand out at the celebration
Summer Chic Look:
Navy blazer (choose a lightweight fabric)
Linen button-down shirt
White or beige linen pants
Stylish leather sandals
A straw hat for that extra touch of summer sophistication
Wrapping Up!
The navy blazer is the unsung hero of ethnic wear for men, offering unparalleled versatility and style. It's time to break free from the limitations of the conventional suit and embrace this essential piece. With a navy blazer in your wardrobe, you'll be ready to conquer any occasion with panache. Also, you will be able to effortlessly bridge the gap between casual and formal wear. So go ahead, elevate your style, and make the navy blazer your go-to option for a look that's both pleasing and casually chic.