Unveiling the Timeless Grace That Drapes You in Glamour
Hello, fashionistas! Are you ready to amp up your style game this season? Look no further than the exquisite Banarasi sarees. These garments are sheer works of art that tell stories of tradition, culture, and incomparable craftsmanship. So, why are Banarasi sarees stealing the limelight this season? Let's dive into the history, colors, comfort, and versatility that make them the ideal choice for your wardrobe.
Weaving Through History
Imagine being transported back to the Mughal era, where royal courts buzzed with the rustle of opulent silk sarees. That's where our journey begins, in the heart of Varanasi, where Banarasi sarees were born. With roots that run deep into the fabric of Indian culture, these sarees carry the legacy of generations of weavers who've polished their craft over centuries.
Saree: Unraveling the Timeless Tradition
Without any doubt, sarees are the epitome of grace, a symbol of Indian tradition. But Banarasi sarees take this elegance to a whole new level. These drapes are more than just clothing, they're an ode to the cultural heritage of India. Woven with complex patterns, each Banarasi saree tells a unique story. Be it the delicate floral motifs or the detailed intertwining of threads that depict scenes from epics – you're wearing an artistic masterpiece.
Colors That Paint the Town Red (and Every Other Hue)
Whoever said sarees have to be monotonous didn't know about Banarasi sarees. They break the norm with a color palette that's as lively as your personality. From rich jewel tones that radiate royalty to pastel shades that whisper elegance, these sarees have it all. Whether you are getting ready for festive celebrations or a stylish evening soiree, there's a Banarasi saree in just the right tone to elevate your style game.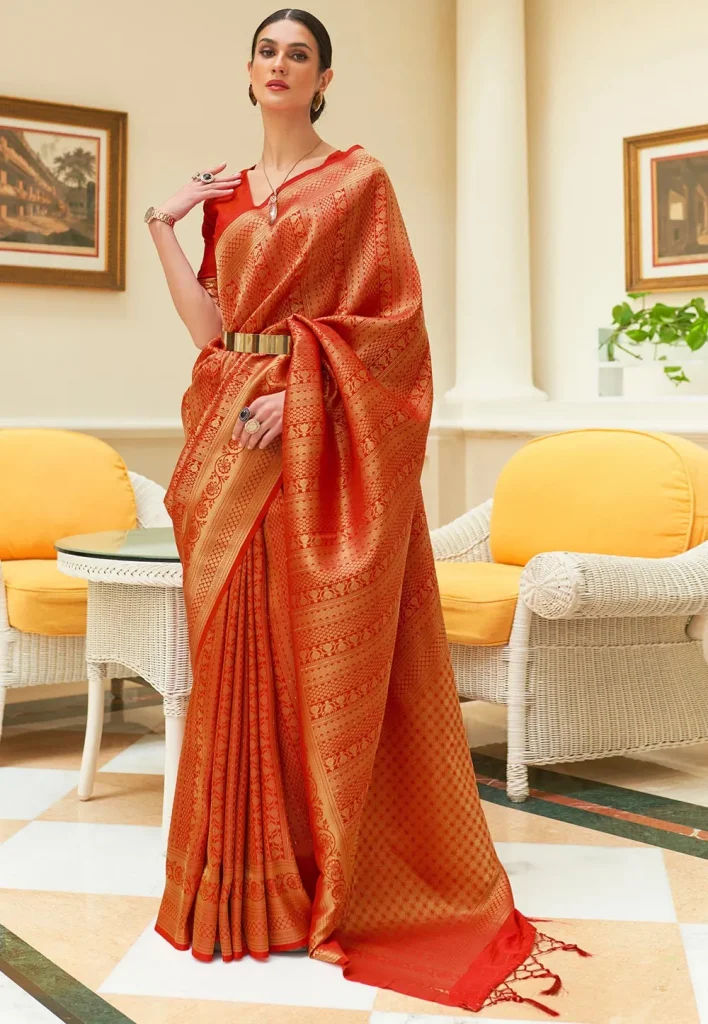 Draping Elegance with Ease
No more compromising comfort for fashion – Banarasi sarees have got you covered! Despite their plush appearance, these sarees are surprisingly comfortable to wear. Crafted with lightweight silk and designed for effortless draping, you can dance the night away or conquer boardroom meetings without any hassle. It's like slipping into a second skin that transforms you into a princess seamlessly.
Traditional Yet Contemporary: The Best of Both Worlds
Banarasi sarees are like that timeless song you can't stop humming, yet they seamlessly sync with modern trends. They symbolize the essence of traditional Indian clothes while embracing modern design elements. So whether you're a traditionalist or a trendsetter, a Banarasi saree lets you strike the perfect sense of balance between the past and the present.
Versatility That Redefines Your Wardrobe
Gone are the days when sarees were exclusively kept for special occasions. Banarasi sarees, with their sheer versatility, can seamlessly transition from a grand wedding affair to a casual brunch with your friends. Pair one with a trendy blouse and statement jewelry for a glam look, or throw on a denim jacket for that contemporary twist.
Where Beauty Knows No Age
Trends may come and go, but Banarasi sarees remain eternally in vogue. They have an everlasting charm that elegantly drapes women of all ages. Whether you're a young fashion aficionado exploring the world of sarees or a seasoned diva passing on traditions, a Banarasi saree enhances your grace and adds a dash of royalty to your aura.
Additional Reads: Beat the Summer Heat with These 4 Types of Blended Cotton Sarees
Why This Season is Begging for Banarasi
As the seasons change, so do our fashion choices. And guess what? Banarasi sarees are a match made in heaven for this season. The rich, warm colors mirror the fall foliage, while the luxurious silk keeps you cozy when there's a nip in the air. Whether it's Diwali festivities or a close family affair, a Banarasi saree makes sure that you're the showstopper of every event.
Final Words
So, there you have it – the scoop on why Banarasi sarees are the ideal choice for this season. From their historical importance to their modern charm, they're the perfect blend of tradition and trend. Get ready to be the talk of the town as you drape yourself in the elegance of Banarasi sarees. Time to slay, gorgeous!